What Are Third Spaces & How Can They Benefit Your Mental Health?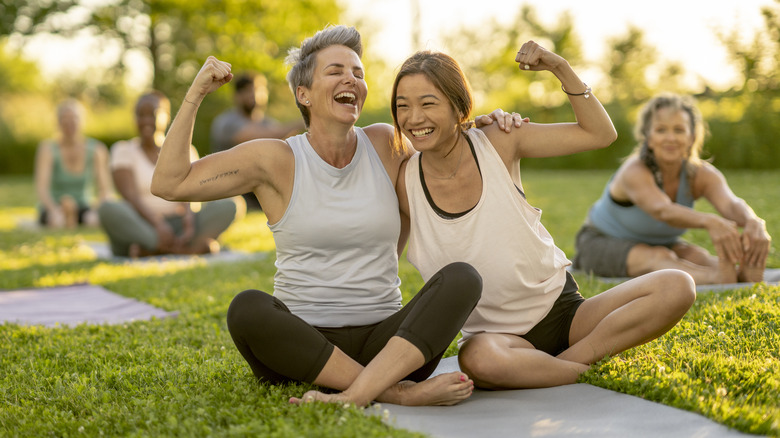 Fatcamera/Getty Images
If you've ever seen reruns of the iconic children's TV show "Sesame Street," much of the show happened on the friendly neighborhood stoops of New York City's brownstone buildings. "Sesame Street" was the television version of a third space (or place) — a casual spot where people enjoyed connecting, socializing, and learning from each other.
Sociologist Ray Oldenburg coined the term third place and expanded its definition in his book, "Celebrating the Third Place." He wrote, "Third places are nothing more than informal public gathering places. The phrase 'third place' derives from considering our homes to be the 'first' places in our lives, and our workplaces being the 'second' ... The character of a third place is ... marked by a playful mood ... [and] is remarkably similar to a good home in the psychological comfort and support that it extends."
The reason third spaces are so vital, he says, is because "Social well-being and psychological health depend upon community." Well-being and good psychological health have been deeply impacted by the pandemic's forced isolation. We are witnessing and experiencing an unprecedented level of disconnection in the U.S., and young adults are among the loneliest. In a grouping of social media studies analyzed and published by Cureus, their report states, "Social media [is] responsible for aggravating mental health problems." The good news is that third spaces can massively benefit our mental health. At their best, they offer genuine, not just digital, connections.
Wellness hubs — a step toward third spaces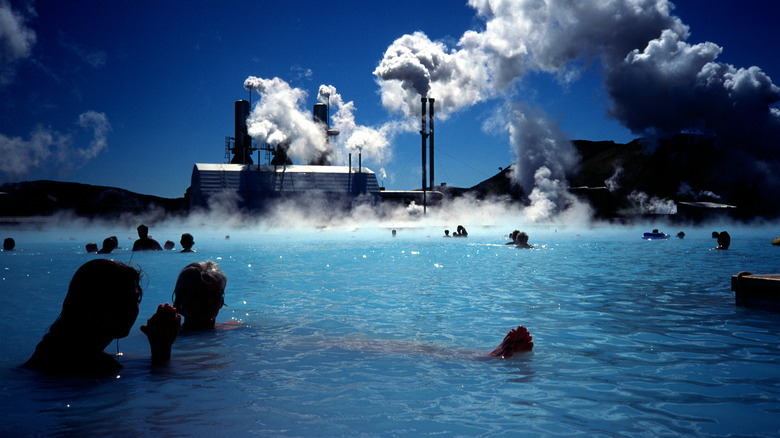 Robas/Getty Images
Our culture places such an extreme value on productivity, it seems worthwhile to point out the difference between work and leisure. For years, Google created fake third places. They famously used to provide staff with an endless parade of free food, access to so-called 'micro-kitchens,' on-site massages and barbers, ski trips, and ping-pong-filled game rooms. However restful or playful they appeared to be, these conveniences weren't intended to build community, they were designed to keep people on campus and intensely productive. There was an agenda bubbling beneath these opportunities for rest. But genuine, unproductive rest is vital for mental health. And, by the way, if your workplace doesn't offer mental health days, we've got some ideas about what to do.
An intermediary step toward a more legitimate third place is the rise of hybrid wellness hubs. They're a cocktail of boutique gym classes, acupuncture, spa services, and public baths and they're popping up all over. They offer classes, access to naturopathic doctors, and range from lower-priced drop-ins to expensive monthly memberships.
Mindbodygreen describes these as spaces that "create opportunities where people can convene, share stories, be heard, and learn from one another." When you connect with someone in a heart-opening class, that happy accident can certainly offset the experience of isolation. Though they are more intentional, elevated spa and gym combos are ultimately upscale places of business, and don't fully embody the spirit of a real third space.
The best third spaces to improve mental health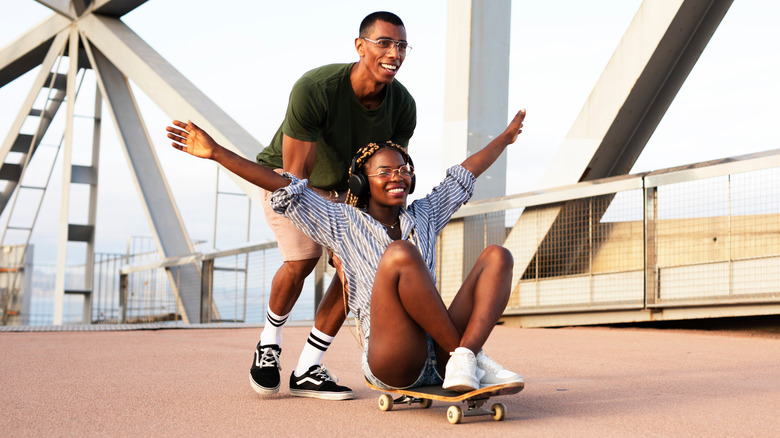 Just Life/Shutterstock
One characteristic of a third space is the relaxed mingling of people from all socio-economic backgrounds. It's a kind of melting pot where people who might not normally meet can learn something new, and feel refreshed in an environment that's conducive to spontaneous conversation. It's not meant to produce a result, it's a place to hang out and relax.
The Brookings Institution, quoting Oldenburg, noted that "churches, parks, recreation centers, hairdressers, gyms, and even fast-food restaurants" are ideal third places. Public spaces that have tables, chairs, and wifi create opportunities for people to meet and chat. Large cities are generally considered to be high-stress environments, which is why well-designed city parks are so beloved. In New York City, Central Park's original purpose was to "offer urban dwellers an experience of the countryside, a place to escape from the stresses of urban life and to commune with nature and fellow New Yorkers," according to the Central Park Conservancy.
Third spaces create wonderful conditions for leisure. Engaging in leisure activities creates a sense of well-being and positive emotion that's effective at combatting depression, anxiety, and other depleting inner states. Good feelings promote more positive thoughts and actions, which increases one's personal resilience, and improves mental health. As you navigate building community and feeling better and you're searching within your own circle for ways to safely open up about mental health, we've got some more ideas.