15 Celebs Who Got Real About The Career Implications Of Pregnancy & Motherhood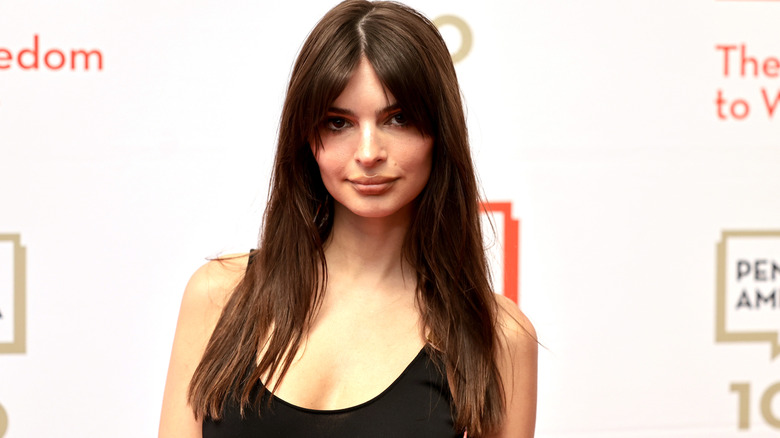 Jamie Mccarthy/Getty Images
Building a career is hard. Being a mom is hard. But being a working mother can feel like a whole new level of impossible. In her book "Forget Having It All," Amy Westervelt says it all in a simple sentence: "Women are expected to work like they don't have children and raise children as if they don't work."
Many working moms — celebs and non-celebs alike — are familiar with this pressure. These ridiculously high standards often set women up for failure, no matter what they prioritize. Even more frustrating, cis men usually aren't held to the same standards. Many men have fulfilling careers and family lives without worrying about the balancing act that maintaining both often entails for women. This may be partially because there's often a woman behind them doing all of that dirty work, but it could also be because society tends to expect less of fathers.
One clear example of this is what's known as the motherhood penalty and the fatherhood bonus, where mothers are less likely to get hired or earn as much as male coworkers in similar positions. Fathers, however, are more likely to get hired or get a raise than childless men. This issue impacts the lower and middle classes the hardest, but this gap exists across socioeconomic lines. Even celebrities are not immune from the penalties that sometimes come with motherhood, or how trying to raise a family can impact their career.
Serena Williams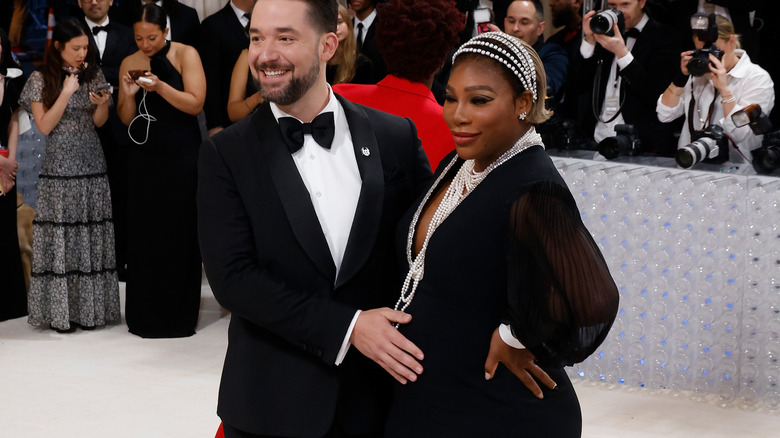 Taylor Hill/Getty Images
With 23 grand slams under her belt, Serena Williams has undoubtedly cemented her place in the tennis world as a superstar. In fact, there's even a term for someone who's won four grand slams in a row that's named after her, the Serena Slam. However, being a tennis great hasn't prevented her from facing the struggle of maintaining a career and a family life as a woman. In 2022 she got candid with Vogue about the difficulties of leaving her career and the tough reality of what expanding her family meant for her as a woman, "Believe me, I never wanted to have to choose between tennis and a family. I don't think it's fair. If I were a guy, I wouldn't be writing this because I'd be out there playing and winning while my wife was doing the physical labor of expanding our family. Maybe I'd be more of a Tom Brady if I had that opportunity."
Tina Fey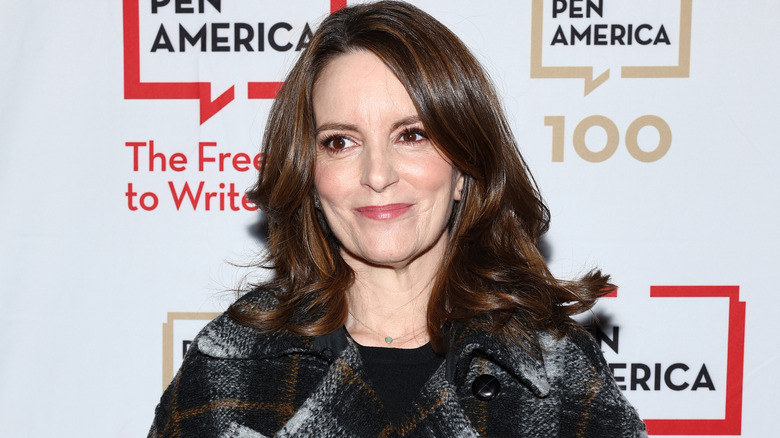 Arturo Holmes/Getty Images
Comedian Tina Fey has had an illustrious career. She's won the Mark Twain award for humor, hosted the Emmys with comedic bestie Amy Poehler, and had a hit show, "30 Rock". But while she worked towards these achievements, she also had to shoulder the burden of a very specific type of guilt, working-mom guilt.
In a piece she wrote for The New Yorker called "Confessions of a Juggler," she details the questions and attitudes she gets from some of the people who have the least to do with career or family decisions — strangers — writing "'How do you juggle it all?' people constantly ask me, with an accusatory look in their eyes. 'You're screwing it all up, aren't you?' their eyes say. My standard answer is that I have the same struggle as any working parent but with the good fortune to be working at my dream job. Or sometimes I just hand them a juicy red apple I've poisoned in my working-mother witch cauldron and fly away."
Keke Palmer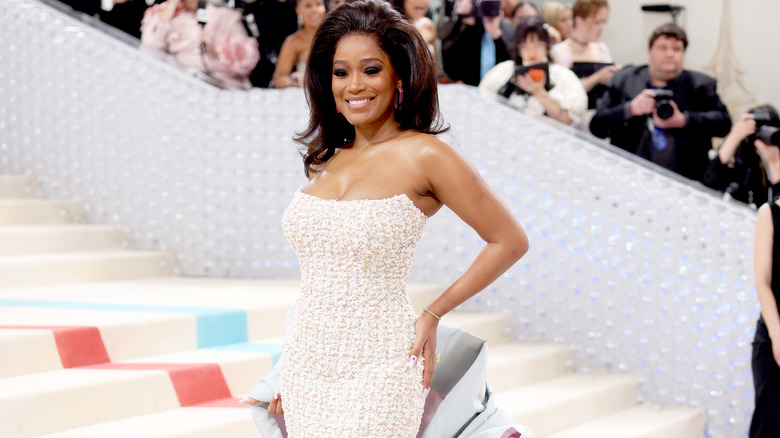 John Shearer/Getty Images
Actress and singer, Keke Palmer, has been nominated for numerous awards. She's had plenty of wins, too, including a Prime Time Emmy Nomination, and an NAACP award. In February 2023, she also became a mom. In an interview with People, she discussed how important it has been for her to resist the stress of trying to be perfect, as well as look after herself and do what she feels in the moment.
She also discussed the pressure on celebrity moms to "snap back" after giving birth, and why women shouldn't look to celebrities as an example of what they should look like immediately after having a baby, "Anytime you see a celebrity doing a snap back or whatever like that, it's part of the damn gig. A part of our jobs is to look good and to look the part. So don't think it's this thing where it's like, 'We doing it because we got it like that.' No, the job is on the line. If we want the checks to get signed, we got to be what we got to be."
Amy Poehler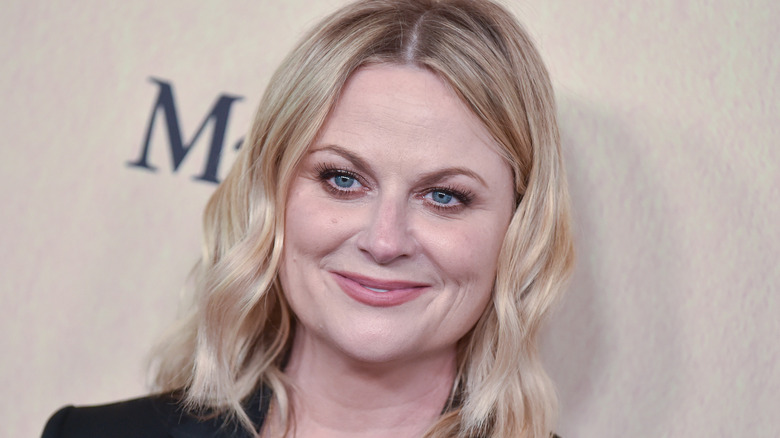 DFree/Shutterstock
A comedian, actress, writer, and director, Amy Poehler is probably best known for her time on "Saturday Night Live" and her role as Leslie Knope, the ambitious small-town politician on "Parks and Recreation". What some may not know about her is that she deals with a constant struggle to balance her work with raising her two boys. In her book "Yes, Please", she goes into detail about the practical realities of being a working mom and how she feels about the comment, "I don't know how you do it," especially when it comes from another woman.
"The 'I don't know how you do it' statement used to get my blood boiling ... In my fantasy, I would answer, 'What do you mean how do I do it? Do you really want to know the ins and outs of my nanny schedule? Do you want to know how I balance childcare with my husband and the different ways I manipulate and negotiate work to help me put my kids first when needed?'"
Naomi Osaka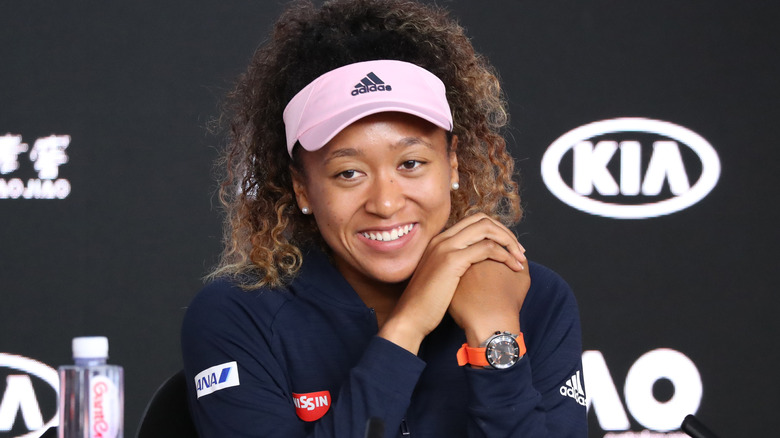 Leonard Zhukovsky/Shutterstock
As a four-time grand slam singles champion and the first Asian player to hold a top ranking in singles, Naomi Osaka is probably used to getting attention for her tennis career. However, that doesn't mean she wants attention from internet trolls, especially regarding her pregnancy or how it might affect her career. Since January 2023, when she announced her pregnancy, she's faced online questions and heckling about what will happen to her career even though she's made it clear she intends to get back in the game in 2024. 
In a tweet, she tackled the disparity between how male and female athletes are treated, especially when it comes to having a family. She had some pointed words for those who questioned her commitment to tennis, "Btw to the people that are suddenly concerned about my career — There are plenty of male athletes with kids that are significantly less accomplished, you might wanna worry about them instead."
Jamie Lynn Spears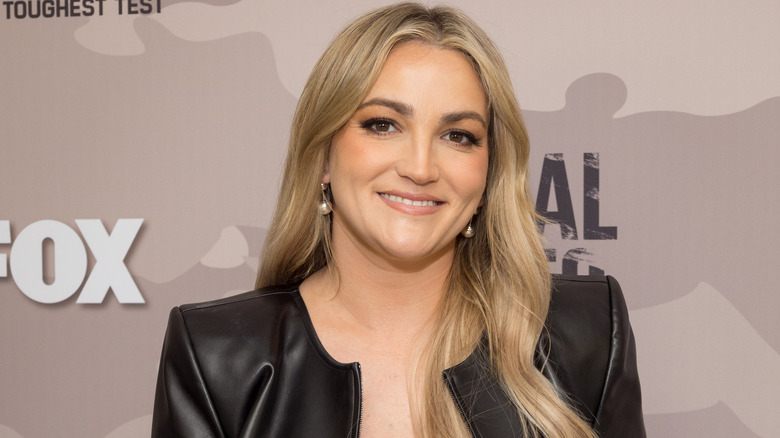 Emma Mcintyre/Getty Images
Actress and singer, Jamie Lynn Spears was a Nickelodeon star with her own show, "Zoey 101" when she became pregnant with her first child. Her pregnancy garnered more attention than most celebrity pregnancies do because she was only 16 at the time. Instead of receiving support or understanding for going through such a big life change at a young age, she faced scrutiny and criticism, not just about the kind of role model she was for the kids who watched her show, but also for how pregnancy would affect her career. 
In an Instagram post, she gets into how she was treated when the news broke, "I can remember about 15-16 years ago when every headline around (the) world was telling me that I was a failure, everything I worked my whole life for would be gone, and I had ruined my whole life, bc I was (a) young girl who got pregnant, & decided to keep my baby. I accepted every awful thing they said about me as the truth, my only wish was to be left alone to raise my baby in peace and so I did just that."
Zoe Saldaña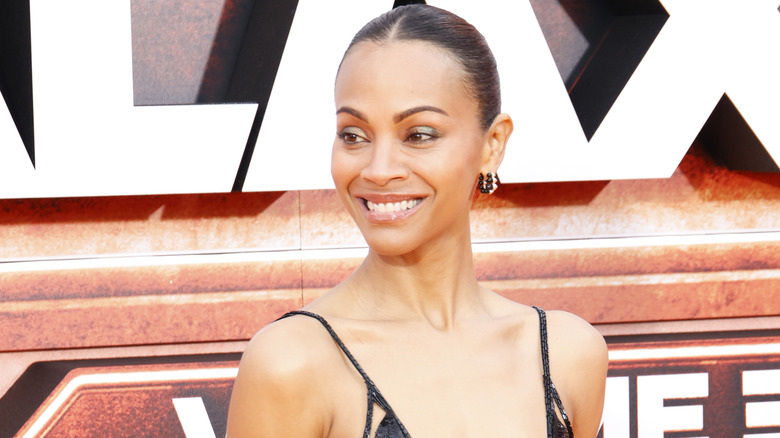 Julien Hekimian/Getty Images
Seasoned actress Zoe Saldaña has been in some of the highest-grossing mega-hit movies of all time, like "Avatar" and "Avengers: End Game." That doesn't mean that the mom of three has had an easy time navigating motherhood and a career, though. In a talk with USA Today, she got real about how pregnancy has affected her roles saying, "Let me tell you something, it will never be the right time for anybody in your life that you get pregnant ... [when I got pregnant, some of] the productions I was slated to work on sort of had a panic. I heard through the grapevine there was even a conversation of me being written off of one of the projects."
In the same interview, she also addressed the difference between how male and female actors are treated, mentioning the perks that some male actors will get, like, "a really phat penthouse or them staying in a yacht instead of them staying on land," compared to what actresses get when asking for childcare, "But then a woman comes in going, 'OK, I have a child ... you're going to make me work a lot more hours than I usually would if I was home. Therefore, I would have to pay for this nanny for more hours — so I kind of need that. And they go, 'Nope, we don't pay for nannies.'"
Maggie Smith
Maggie Smith, writer of the New York Times best-selling memoir, "You Could Make This Place Beautiful" and several books of poetry, seemed to see herself more as a mother who wrote poetry sometimes than a career writer. For a while, she managed to make her work as a writer fit around her role as a mother. However, when her viral poem, "Good Bones" was published in 2016, that all began to change.
As her writing gained more attention and her career grew, she began to travel more. Shifting some of the childcare duties to her husband put a noticeable strain on her marriage. In an excerpt of "You Could Make This Place Beautiful" published in The Cut, she wrote, "As I told a reporter from the Columbus Dispatch, my hometown paper, 'I feel like I go into a phone booth and I turn into a poet sometimes. Most of the other time, I'm just Maggie who pushes the stroller.' But my marriage was never the same after that poem."
Megan Fox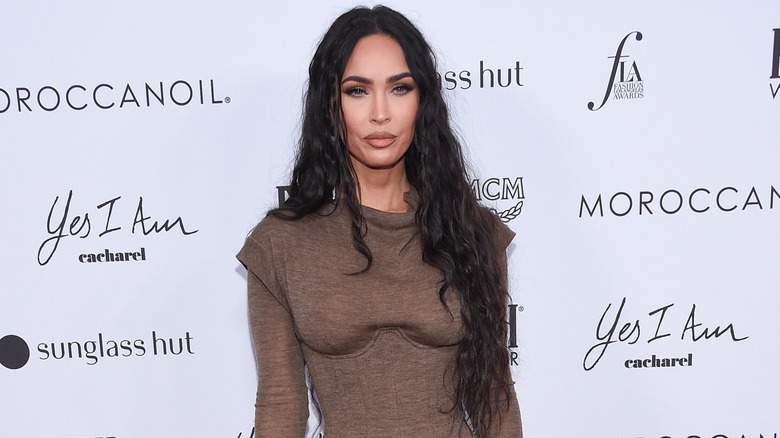 DFree/Shutterstock
In an interview on Kelly Clarkson's talk show, "Jennifer's Body" actress and mom of three boys Megan Fox talked openly about the specific stressors working moms in Hollywood face. She also detailed how Hollywood is lacking in supporting mothers, "Hollywood is not adapted to women and us actually having lives and being moms," she says. "As an actor, it's just very unforgiving because you can't be on camera once you're past a certain stage of pregnancy. Once you have the baby it's like 'OK, well you're going to have to leave to nurse every two hours and that costs us money and insurance.'"
Megan also brought up how the pressure to return to work and to look perfect had a negative impact on her ability to relax and focus on the things that were most important during early motherhood, "The problem is in your brain (while) you're like delivering (your baby) and it's like 'OK, well I have to lose 30 pounds in eight weeks,'" she said. "Those things are really stressful and you're supposed to be bonding and nurturing yourself and nourishing your baby."
Emily Ratajkowski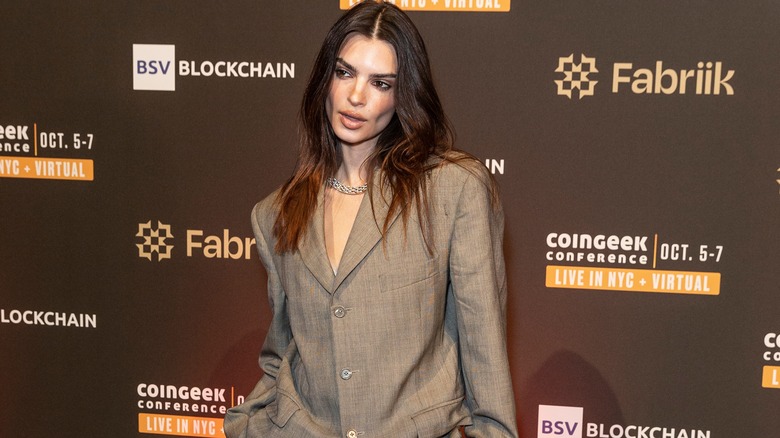 lev radin/Shutterstock
As a model, actress, entrepreneur, and writer, Emily Ratajkowski has proven she's multitalented. Besides being a well-known model, she's also become the owner of a successful swimsuit line and written a best-selling collection of essays called "My Body" in which she details her experiences as a model and how selling her image has shaped her. However, that doesn't mean that balancing the early days of motherhood with work was an easy task.
In an interview with Elle, she discussed how difficult things were for her not long after giving birth. While taking advantage of the peace and quiet that the pandemic created, she still had to go back to work writing her book, within two weeks after having a baby to meet a deadline, "So I was like writing a book and breastfeeding every two to three hours. And felt totally insane and incapable of doing it. And now I'm here talking about it so I think things have worked out."
Beyonce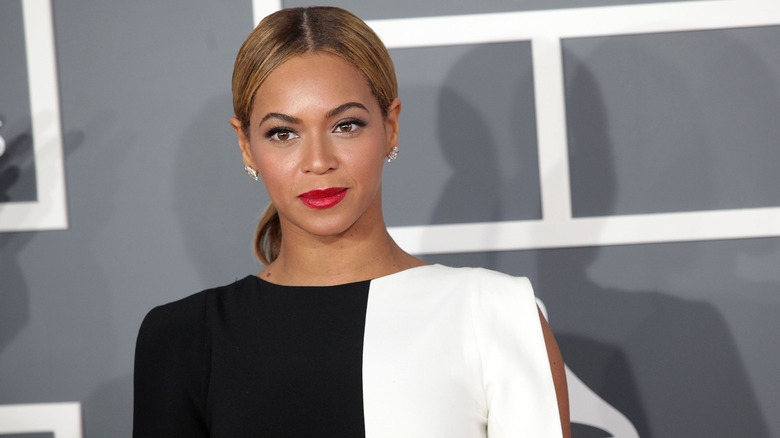 DFree/Shutterstock
Even though Beyonce is a mega-star singer, dancer, actress, and businesswoman with a long list of hit songs, 32 Grammy awards, and a loyal fanbase, she's not immune to the unique pressure that many working mothers feel when trying to show up for everyone in their lives.
In a talk with Elle about her clothing line Ivy Park, she gets into how difficult it can be to fulfill her roles as a career woman, mother, and wife, "I think the most stressful thing for me is balancing work and life. Making sure I am present for my kids — dropping Blue off at school, taking Rumi and Sir to their activities, making time for date nights with my husband, and being home in time to have dinner with my family — all while running a company can be challenging. Juggling all of those roles can be stressful, but I think that's life for any working mom."
Elizabeth Banks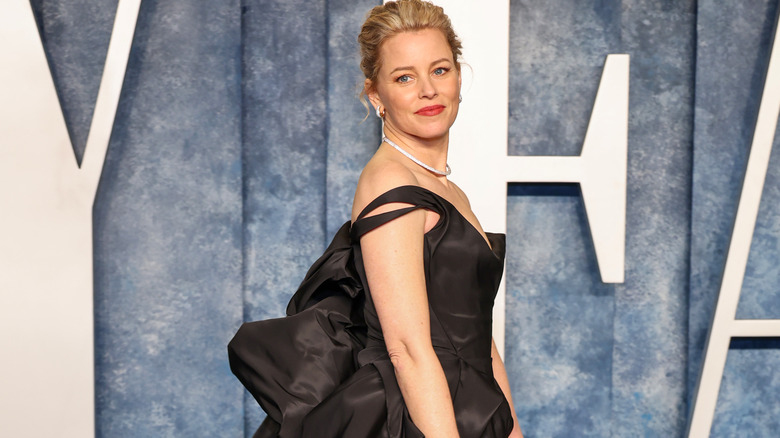 Amy Sussman/Getty Images
A successful comedic actress, filmmaker, and producer, Elizabeth Banks has had memorable roles in comedies like "The 40-Year-Old Virgin" and mega-hit movie series like "Pitch Perfect" and "Hunger Games." While maintaining a busy acting career, she's also had two children. In an interview with New You, she discussed her approach to being a working mother and finding a balance between healthy family life and career duties that work for her.
She also concedes that men don't face the same push women do to achieve this kind of balance, "I balance it by always putting my children's health and safety first. Then I feel OK to go and do the job I love ... [but] I don't think dads do it as well as moms, quite frankly, as I don't think there's any pressure on them to balance anything in their lives when it comes to parents being at work."
Ali Wong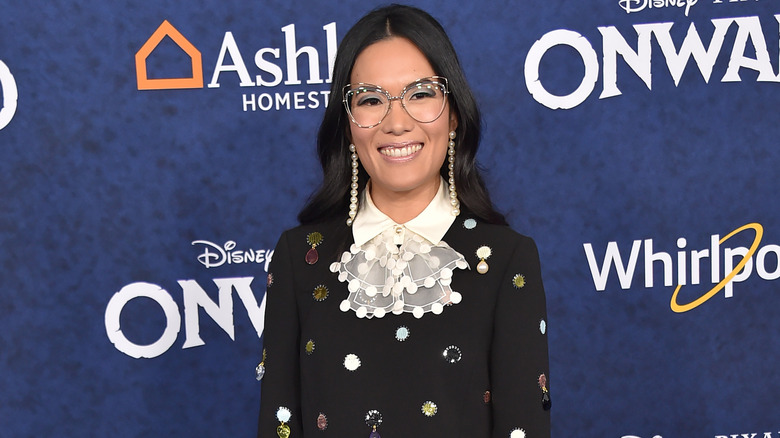 DFree/Shutterstock
Accomplished stand-up comic, writer, and actress, Ali Wong is also a mom of two. While she's found ways to incorporate her family into her career, like by taking her daughters on her comedy tours, she also dives into just how difficult it can be and the huge difference in people's attitudes towards her and her then-husband's contribution to caring for their children, as well as the frustration that it generates.
In her comedy special "Hard Knock Wife," she paints a clear picture of this, joking, "A lot of people like to ask me 'Ali, how on earth do you balance family and career?' Men never get asked that question. Because they don't. My husband occasionally changes diapers, and when people hear that, confetti everywhere. When my baby girl was first born I would do skin-on-skin contact every day to bond with her. She s*** on my chest. Where's my confetti?"
Naomi Watts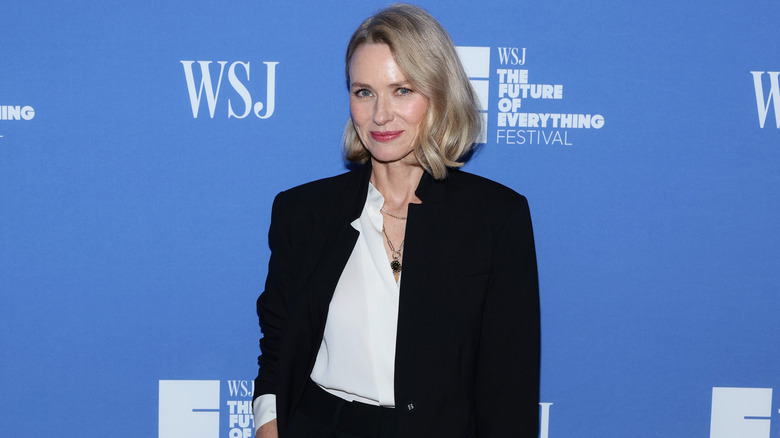 Dimitrios Kambouris/Getty Images
Since starting her acting career in 1986, Naomi Watts has acted in numerous and varied roles, from movies like "Mulholland Drive" to "King Kong." Not only that but she's been nominated for Academy and Golden Globe Awards, as well as winning a SAG award in 2016 for her role in "Birdman." While her skilled acting has gained recognition over the years, Watts acknowledges the struggle of balancing motherhood with work.
In an interview with Blackbook, she also admits that having young children has changed her acting career, making it harder to drive into roles with the abandon she used to, "Every single day, I second-guess myself as a mother. I chose to be a mom. It's something I've always wanted, but I feel torn between two worlds. I am not reaching the same depths and heights that I used to reach in movies because I'm a parent of two small children who desperately need me. It's frustrating because I feel like I'm failing a bit on both ends."
Jennifer Garner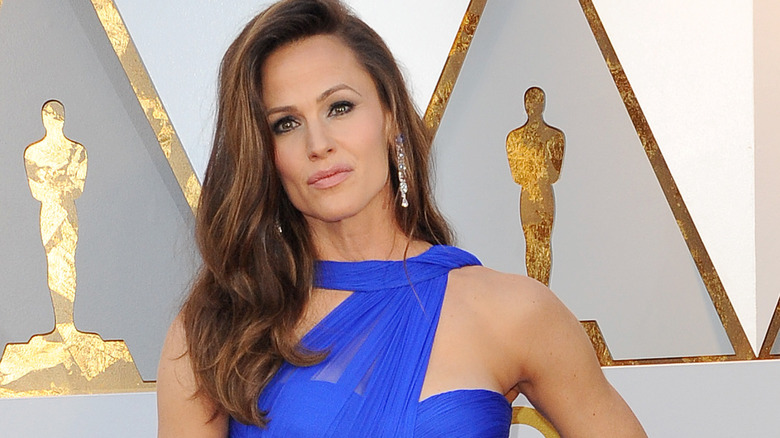 Tinseltown/Shutterstock
Throughout her career, Jennifer Garner has shown plenty of range, from her time as Sydney Bristow on the action show "Alias," to dramas like "Pearl Harbor," to charming romcoms like "13 Going on 30" and "Juno." However, despite her many interesting roles, she's gotten the same boring questions from the press on red carpets. In a speech she gave at Elle's Annual Women in Hollywood Awards, she expressed her frustration with the difference between the way she and her then-husband Ben Affleck were questioned about family life after a press junket.
"We got home at night and we compared notes. And I told him every single person who interviewed me, I mean every single one, and this is true of the red carpet here tonight at Elle, asked me, 'How do you balance work and family? As for work-life balance, he said no one asked him about it that day. As a matter of fact, no one had ever asked him about it. And we do share the same family. Isn't it time to kinda change that conversation?"