Ampoules Are The Most Potent Way To Power Up Your Skincare Routine
Orawan Pattarawimonchai/Shutterstock
We may receive a commission on purchases made from links.
If you've never heard the word "ampoules" before, you might think they're some kind of at-home, electro-shock therapy for your skin — at least, that was our first impression. But the reality is much more exciting. Ampoules are small vials, typically around 1.5 milliliters in size, of super potent skincare products, meant to power up your skincare routine when you're looking for results, fast. 
Ampoules were first popularized in Korean beauty routines, where the vials can contain up to 100% concentration of a particular ingredient. As always, the ingredient listed highest on the ingredient list has the highest concentration in the product. While ampoules are usually part of a set regimen in a Korean beauty routine, you can also use ampoules as an occasional, single-use treatment. For skincare lovers, ampoules are a dream come true, where we can never get enough of our favorite skin-loving ingredients. And, because of the small size of ampoules, you know that you will never waste a drop, nor waste your time with products full of fillers your skin could probably do without. 
How to use ampoules in your skincare routine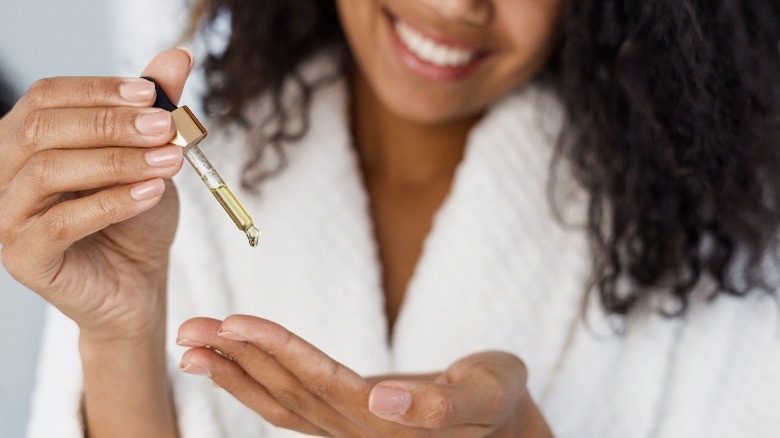 brizmaker/Shutterstock
Using an ampoule is straightforward, but opening them up (when they lack a twist top and dropper) can be a bit of puzzle for some. Ampoules are frequently used in the medical field (full of medicine, not skincare); they're typically made of glass, and you will have to break the neck to open them. It's important to exercise caution to avoid both injuring yourself and spilling the precious product on your bathroom counter — consider using a washcloth over the ampoule as you snap it open, to avoid cuts to your fingers. TikTok user (@alcymarcels) demonstrates in a video how to break ampoules easily and safely: Grab the bottom of the ampoule with one hand, the top of the ampoule with the other. Using your thumb, press on the neck, or thinnest part, of the ampoule, and break it away from you, rather than toward you. 
Once the ampoule is open, the product is ready for use. Dispense the product into your hands before applying to your face. Ampoules should be used after you cleanse and tone your skin, and before you seal in that gorgeous concentrate with your favorite moisturizer. And depending on the concentrate you're using, be sure that you are not using an ampoule with other products that could cause irritation. For example, a vitamin C serum ampoule should not be used at the same time as a retinol. 
Curate ampoules to your skincare routine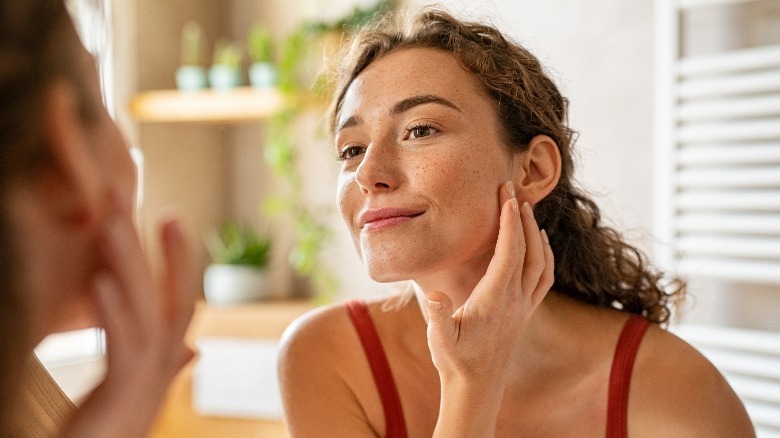 Ground Picture/Shutterstock
With so many kinds of ampoules on the market, from botanical extracts to supercharged synthetics, ampoules can be highly curated to your specific skincare needs and routine. Some of the most common ampoules include ingredients we know and love. Vitamin C ampoules, for example, could work wonders for those who are looking to brighten dark spots on the skin. Ampoules that feature a high concentration of hyaluronic acid help to highly moisturize the skin when it needs a good quenching. Natural extracts like black tea to address the effects of aging, green tea to fight free radicals with its antioxidant properties, and other plant and fruit extracts are also options. And some ampoules can get really fancy — such as this snail secretion extract ampoule from Biopelle, where the ingredient is often used in Korean beauty for its antioxidant properties, or this ginseng extract ampoule from Sulwhasoo that can address fine lines and skin firmness. 
Of course, depending on the ingredients, concentration, and regimen length, ampoules can range in price. Where ampoules are generally meant to be used every other day or less, a set of 10 ampules could cost around $150, but last you for a month or longer. No matter what your budget, and no matter what your skin needs, ampoules might just be the most potent way to give your skincare routine a boost.