What A Ron DeSantis Presidential Campaign Could Mean For Women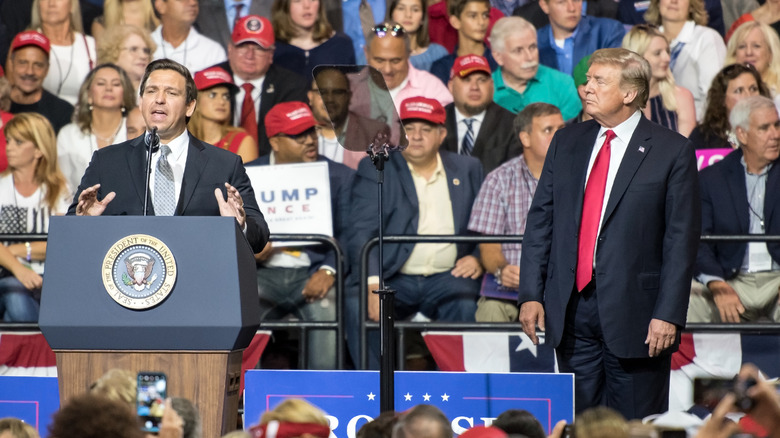 jctabb/Shutterstock
Women's rights, specifically those surrounding reproductive rights, are set to be at the forefront of the upcoming presidential election. Florida Governor Ron DeSantis confirmed his intent to run for president on May 18, leaving many American women mentally preparing for the worst. Governor DeSantis' formal announcement (currently set to occur Wednesday night, on Twitter, during a live conversation with Elon Musk), will shake up the increasingly crowded field of Republican Presidential hopefuls during what will no doubt be a contentious election season.
Republican-led initiatives to limit, minimize, and ban abortion rights for women have been happening throughout the country. The movement to further limit women's rights will no doubt be influenced heavily by this election. This makes Governor DeSantis' candidacy, as the most popular alternative to Former President Trump, increasingly crucial to the potential future of women's rights. While we won't know the full extent of his presidential platform until after he formally announces, his ongoing policies in Florida do give voters a fairly comprehensive idea of what to expect from his presidential campaign: DeSantis' policies show a dangerous lean toward authoritarianism that would leave women with fewer options and substantially fewer rights. 
Policies on abortion and women's healthcare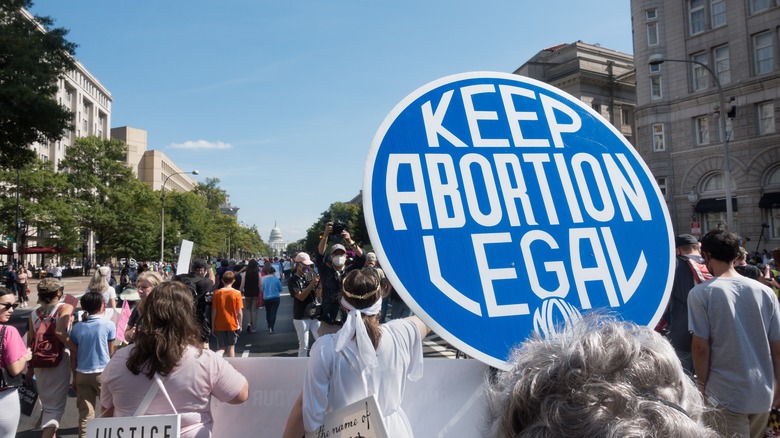 Bob Korn/Shutterstock
When the FDA broadened the availability of abortion pills, like mifepristone, in January 2023, Governor DeSantis sent out an All Provider Alert threatening criminal penalties for doctors in Florida who prescribed those medications. Even worse, in April, DeSantis signed into law one of the most restrictive abortion bans in the entire country. House Bill 5 bans abortions after just six weeks — before many women even know they're pregnant. While many Republican legislators were vocal about further restricting abortion after the overturning of Roe v. Wade, DeSantis remained vague until House Bill 5, which does not bode well for his transparency on women's issues.
DeSantis has also negatively impacted women's access to other healthcare options in Florida. For two years in a row, DeSantis has vetoed millions of dollars meant to provide birth control access to low-income people. The proposed money was set to provide long-acting reversible healthcare options (like intrauterine devices and the Depo-Provera shot) to low-income communities most in need of it. This healthcare proposal would have not only prevented unwanted pregnancies that might require abortion services but also had bipartisan support in the Florida legislature. The governor has refused to comment on the veto. DeSantis has been stripping away women's healthcare access in Florida, and this is a terrifying political stance for a potential President of the United States. Women are still currently reeling from living in a post-Roe v. Wade world, and if elected, DeSantis' presidency could signal even more reproductive healthcare restrictions in the United States.
Policies on social issues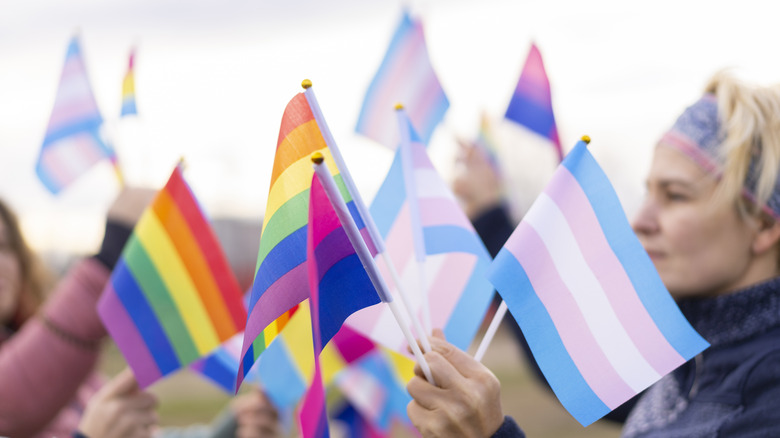 Vladimir Vladimirov/Getty Images
DeSantis has not only targeted women's healthcare in his restrictive policies but has also made a point of targeting the LGBTQ+ community. He signed a bill on May 17 banning all transgender-affirming care for minors, making it increasingly difficult for trans adults to receive care, and a bathroom bill requiring all bathrooms and locker rooms at public facilities to be gender specific. Especially terrifying is the bill he signed that gives Florida courts jurisdiction during custody battles over transgender minors if a Florida resident parent opposes gender-affirming care. This effectively allows the state to take a child away from their parent/family even if their family lives and receives care out of state. DeSantis has even referred to gender-affirming care for minors as "mutilation."
Additionally, DeSantis has continually targeted venues in Florida that host drag shows by threatening liquor licenses and having undercover agents attend events. He also passed the infamous Don't Say Gay bill last year, which, at the time, banned any education on sexual orientation or gender identity for children in third grade and below. However, last week he expanded the bill to prohibit instruction on these topics through to eighth grade. Additionally, the expansion restricts any and all reproductive health education for Florida students in grades six through twelve.
These bills not only politicize medical care by putting legislators in the middle of the doctor-patient relationship but they also politicize education by ensuring future generations are not instructed on their own bodies. This impacts young girls' abilities to advocate for themselves while also negatively impacting women's abilities to educate, provide care for, and, in some cases, keep custody of their children. These laws applied on a national level would restrict women's abilities to make decisions for themselves and their children, potentially putting them at risk for criminal charges.