Barbara Corcoran Recreated Martha Stewart's Sports Illustrated Cover And It's The Anti-Ageist Trend We Need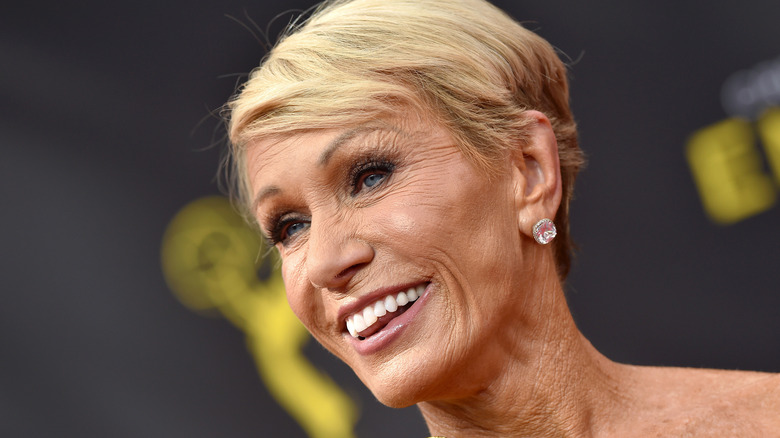 Axelle/bauer-griffin/Getty Images
Most of us were surprised to see Martha Stewart gracing the cover of the "Sports Illustrated" swimsuit edition this year. This spot is nothing if not coveted, and we're used to seeing a very specific type of woman in a very specific age bracket gracing this cover. Martha Stewart, on the other hand, is 81 years old, and it proves that seeing older women on covers like this one is the way of the future. 
While most of us are just watching what Martha Stewart did and looking at her amazing cover in awe, businesswoman and "Shark Tank" star, Barabara Corcoran, has decided to use her own platform to reinforce Stewart's big statement. Corcoran was clearly inspired by this incredible cover photo, so she set out to prove that, despite what the media wants us to think, there are plenty of women over the age of 70 who can look cover-ready while rocking a swimsuit.
Barbara Corcoran's bathing suit-clad Instagram post makes waves
On May 18th, just a few days following the release of Martha Stewart's history-making cover, Barbara Corcoran took to Instagram to prove that while she may not have graced the "Sports Illustrated" cover (yet,) she's definitely got what it takes. In her post, Corcoran is shown seated on a bench in front of a window with a view of the city skyline. She's smiling and wearing a white one-piece swimsuit with bold orange fabric draped over her arms. It's clear that she styled herself to look like Stewart's "Sports Illustrated" cover, but if it wasn't clear enough, Corcoran made sure to tag Martha Stewart and the "Sports Illustrated Swimsuit" Instagram accounts.
She supplemented the photo with the caption, "I can't cook, but I sure can swim." At 74 years old, Corcoran has already made it clear that there isn't much she can't do (besides, apparently, cooking.) And, while her post and caption were clearly done with a bit of cheekiness, it's easy to see that she has the utmost respect for what Stewart accomplished and wants to put herself out there for the same cause.
Stewart's cover has made a major statement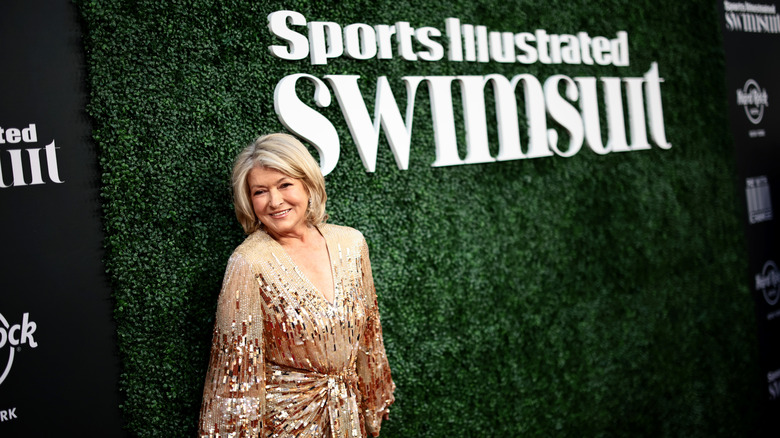 Dimitrios Kambouris/Getty Images
There was plenty of representation in this year's "Sports Illustrated" swimsuit edition, making it clear that the iconic annual issue is more than ready to move in a new direction that's inclusive of different people and more diverse bikini bodies. This comes just in time for a new wave of folks being more ready than ever to fight against ageism.
Diversity and representation are vital in all different shapes and forms. Collective attention on the issue of ageism is long overdue and tackling the issue via representation is an important first step in changing how we view and portray women of a certain age. Many celebrities are taking a stand and starting to push back on the way women are treated in Hollywood as a result of their age, like "Abbot Elementary" star, Janelle James, who refuses to reveal her age due to the ugly truth about the valuation of women. Yet, this "Sports Illustrated" issue has put an 81-year-old woman center stage and free to embrace her sexuality — something that the media seldom ever shows us. Barbara Corcoran's own version of this now iconic image shows just how important media representation can be and how seeing ourselves represented can make us feel more comfortable putting ourselves out there. So, hats off to Barbara Corcoran and Martha Stewart for showing us just how easy it is to be hot and confident at any age.