10 Times Celebrities Took A Stand On The Red Carpet (And It Felt Genuine)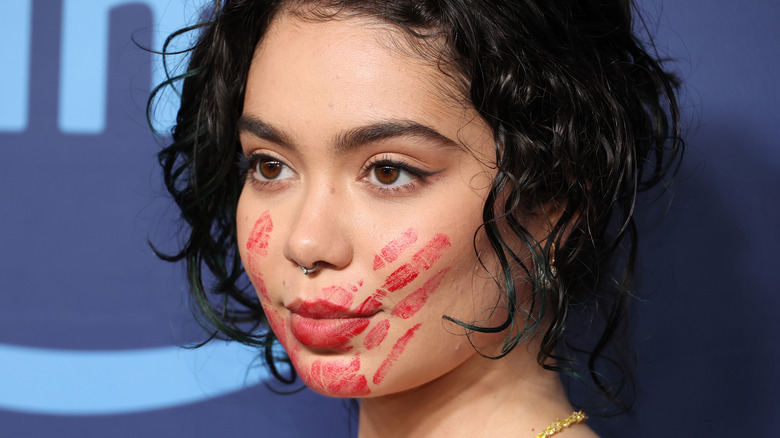 Cindy Ord/Getty Images
Many celebrities know that the place to make a statement is on the red carpet. That may be via something as simple as a fashion statement, or it could be a chance to draw attention to something much more poignant. Many famous faces may opt to wear pins, wristbands, or armbands to show their support for important causes, while others are known to go all out with something seriously bold to grab the headlines on behalf of serious social issues.
Often referred to as power dressing or political fashion, what the world's biggest stars are wearing when the world's eyes are on them can say a whole lot — often without them having to actually physically say anything at all. Sometimes (and let's be honest) it maybe doesn't come across as the most genuine thing in the world. But then there are times when those in the spotlight have used their celebrity for good, grabbing and shifting the world's focus to a personal cause close to their hearts.
Laverne Cox is a staunch supporter of trans rights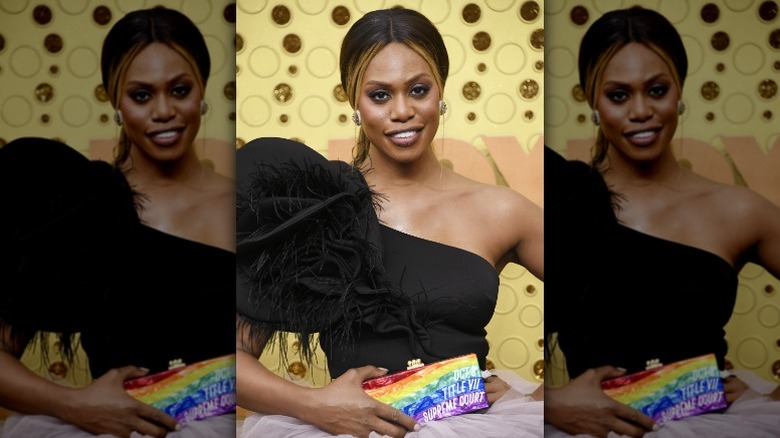 Frazer Harrison/Getty Images
Laverne Cox has done so much over the years to raise awareness for the trans community, and her appearance at the 2019 Emmys was no different. The former "Orange is the New Black" actor, who is trans herself and was nominated at the award show, walked the red carpet holding a rainbow clutch bag with an important message written across it. "Oct 8. Title VII. Supreme Court" was written on one side, while the other side stated, "#TRANSISBEAUTIFUL."
Cox's message was highlighting a Supreme Court hearing about employment discrimination for the LGBTQI+ community, which she spoke about to E! News on the red carpet. "Maybe it's about raising awareness so everyone knows that our lives are in danger. A lot of people aren't talking about this case and it has implications for the LGBT community," Cox explained. "But it has implications for women and anyone who doesn't conform to someone else's idea of how you should be ...  A man or woman or neither!"
Lizzo used her power to draw attention to voting for marginalized people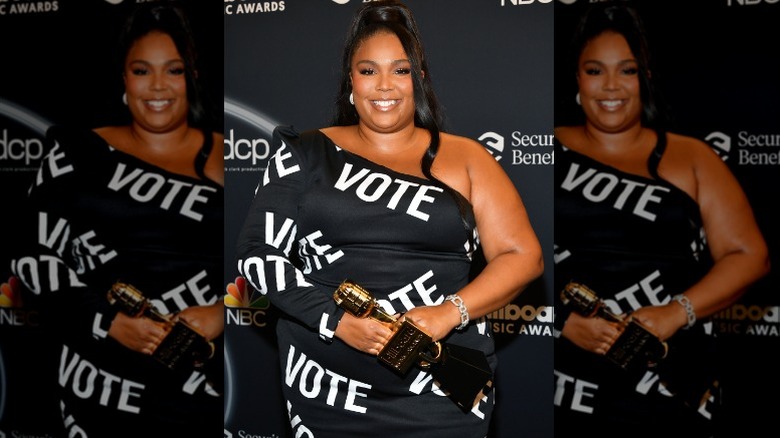 Amy Sussman/bbma2020
Lizzo was all about getting more people to the polling stations when she walked the red carpet at the 2020 Billboard Music Awards, sporting a black mini dress with "VOTE" printed on it multiple times. The popstar's aim was to put the focus on voter suppression in the run-up to the 2020 election between President Joe Biden and former President Donald Trump.
Lizzo addressed her outfit choice when she won the award for Top Song Sales Artist, using her voice to praise the women, particularly Black women, who came before her and fought for voting equality. "I've been thinking a lot about suppression and the voices that refused to be suppressed. I wonder, would I be standing here right now if it weren't for the big Black women who refused to have their voices be suppressed?" she asked. "Whether it's through music, protest, or your right to vote, use your power, use your voice, and refuse to be suppressed." Lizzo also posted her acceptance speech on Instagram, writing in the caption, "REFUSE TO BE SUPPRESSED."
Auli'i Cravalho made a statement about the mistreatment of indigenous women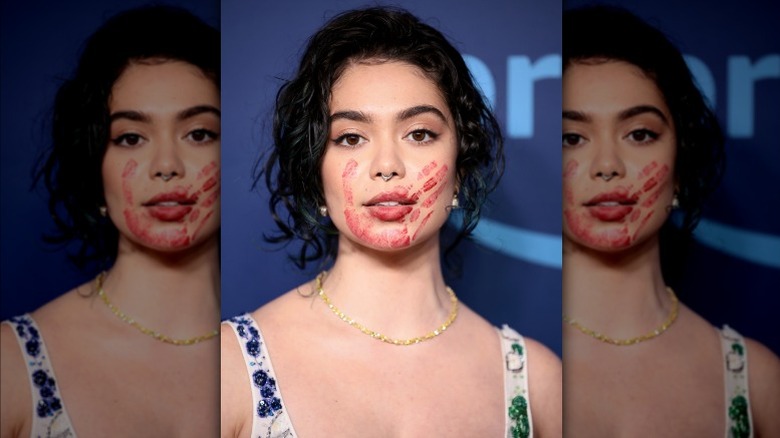 Dimitrios Kambouris/Getty
In March 2023, Auli'i Cravalho made a very bold statement on the red carpet at the premiere of "The Power" when she wore a red handprint over her mouth. The bold move was the "Moana" star's way of raising awareness for the many missing and murdered Indigenous women and girls. She told "Good Morning America" that she was standing in solidarity with the non-profit No More Stolen Sisters, which fights discrimination against the marginalized group in Canada.
"It is incredibly frustrating that there are not enough cases that are actually followed up with. It points to police and how they are not using their funds correctly," she told the ABC morning show. "Indigenous women are 10 times more likely to be kidnapped or abducted and it is incredibly frustrating that there are not enough cases that are actually followed up with, and it points to police and how they are not using their funds correctly," the actor added.
Cravalho continued to show her support on Instagram after the event. Sharing photos from the red carpet on her page, she wrote in the caption that she wanted to use "The Power"'s message of female empowerment in a real situation. "I felt a responsibility to ground our work out of the sci-fi realm, and back into the real world," she shared.
Travon Free had a touching way of honoring victims of police brutality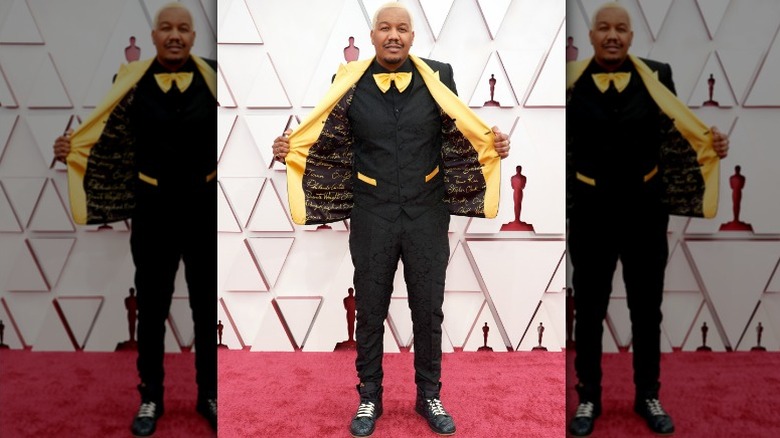 Handout/Getty Images
Travon Free's clothing came with an important message on the inside when he attended the 2021 Academy Awards. The comedian and actor wore a suit from fashion house Dolce & Gabbana, which featured the names of a number of people who died at the hands of U.S. police brutality inside. Among the names included those of Eric Garner, Daunte Wright, Alton Sterling, Philando Castile, and Tamir Rice.
Making his clothing choice even more poignant, 2021 saw an increased focus on the Black Lives Matter movement. Free was also nominated (and won!) at the prestigious award show for his short film focusing on police brutality, titled "Two Distant Strangers."
During his acceptance speech for Best Live Action Short, Free spoke poignantly about police brutality. "Today the police will kill three people. And tomorrow the police will kill three people. And the day after that, the police will kill three people because on average the police in America every day kill three people, which amounts to about a thousand people a year," he shared. "And those people happen to disproportionately be Black people." Free then concluded his touching speech, "So I just ask that you please not be indifferent. Please don't be indifferent to our pain."
Jennifer Nettles is a woman boldly supporting women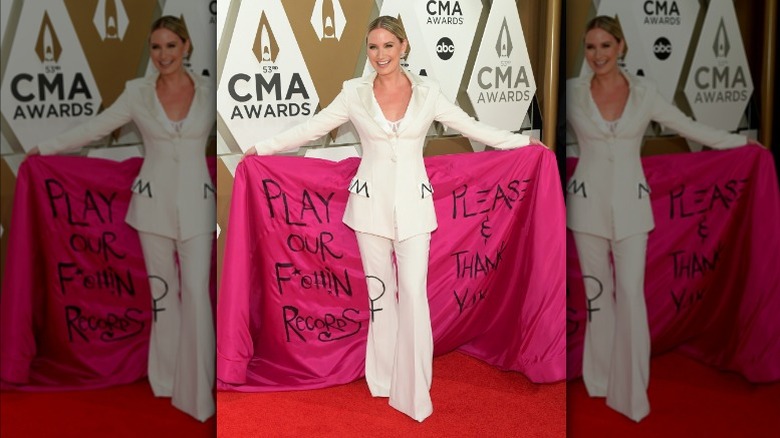 Jason Kempin/Getty Images
Jennifer Nettles made it clear she wanted equality for the women of country music in 2019 when she walked the CMA Awards red carpet with her message written all over her clothing. The Sugarland singer wore a white pantsuit with a pink train that, when she opened it out, had the words "Play our f***in' records. Please and thank you" written on the inside. On the back, it stated, "Equal play." 
Nettles' very public display was actually in reference to the lack of women being played on country radio. A number of other women in the genre have also spoken candidly about the discrepancy over the years, including Nettles' peers like Underwood and Miranda Lambert.
Nettles was asked about her bold fashion choice in an interview with Rolling Stone. "When I heard the CMAs were going to be celebrating women, and I was going to be invited, I thought, 'What a fantastic opportunity to take the conversation beyond applause and beyond the ritual, and actually try and further it and put it out into the public consciousness, and send a message to the industry as well,'" she said. Well, she certainly did. That year, the award show made a point of highlighting more women in the genre, including appointing Carrie Underwood, Reba McEntire, and Dolly Parton as hosts.
Mel B stood tall for domestic violence victims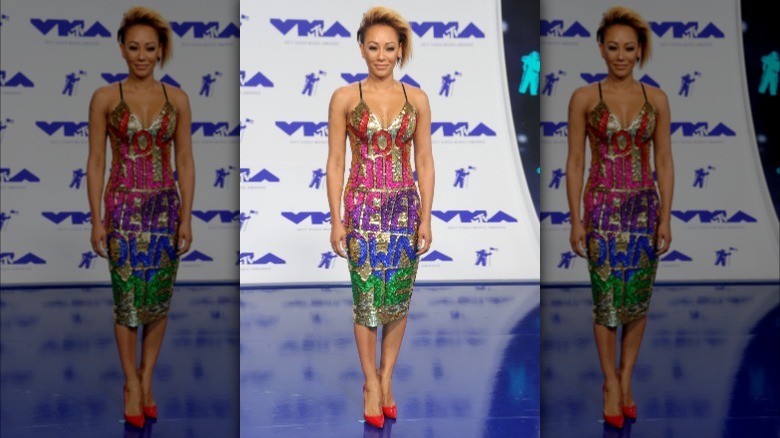 Gregg Deguire/Getty
Spice Girls star and former "America's Got Talent" judge Mel B used her platform to share a defiant message in the wake of her split from former husband, Stephen Belafonte. The star stepped out at the 2017 MTV Video Music Awards in a sequin dress with the words "You will never own me" written in rainbow colors across it.
At the time, Mel B had recently ended her decade-long marriage with Belafonte, whom she has since accused of abuse. Four months before her red carpet appearance, People reported that the star had filed for a temporary restraining order against her then-estranged husband, and had alleged in court documents that he physically abused her throughout their marriage. The singer and talent show judge also purported that he had threatened and exploited her.
Belafonte, however, always denied his former wife's allegations, including telling DailyMailTV in 2018 that her claims were false.
If you or someone you know is dealing with domestic abuse, you can call the National Domestic Violence Hotline at 1−800−799−7233. You can also find more information, resources, and support on their website.
Aunjanue Ellis called out her own state for a very important reason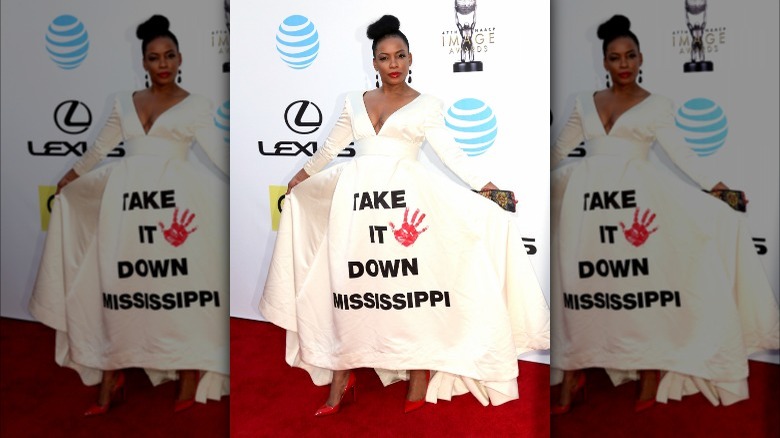 David Livingston/Getty Images
There was a whole lot of controversy surrounding Mississippi's state flag before it was officially changed in 2020. The original version, which was created in 1894, featured the extremely contentious confederate flag, linking the state's emblem to racism and slavery.
Four years before the flag was changed (it was the last state flag to feature the provocative emblem), actor Aunjanue Ellis took a stand against the original version during the 2016 NAACP Image Awards. She hit the red carpet in an all-white gown with the words "Take it down Mississippi" with a red hand print on it, proudly spreading the skirt of her dress to show off her important message.
Ellis was nominated at the award show as Outstanding Actress in a Television Movie, Miniseries, or Dramatic Special category for her work on BET's "The Book of Negroes." She's also a Mississippi native, which clearly meant this was a cause very close to her heart.
Simon Helberg and Jocelyn Towne opened their arms to refugees on the red carpet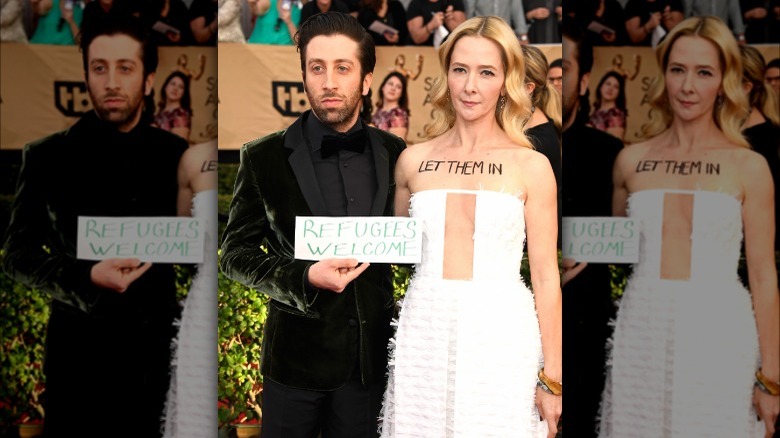 Frazer Harrison/Getty
Former "Big Bang Theory" actor Simon Helberg and writer and producer Jocelyn Towne, his wife, made a bold choice in 2017 when they walked the SAG Awards red carpet together. Towne wrote the words "Let them in" in big, black, block letters across her chest above her strapless white gown, while Helberg held up a piece of paper with "Refugees welcome" written on it. At the time, then-President Donald Trump had enforced an order that barred refugees from several Middle Eastern countries from entering the U.S.
Though Helberg and Towne were both born in California, the notion of banning certain people from entering the country perhaps had a deeper meaning for the latter. Towne has an American dad and a French mom, and Towne herself is a French citizen because of her mom's lineage. Helberg also told WWD in 2021 that he, too, was looking to become a citizen of the European nation.
Amber Rose and Blac Chyna joined forces to end slut shaming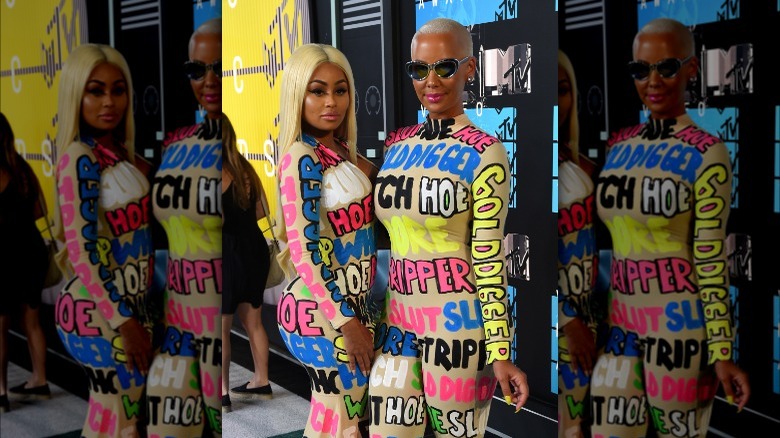 Larry Busacca/Getty
Putting slut-shamers to shame, Amber Rose and Blac Chyna coordinated very important outfits in 2015 when they posed together at the MTV Video Music Awards. Though wearing ensembles emblazoned with some of the most negative words other people have ever said to you may sound like an incredibly daunting experience, these two did just that in an attempt to take a stand against misogyny and slut-shaming. Chyna opted for a long gown and Rose rocked a jumpsuit, both of which had words like "Gold digger," "slut," and "b***h" repeated over them to create a print.
Speaking during E!'s "Live from the Red Carpet" pre-show, Chyna explained, "[We] basically wanted to paint a picture of what everybody, kind of like, already says about us." Rose then added, "Yeah, they call us sluts and whores all the time so we just embrace it." The latter also spoke about her "Slut Walk" movement, which encouraged women to walk the streets to protest against slut-shaming. The model encouraged others to "join the movement ... against sexual injustice, victim blaming, derogatory labeling and gender inequality."
Taboo highlighted the plight of his people in traditional dress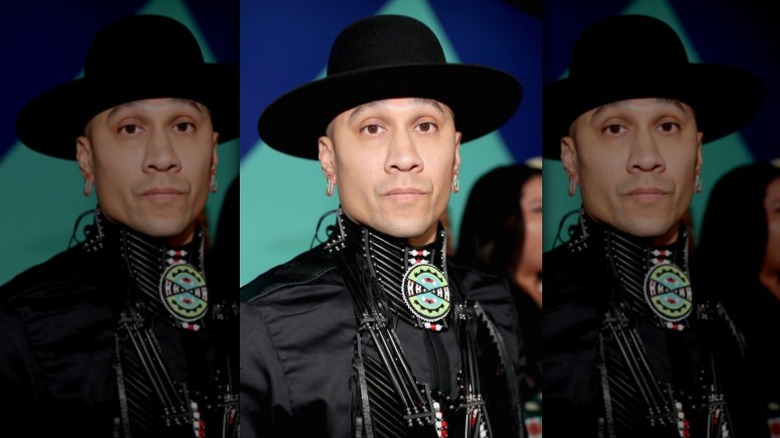 Christopher Polk/Getty
Black Eyed Peas star Taboo (who was born Jaime Luis Gomez) hit the red carpet in a traditional Shoshone Native American outfit at the 2017 MTV Video Music Awards, posing for pictures with his fist proudly in the air. The musician's outfit was a not only a touching nod to his heritage, but also appeared to be a defiant statement and reference to his song, "Stand Up/Stand N Rock #NoDAPL." The track raised awareness for the plight of the people of the Standing Rock Sioux reservation after it went viral the year prior over the controversial installation of a pipeline. A video that did the rounds across social media appeared to show Native American people being pepper sprayed and battling police dogs as they protested its construction.
Taboo's ancestors are of Shoshone descent, and the song also aimed to bring attention to the difficulties many Native American people have faced, and continue to face, across the nation.