5 Ways To Wear A Tube Top Without Looking Like A Teenager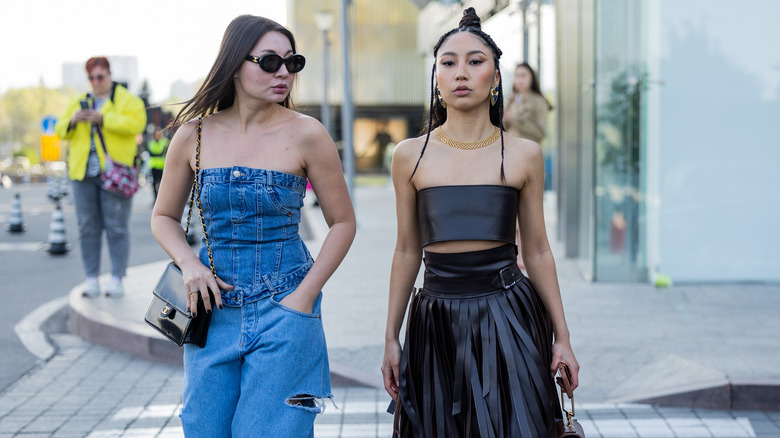 Christian Vierig/Getty Images
In a shocking twist of '90s revival, the tube top is back and it's stronger than ever. Our favorite nostalgic look has wound its way back to runway style as well as streetwear, and we're seeing revamped looks that incorporate the good, ol' tube top. Talk about an iconic Y2K look! For many of us, that particular top evokes old memories from our teenage years. But here we are: older, wiser, and wanting to bring the tube top back into the mix. Thankfully, there's styling inspiration galore to put together looks involving the '90s staple without looking like we're still teens. We're pairing it with wide-leg trousers and voluminous skirts, and rocking the tube top dress to rewrite the history of this old tried-and-true staple.
Before we get into the looks, there are a few key tips to take note of when wearing a tube top. Obviously, they can be worn alone without any additional garments underneath. A strapless bra can also be a helpful staple with this look, if your preference is additional support and coverage. That way, you can still wear a bra without straps getting in the way of what makes the tube top a tube. The whole point is to show off your shoulders and clavicle and we're here to do that in a way that's sophisticated and chic.
Pair a tube top with wide-leg trousers
For a more contemporary styling of the nostalgic tube top, pair it with wide-leg trousers. Since the top tends to be very fitted, a wider leg creates an optimal balance of full and fitted. The best part about this combination is that it can be dressed up or down. For a casual look, pair a tube top with wide-leg cargo pants or wide-leg, high-rise jeans. As we're all well aware, skinny jeans are way out (though judging from the Renaissance of the tube top, they might be back before we expect it), wide-leg jeans are the most stylish way to make this look casual and contemporary. Pair the look with sneakers or a sturdy sandal for easy, comfortable walking in the summer.
If you want to dress up this combo, pair the tube top with polished, wide-leg trousers. A cropped, high-waisted wide leg would look sophisticated with the playful top. Rock the look with heels or a chunky wedge to add an element of glamor. Pair with a clutch or a baguette bag and minimal jewelry to keep the look simple and polished.
Rock a tube top with shorts for a perfect summer look
A tube top and shorts combo makes for the ideal summer look. But it doesn't have to be a replica of the type of styles we were putting together as teenagers decades ago. For an optimal summer look, pair a tube top with linen Bermuda shorts. The high-waisted element and the volume of the shorts create a balanced silhouette with the tightness of the top. Since we're channeling summer fun with this look, consider opting for a colorful tube top or choose a graphic print. Let the look be playful and colorful. There's also room here too though for minimalism and sophistication. Italian wool pleated shorts in a neutral tone pair nicely with a plain, white tube top. Finish off the look with a slouchy overtop. Opt for a short-sleeved Hawaiian shirt or a minimal, linen oversized button-down. The look can also work seamlessly with a blazer, something to complement the shorts. It can even be the same fabric. Pair with chunky leather sandals or heels, depending on your proclivity to dress it up or keep it casual.
Or if you're going full summer-fun mode, rock a tube top with frayed denim shorts. Keep the look playful and relaxed. Pair with sneakers or Teva's velcro sandals. That's a get-up-and-go kind of vibe! 
Lean into the '90s accessorizing
Since we are working with something from the 90s, why not play on that vibe for the completed look? Pair the tube top with a matching scarf to play on the accessorizing flair of the early aughts. Style your hair in a slick-back bun and go for large hoop earrings. Work a blazer into the mix with some tiny sunglasses and you're good to go.
Part of the appeal of the tube top is the range of fabrics and styles it comes in. When going full '90s with the look, consider the effect of a leather or vegan leather tube top. It's also worth scouting out a tube top that plays with elements of the bustier or corset-style top. The structural rib work of the lingerie-inspired pieces can add an element of sex appeal while playing with such a fun cut of clothing. There are lace options for tube tops, as well as metallic options and crocheted versions. If we're already working with something so playful, lean back into those last few decades and play with the many texturized options available. We can't forget tie-dyed looks, as well as embellishments like zippers, drawstrings, and bows that wrap the look together.
The perfection that is a tube top and skirt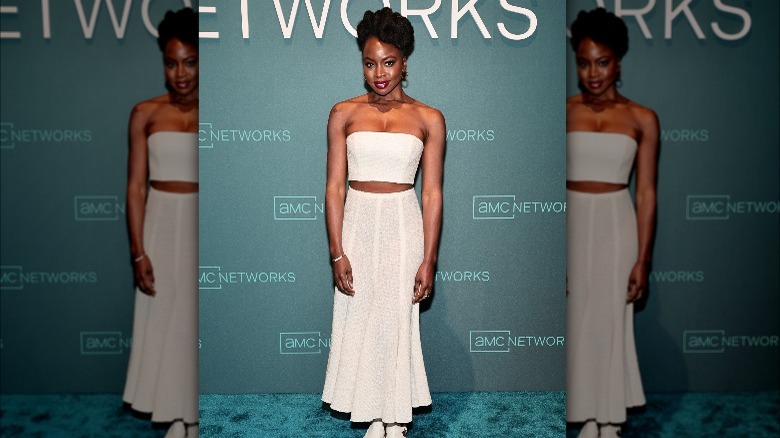 Jamie Mccarthy/Getty Images
Tube tops also work incredibly well with skirts. Best of all, the options are endless. Pair a tube top with a denim maxi skirt or a bohemian skirt for the full force of the '90s. Or work with a pencil skirt to create the perfect out-of-the-office look if you're after a more fitted silhouette. We saw Zendaya work with a tube top and skirt at the Essence Festival in New Orleans. She wore a brown ribbed tube top in a cropped cut with a leather, patchwork skirt in muted earth tones. The balance was perfection.
We've seen some great stylings with a tube top and tube skirt. Let the midriff peek out to break up the look and pair it with bold footwear. Think cowboy boots or statement wedges, to take the look from day to night. For a softer look, pair a tube top with a silk skirt and minimalist leather flip-flops. If you want to really lean into a hot girl summer, pair a tube top with a shorter skirt for a form-fitting look. Consider breaking up the colors for a punch of color.
Tube top dresses are everything
For a look you can literally step into, get on that tube-top dress train. We're seeing them in citrus color ranges and long hemlines, creating a maxi-dress effect. We're also seeing them in mesh fabrics, so you can jump into it after a day in the pool and keep the summer fun vibe happening all night. There are also ranges of robust floral prints for added color, as well as looks to satisfy the minimalist palette in whites, camels, and military green. "The tube dress is seeing a summer resurgence, and for good reason. It is easy to perfect for warmer weather and offers a dose of that feel-good nostalgia we're all craving — that minimalist silhouette is a total Jennifer Aniston in the '90s vibe," Poshmark's curation expert Chloe Barfet told Refinery29.
A tube top dress can easily be played up. Pair it with heels and statement earrings for a perfect wedding reception look. But you can also play the look down and go casual. Cinch the dress off at the waist with a belt. Slide into sandals and big sunglasses and you're good to go.