What Should You Wear To A Restaurant With A Formal Dress Code?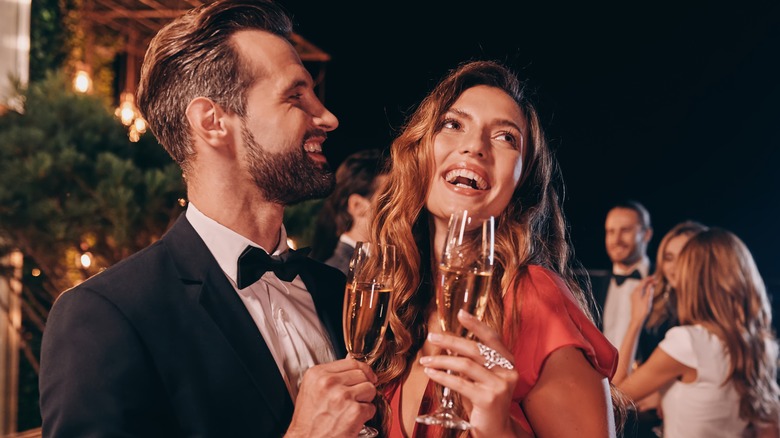 G-Stock Studio/Shutterstock
Ball gowns. High heels. Diamond necklaces. When you hear the phrase "formal dress code," these are probably the first things that come to mind. But most people don't have designer, first-class footwear or bonafide diamonds just lying around their apartment. Still, if you're going to a restaurant with a formal dress code, you'll want to dress to impress. The last thing you want is to be the only one wearing business casual in a sea of ball gowns.
But if you're not well-versed in the intricacies of formalwear, it can be hard to keep up with the proper etiquette. Like, what is the difference between black tie and white tie, anyway? And how do you know which one to choose? What's the line between a semi-formal dress code and 100% formal-formal?
Well, there are several different ways you can interpret a restaurant's formal dress code. While we can give you some pointers on formalwear, doing your research on the restaurant beforehand is ultimately the best way to ensure that your outfit is appropriate.
Black tie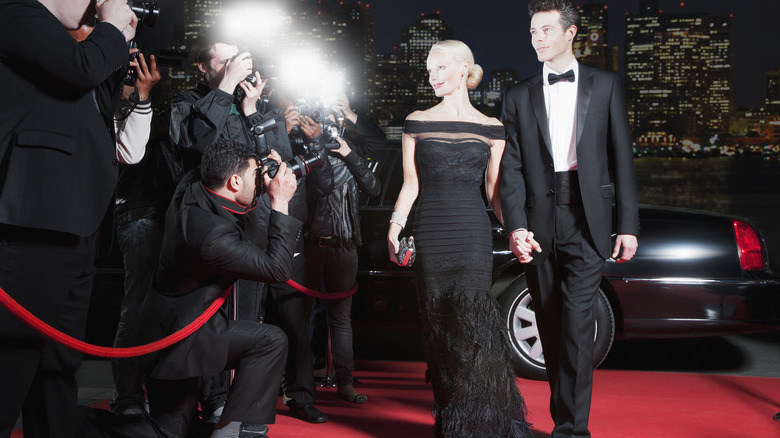 Robert Daly/Getty Images
When it comes to formalwear, black tie is the more flexible of the two. You can get away with a shorter dress, but a longer gown is typically what's best. If you're out of a long gown, can't afford to buy one, and the most formal thing in your closet is a cocktail dress, don't panic.
First order of business: do some research into the place. Have people worn shorter dresses there before, or would you be the only one? What will your friends be wearing? If all answers point towards a cocktail dress, you're in luck. If not, you have a couple of options. You can use the popular site Rent the Runway, where you can rent designer clothing at a cheaper price from the comfort of your home. If, for some reason, you're unable to find what you're looking for, you can still wear a cocktail dress — but only if you're careful.
The first thing you'll want to pay attention to is the color. Save your hot pink or electric blue dress for another night. Black, though, is a classy color that can be easily accessorized to look more formal. Try a glittery diamond or cubic zirconia necklace, matched with a simple, elegant bracelet and a pair of sleek, black heels. The last thing you want is for this dress to be ill-fitting; luckily, tailoring is the simple solution to elevating your wardrobe. With a classy dress that fits you like a glove, you can kiss your formalwear worries goodbye.
White tie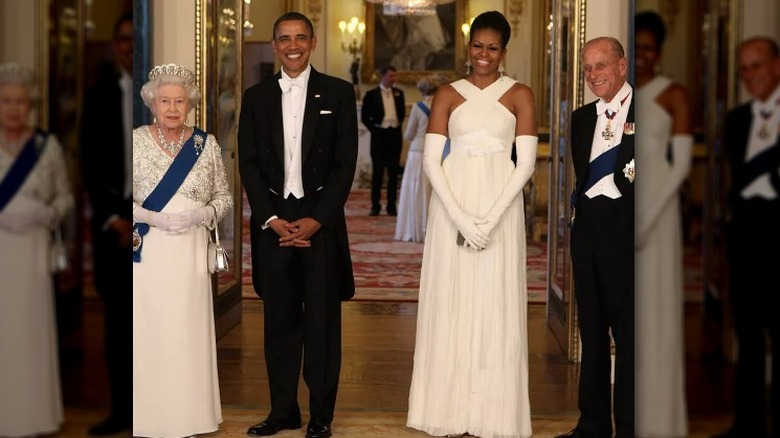 Getty Images/Chris Jackson
Unless you're uber-wealthy and going to a restaurant party thrown by a famous chef, you probably won't have to shop for white-tie attire. A restaurant with a formal dress code usually calls for black tie. If you are, though, we can give you some pointers (oh, and don't forget to invite us).
This is the epitome of formalwear, the absolute fanciest you're going to get. In other words, this is the kind of event you break out the heirlooms for. Opt for full-length ball and evening gowns. Opera gloves are sometimes required, but not always; either way, they're a good idea for this type of formalwear.
You don't need to totally skimp out on the accessories, but be sure not to wear too much jewelry. This dress code relies a lot on tradition, so you want to avoid anything that might make you look tacky. Think about how you'd dress for a wedding with a traditional aesthetic – you probably wouldn't go overboard with the glitter there, so don't do it now. If you're looking for inspiration, you can turn to most high-profile, star-studded events. Anne Chertoff, a Beaumont Etiquette weddings specialist, tells Brides that the Royal State Dinners at Buckingham Palace and the International Debutante Ball in New York City both have white tie dress codes.