What Should You Wear To A Restaurant With A Semi-Formal Dress Code?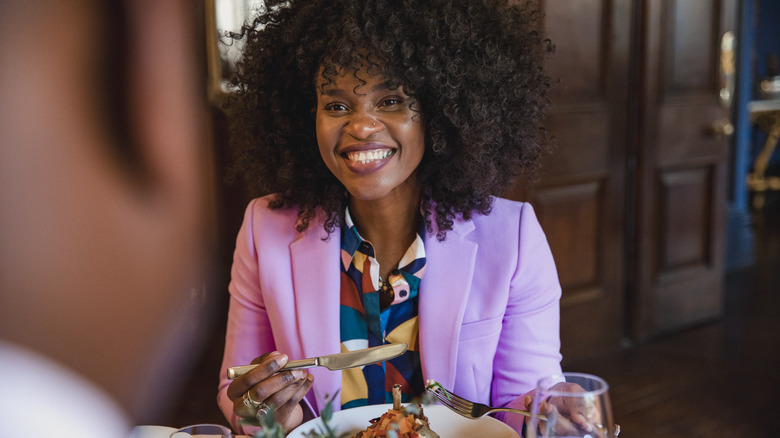 Solstock/Getty Images
When dressing for certain occasions, a set of clothing rules to abide by is to be expected. Weddings, work events, graduation parties or funerals; the situations are many, and so are the dress codes that need deciphering.
There are a few casual dress codes, but they don't all imply that you get to wear whatever you want. The only instance where that might be true is when the dress code is just casual; then it's time to bust out your favorite pair of jeans and enjoy the event. On the opposite side of the dress code spectrum, there's full-glam black tie — but what about the middle ground?
The semi-formal approach to dressing yourself for an event might be difficult to master at times. It is fairly simple to understand, however; you're not going to wear a gown, but you will elevate your styling game slightly above that of business attire. While deciding what to wear when the dress code is semi-formal, restaurants can make you think twice about your clothing choices. Don't get intimated, though, as restaurants with semi-formal dress etiquette typically just strive to maintain a more courtly, fine dining atmosphere.
Pay attention to details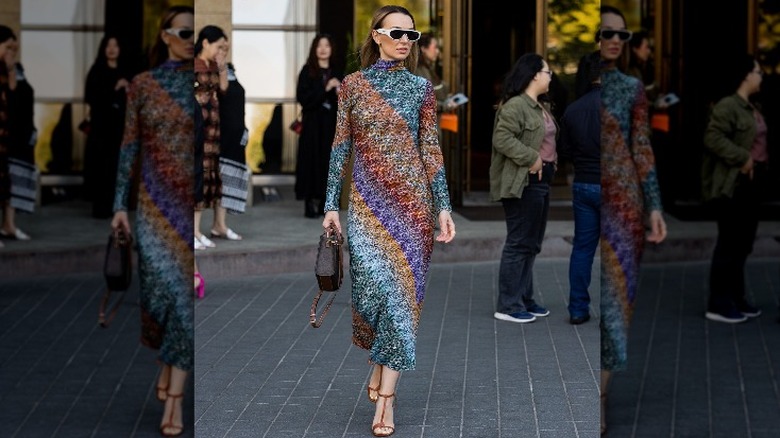 Christian Vierig/Getty Images
A semi-formal dress code might be the best one for a restaurant, honestly. There's no need for evening dresses and tuxedos, yet you're still going to feel dressed up and special. Fashion stylist Lara Eurdolian King tells InStyle that when it comes to semi-formal attire, you are free to play with fabrics, hemlines, details, and everything in between.
According to King, semi-formal means you're allowed to wear "anything from a long slip dress to an over-the-knee situation, two-piece or even pants." However, the many options might be overwhelming for some, so choose your focal garment first. Dresses and jumpsuits are easier to style as they can be the only clothing piece you need to wear, so stick to those if you're not sure how to work around a two-piece set. Just make sure to avoid mini-lengths and overly revealing pieces.
Details create the big picture, especially here. Think interesting hemlines, patterns, and colors; all would work for a semi-formal restaurant dress code. King advises paying attention to fabrics and materials as those can elevate the look without you having to try too much. Fabrics like silk and velvet for clothes can make you feel luxurious, while leather is a great choice for accessories. Don't go overboard with jewelry, though, as over-the-top statement pieces no longer fall into the semi-formal category.
Suit up for a semi-formal restaurant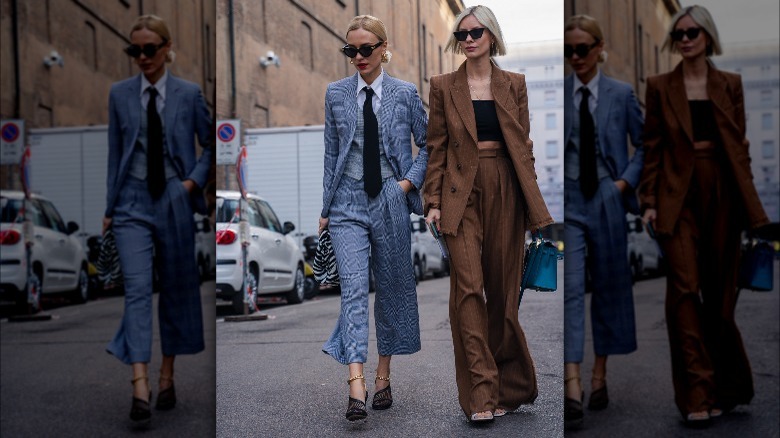 Maria Galtseva/Getty Images
If you steer toward more masculine dressing, semi-formal attire is still the ideal restaurant dress code for you to have fun with your outfit. A two-piece suit would be within the dress code; just make sure it's not overly slouchy, as you don't want to come off as too casual.
You can stay safe and go for a classic-toned tailored suit with luxe accessories, but creativity is more than welcome. A bold pattern or color would show off your personality while still being appropriate, as would separates. Don't forget an evergreen button-down is also an option; a white one usually pairs lovely with most other garments.
The shoe options are versatile within the semi-formal dress code, so take your pick. Heels, sandals, and elegant flats all work, as do loafers and lace-up shoes for the masculine dresser. Just avoid any casual footwear like sneakers or flip-flops; the latter is a shoe that should never be worn to a restaurant, whatever the dress code. Going to a semi-formal restaurant can overall be a fun opportunity to get dressed up without too much hassle, so make the most of it.