Wait, Should You Be Using Brow Shampoo?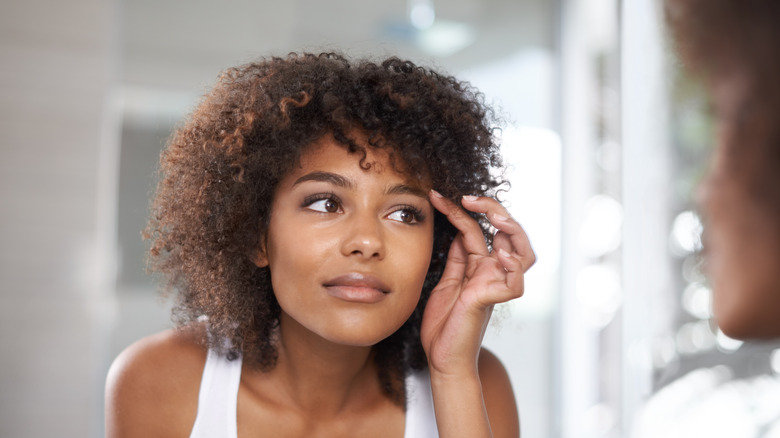 Peopleimages/Getty Images
If you've ever used the filter on TikTok that shows you what you look like sans brows, then you'll understand just how important the expressive feature is. Along with  emphasizing your natural facial structure, they highlight the eyes. Because of this, playing around with them can totally alter your entire face. 
Whether you're trying to determine the perfect eyebrow shape for your face or bleaching them for a futuristic look, switching up your brows is the perfect no-fuss way to drastically change your look. After all, it's just hair, right? Well, it turns out constantly loading your brows up with products like brow gel, pomade, and powder can sometimes have adverse effects. In fact, not cleansing the brows properly may lead to breakouts, inflammation, and dry patches, according to Byrdie. Simply remembering to wash your eyebrows along with the rest of your face should do the trick. However, some people are turning to eyebrow shampoos.
What are eyebrow shampoos?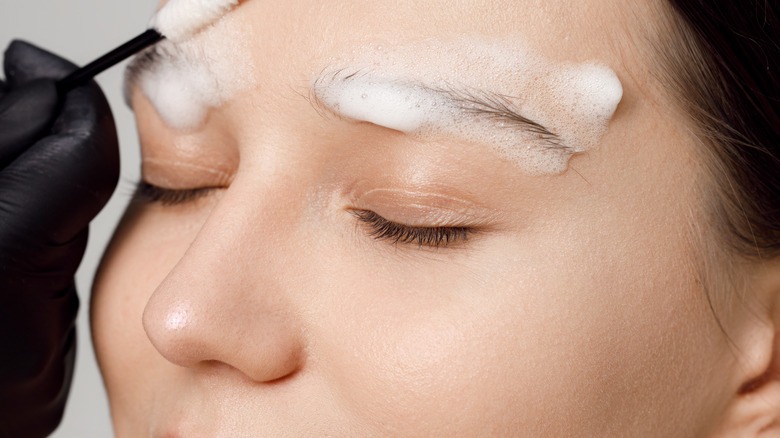 KDdesignphoto/Shutterstock
The name is pretty self-explanatory – they're shampoos, but for your brows. While some dermatologist may argue they aren't necessary at all (and that regular face wash will suffice), a specialty brow wash can help to break down build-up that's been accumulating in your eyebrow hairs. The brow cleansers can also be great for growing out brows if they're looking a bit sparse, as some of them contain ingredients such as biotin that stimulate hair growth.
Since these eyebrow shampoos are not a requirement, they most likely won't help you with eyebrow dandruff. The condition is marked by flaky, itchy skin under the brows, large amounts of sebum, and rashes, per Verywell Health. Reactions to certain products can cause it, but it can also be a result of having eczema, psoriasis, or dry skin. To soothe it, a dermatologist can recommend a medicated shampoo for you to use on your brows.
However, if your desire to use a brow shampoo is purely for aesthetic reasons, there are a number of shampoos that will keep your eyebrows full and intact. The Brow Goat Eyebrow Shampoo Foam is made with tea tree and coconut oil, a great combination for providing a powerful cleanse while keeping the hairs moisturized.
How to properly cleanse eyebrows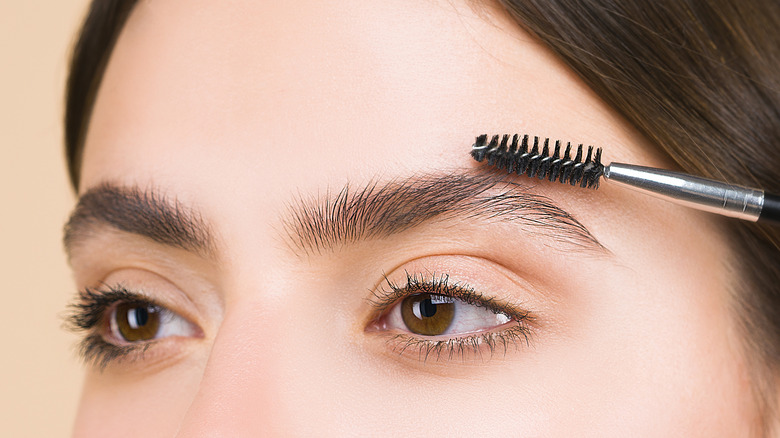 Puppy 9/Shutterstock
While brow shampoo won't hurt you, the truth is an extra product isn't necessary to get the brows of your dreams. The face wash step of your skincare routine should be enough to remove dirt and oil from under your brows. If you've been wearing makeup or sunscreen, consider double cleansing. Apply an oil-based cleanser to dry skin and massage it in gently in a circular motion before rinsing with water. Make sure to work it into the brows as well, cleansing the skin underneath.
Once that's rinsed off, you can follow up with a water-based cleanser and gently rub it into your brows. The movement shouldn't be harsh enough for your brow hairs to fall out, but simply dislodge any stubborn sebum, makeup, or sunscreen.
Feel free to follow up with an oil or serum that will strengthen your eyebrows. The Ordinary's Multi-Peptide Lash and Brow Serum is a vegan, cruelty-free serum that's been formulated with camellia leaf extract to hydrate and strengthen brows, promoting quicker growth.