16 Uses For Coconut Oil In Your Beauty Routine (It Truly Does It All)
If you have an interest in the beauty world at all, chances are you'll have heard about coconut oil. It's often billed as a miracle product because it has so many uses. In fact, multiple celebrities have sung the praises of the totally natural oil in public, including former "Pretty Little Liars" star Shay Mitchell. "I use a lot of coconut oil," she told People in 2014, revealing she has a number of uses for the product because it's so chock full of goodness. Another major star who swears by the stuff? None other than Serena Williams. "I use coconut oil because it's amazing. I use it for everything you can think of," she told Harper's Bazaar when showing the world her nighttime beauty routine in 2019.
But what is it that makes it so darn special? "Coconut oil is rich in carbohydrates, vitamins, and minerals, which are great for the human body," Skyy Hadley, manicurist and nail spa owner, told Byrdie. "It's also really high in saturated fats that are composed of mostly triglycerides and medium-chain fatty acids, which means once it absorbs, it'll keep your skin smooth to the touch for a long period of time." Coconut oil may moisturize, but it turns out there are almost countless ways it can be used on the body, and these are just some of the reasons you should seriously consider incorporating it into your beauty routine.
Get your deep condition on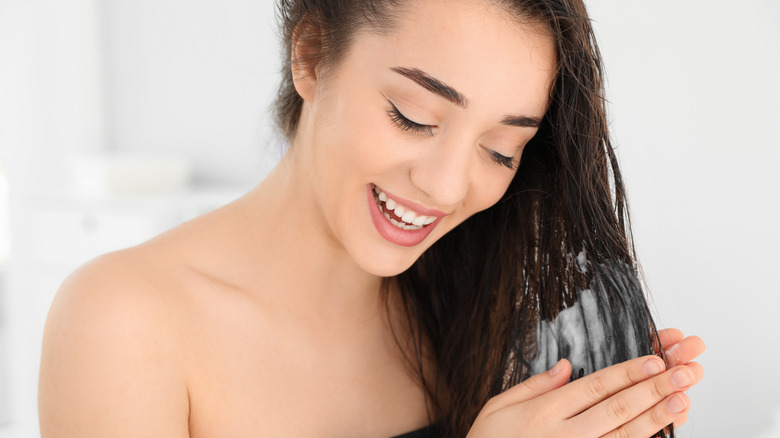 New Africa/Shutterstock
Coconut oil is thought to have a number of major benefits when it's slathered on your hair. As dermatologist Dr. Shari Marchbein explained to Byrdie, "Coconut oil can help to strengthen hair and nourish the scalp as well as reduce oil buildup." That makes it ideal for those who have super dry or curly hair and need a little extra moisture, and a godsend for people who are dealing with damaged hair or use a lot of products to style their tresses. 
Salon owner Nunzio Saviano recommended putting coconut oil on your dry hair at night and using it like a hair mask you then wash off the following morning. "I recommend warming the coconut oil so it becomes liquified and rubbing it in your hands to lather on the ends of your hair," Saviano said. "You want the coconut oil to be warm (not hot) to open the hair cuticles, which allows the molecules to penetrate the hair."
For those who prefer an in-shower conditioner, coconut oil can actually be used alongside your regular conditioner. To combine the two, condition your locks as normal and then put coconut oil on top to really help to lock in the conditioner, so it penetrates the hair shaft even more than it would solo. That's not all, though! Coconut oil on wet hair is also thought to help keep lice away.
Free yourself from frizz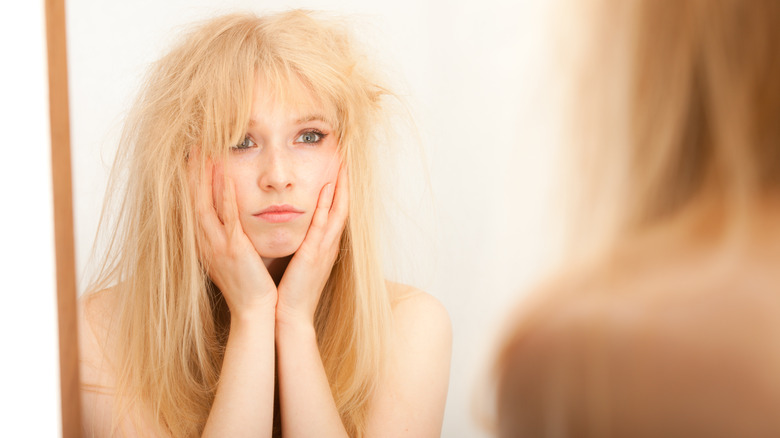 Edenexposed/Getty Images
While we know coconut oil is a great deep conditioner, its uses go far beyond just being a super hair moisturizer. It can also be a great frizz tamer, too. Yep, you can also use the product at the end of your hair routine as well as the start. It can make a great natural solution to slicking down hair that just can't be tamed, instead of using a frizz-easing serum. 
The reason coconut oil works so well is that frizz can often be caused by excess water penetrating the shaft of the hair, but coconut oil stops the water from being so easily absorbed, leaving it looking chic and sleek. If your frizz is near your roots, though, try using it sparingly to prevent your locks from looking too oily. Too much frizz can also be a sign you're dealing with hair damage, specifically from too much heat, like excessive drying and styling. Coconut oil will make it appear more moisturized.
Similarly, coconut oil can also help with the appearance of split ends by, at least for a short while, making the splits appear closed. There's no real way to seal back split ends that have gone too far (the only way to get rid of them is to cut them off), but if you rub a little coconut oil between your hands and smooth it on the ends of your hair, it will temporarily ease the look of damaged locks. 
Make coconut oil part of your facial skincare routine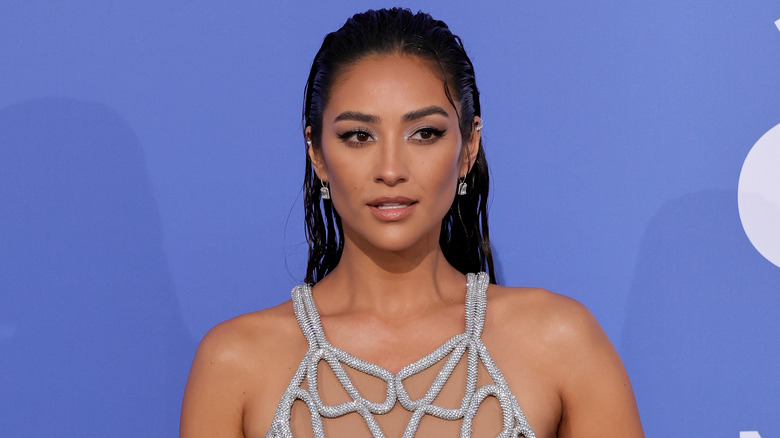 Neilson Barnard/amfar/Getty Images
Ready to glow? Because coconut oil can be put directly onto your face — and it's said to have some stunning results. In fact, that's one of the ways Shay Mitchell uses it! The actress told People of how she incorporates it into her beauty routine, "You put it all over [your face] and then you take a hot cloth [to wipe it off]. I love using a wet [cloth] so I can make sure it all comes off, and I can see it." Just some of the big benefits of putting it on your face? Aside from it being super moisturizing, coconut oil can also reduce inflammation, improve collagen production, and leave skin feeling super soft.
It's worth keeping in mind, though, that the skin on your face can be extra sensitive and coconut oil can clog pores, which can lead to blemishes and acne. If you notice any side effects like this, stop using it immediately. You may also want to consider only using this super moisturizing oil when your skin is at its driest to prevent over-moisturizing, which may mean only applying it seasonally. "Since there is less humidity during the wintertime, this tends to be the time of year when most people (even with normal skin) look to moisturize their skin," dermatologist Dr. Beth Goldstein told Healthline.
Coconut oil is for the body, too!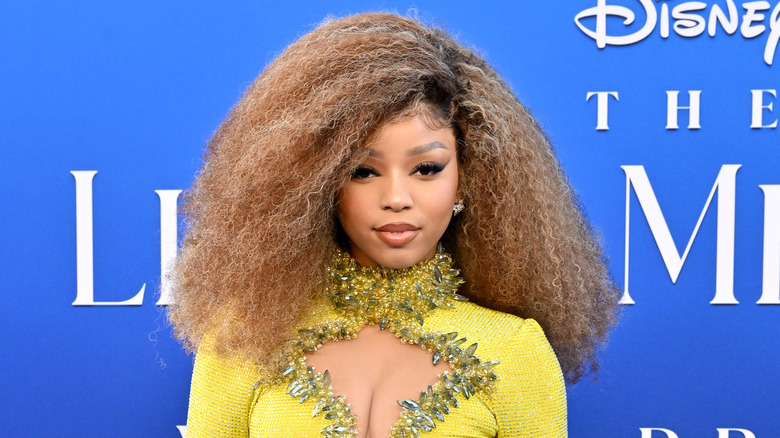 Axelle/bauer-griffin/Getty Images
Actor and singer Chloe Bailey swears by using coconut oil as a moisturizer, and spoke about the benefits of slathering it onto your body to People. "You can never go wrong with coconut oil, especially when you're on the road and you know your skin is going through all these different climates," she shared, noting it's a staple in her travel bag. 
One of the best ways to use coconut oil to moisturize is alongside another product. "Coconut oil acts as a sealant, as it helps trap water into the skin to keep it moist. In doing this, it does act like a moisturizer, but it is still best used over a moisturizer, or on damp skin," dermatologist Dr. Purvisha Patel told Healthline. If you don't tend to suffer from dry skin, though, this may be a better option in the winter months when the skin can take a bit of a beating in the harsh weather. 
Coconut oil on its own will leave you glowing, but you can even take that one step further if you're heading for a night on the town. To really get your sparkle on, you could add powder body shimmer to your coconut oil before slathering it all over your body for a glittery effect.
Coconut oil can sooth irritated skin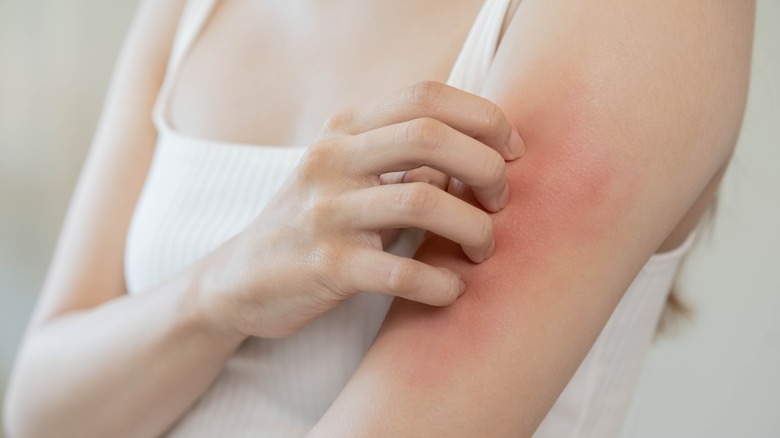 Kmpzzz/Shutterstock
You should always seek advice from your dermatologist or doctor before trying anything new on your skin, but there's been a lot of research done into how beneficial coconut oil can be for those who suffer from skin conditions. One of the most researched is eczema. A 2019 study found, in some cases, coconut oil can be an anti-inflammatory agent, which can help soothe itchiness that can often come with eczema. 
That followed a 2013 study that found topical virgin coconut oil increased hydration in the skin of children with eczema. If you're using the product on eczema-prone skin, it's recommended you apply it to damp skin twice a day to get the best results. You should also continue using any medication or creams provided by a specialist, but it's definitely one to incorporate into your beauty routine to help bring down redness and irritation.
Another skin issue coconut oil may help with? Psoriasis. Dr. Joshua Zeichner, director of cosmetic and clinical research in dermatology at Mount Sinai Hospital in New York City, explained to Prevention that those looking to soothe any irritation caused by the autoimmune disease can add two tablespoons of coconut oil to a regular bath and soak in it during any uncomfortable flare-ups. Even if you don't have a skin condition, a little coconut oil in the bath can still leave your skin feeling super supple, so it's definitely worth a go.
Join Gwyneth Paltrow on the oil pulling train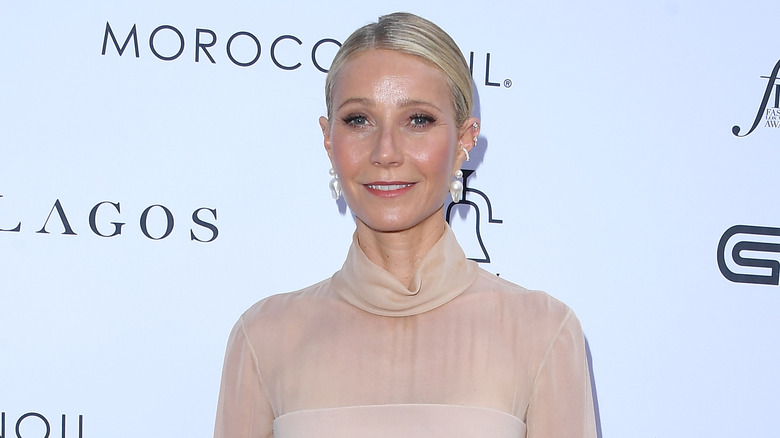 Steve Granitz/Getty Images
Remember the phenomenon that was oil pulling? Well, it's back and coconut oil is perfect for it. For those who are unfamiliar with the technique, it involves putting oil in your mouth and swilling it around, repeatedly pulling it back and forward through the teeth. One of the biggest names who swears by the concept is none other than Goop founder herself, Gwyneth Paltrow, who knows all too well that coconut oil has a whole range of different uses. "I use coconut oil a lot. I do on my face, on my skin and in my cooking. And I just started oil pulling, which is when you swish coconut oil around [in your mouth] for 20 minutes, and it's supposed to be great for oral health and making your teeth white," she explained in 2014 while speaking to E! News. 
The reason it's thought this technique works when it comes to your oral health? A 2017 study found that oil pulling for 10 to 20 minutes a day can actually form antioxidants that can kill the microorganisms living in our mouths. That can have so many benefits, from whiter teeth to fresher breath to an all-around healthier mouth.
Get your massage on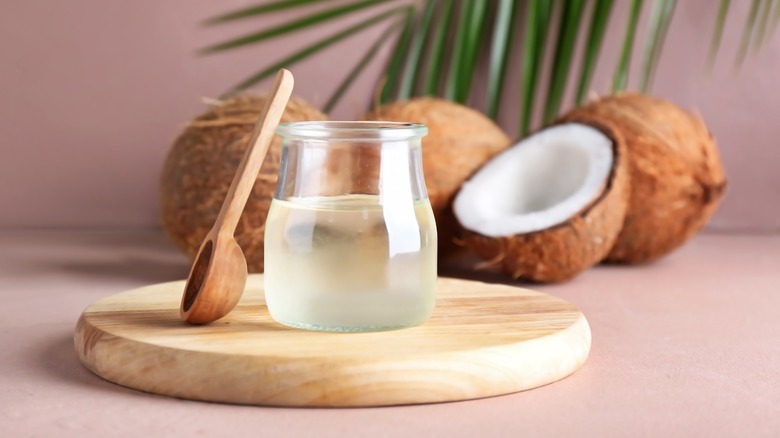 Pixel-Shot/Shutterstock
Not only is coconut oil a great body moisturizer, but it can also be used as a massage oil. Whether you've got sore muscles that need a little TLC or you're looking to wind down into an intimate moment with your partner, coconut oil is ideal for massaging into the skin because it slides on so easily. (Side note, if you are looking to use it in the bedroom, unrefined coconut oil can actually be used as a natural lubrication for sex, though you'll want to be careful if you're using latex condoms, as it could potentially weaken the rubber and decrease their efficacy). 
In the world of non-sexual massage, the oil is thought to have a number of big benefits when properly massaged into the skin, including soothing aching muscles, helping reduce the appearance of cellulite and stretch marks, and taking down inflammation. One of the best things about using coconut oil for massages, though, is the way it smells. Coconut oil has a delicious natural scent a lot of people love, so rubbing it into the skin without washing it off will leave you smelling great all day — even without any perfume!
Coconut oil can be a natural sunblock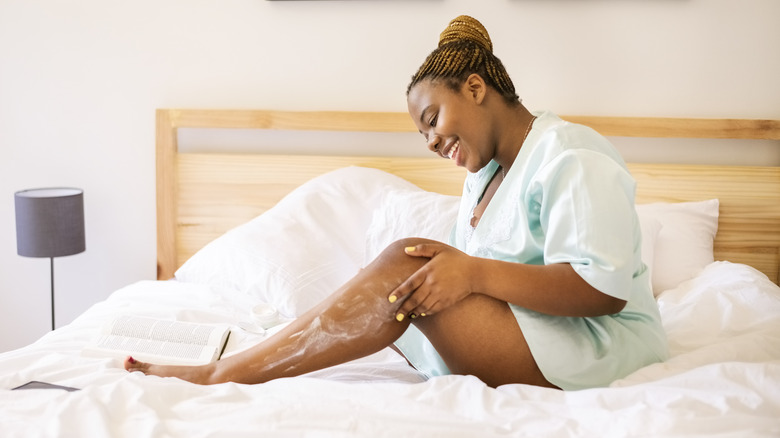 Nickylloyd/Getty Images
If you're in a pinch and want a little protection from the sun but you don't have any proper sunblock around, coconut oil can actually be used as a mild sunscreen. Though we'd always recommend using products that have been specifically designed to protect your skin from the sun, a 2011 study actually found that coconut oil can block as much as 20% of the sun's rays from damaging your skin. Not bad for something that's totally natural, right? 
So, if you find yourself out on a sunny day without your regular sun products but do have some coconut oil on hand, it will give you better protection than nothing at all. But don't get ahead of yourself and go throwing away your sunscreen bottles just yet. Specific sunscreen products tend to prevent upwards of 93% of the sun's rays from getting to your skin (depending on how high the SPF is). So while coconut oil is a decent alternative if you're without the SPF product you should keep on hand even through the winter, you'll always want to opt for proper sunscreen over coconut oil if you have it on hand.
Bye bye under eye circles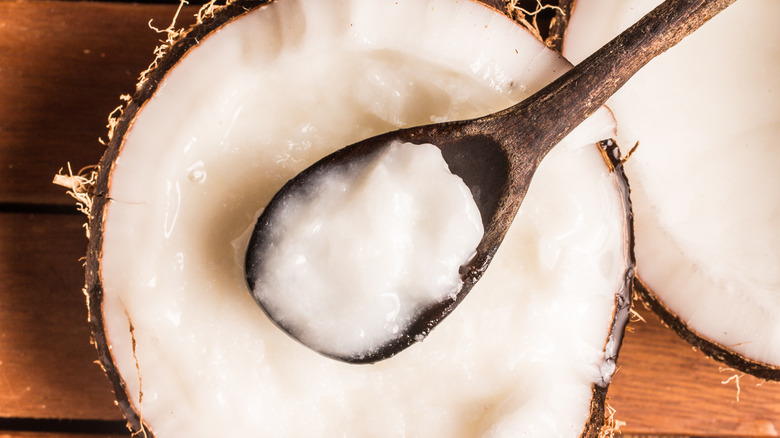 Rodrigobark/Getty Images
Because coconut oil contains vitamin E, it can actually be used as a DIY eye cream, which is particularly useful for those who experience dark under-eye circles or under-eye bags. Though there's a limit to what eye creams can do, a 2018 study found that coconut oil can actually thicken the skin under the eyes in some cases, therefore helping with the appearance of dark circles. Not only that, but a 2010 study discovered that it can also help with inflammation and puffiness, which is what can often lead to bags under the eyes. 
The best kind of coconut oil for treating the eye area is thought to be cold-pressed virgin coconut oil, which you should place on your skin using your ring finger. Dabbing the product in using your finger with the lightest touch will prevent creating any further fine lines and wrinkles (which can be particularly prevalent around the eyes), while the product will help keep the whole eye area more moisturized. But even if you don't notice any dramatic changes when it comes to dark circles or bags, the more moisturized your eye area is, the less likely you are to get new lines and wrinkles. Not to mention, your eye makeup will always look better on properly hydrated skin.
Bring coconut oil to the brows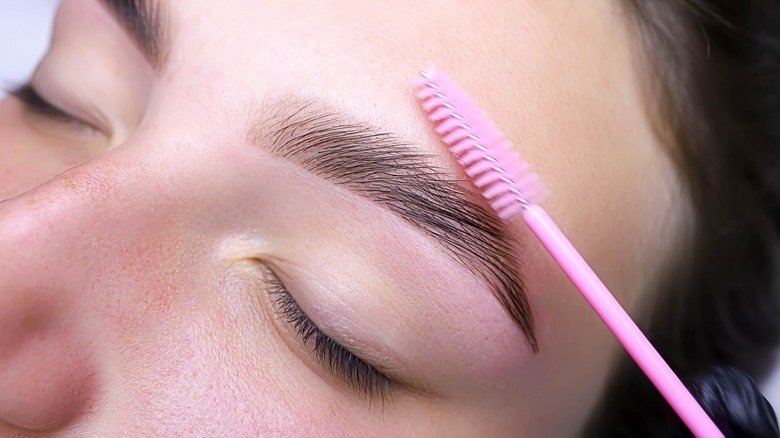 Roman Choknadii/Shutterstock
You don't have to stop under the eye when it comes to using coconut oil around the eye area. In fact, if you took it as high as your brow, it can be super beneficial there too. Just like it's great for improving the look of the ends of your tresses, it can be a great way to complete any look (no matter if you're wearing makeup or not) by taking the place of a traditional brow gel. 
Just smooth it over your brows using your finger, a brush with a spoolie on the end, or a Q-tip, to keep your brow hairs in place. For those who don't want to look overly made up, it will give you a natural finish with no harsh chemicals, and it won't add any extra color to your eyebrows, either. Not only will coconut oil tame any unruly eyebrow hairs that are refusing to stay in place, but, just like it does with the hair on your head, it will also keep your eyebrow hairs nourished and act as a brow conditioner. That means it will help to prevent any breakages while strengthening each individual hair strand to give you perfect brows all the time.
Cut down on shaving cuts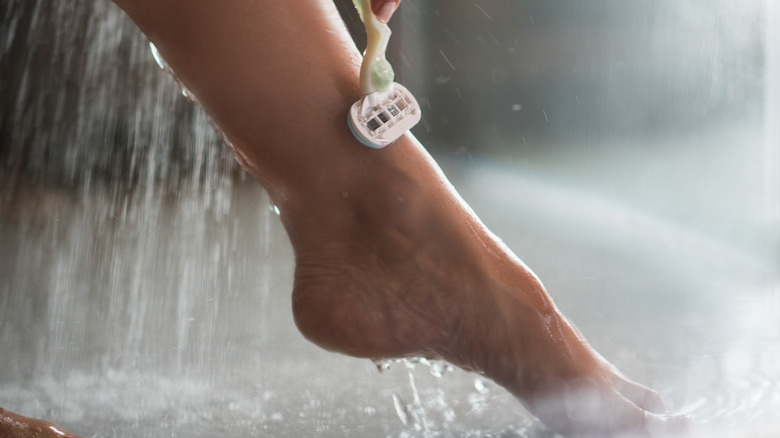 Skynesher/Getty Images
Yet another way coconut oil can be incorporated into your daily beauty routine is by using it in the place of shaving cream. It turns out the moisturizing properties in the product make it ideal for getting a super close shave on pretty much any part of your body — and it'll leave you feeling super smooth too. Not only that, but because it leaves the skin feeling so silky, it can help prevent shaving accidents. In an exclusive interview with The List, dermatologist Dr. Anna H. Chacon explained more about why you should make coconut oil your new shaving cream. "Coconut oils and other plant-based oils can have a smoothing effect on the skin which may help prevent nicks and cuts, when used in addition to or as a substitution for a regular shaving cream," Chacon said. 
If you do accidentally scratch yourself with the razor (hey, we've all been there), coconut oil can instantly soothe the irritated area. "Coconut oil is a natural moisturizing oil that gives the skin a smooth and slippery shaving surface with various beneficial effects on the body," Dr. Alain Michon, medical director at the Ottawa Skin Clinic, shared. Equally, the oil can also act as a barrier between the blades and the skin, making it a great option for those prone to post-shaving irritation. "Other than hydrating the skin, coconut oil can act as an antibacterial protectant and function as an antioxidant easing the inflammation caused by razor burns," Michon noted.
Coconut oil can remove your makeup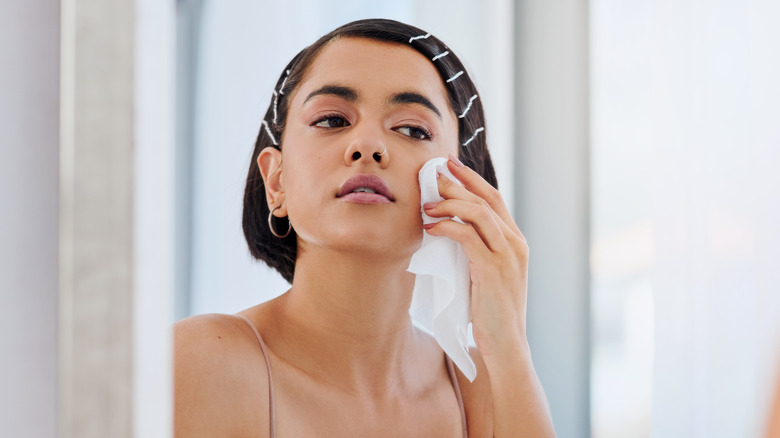 Adene Sanchez/Getty Images
Yep, it's true. Just when you thought it couldn't get any better when it comes to coconut oil, there's yet another thing it can do to help make your beauty routine easier. Coconut oil has been proven to be a successful makeup remover because it's both antibacterial and anti-yeast. The best way to use coconut oil as a makeup remover is to put it over dry skin and give it a gentle rub. Just remember to never rub too vigorously when it comes to your face so you're not encouraging fine lines and wrinkles. The coconut oil should then get to work breaking down the makeup, and warm water will then wash it away.
There are a few things to look out for when you're using coconut oil as a makeup remover, though. "I recommend that you only use purified, cold-pressed coconut oil in liquid form," Dr. Carl Thornfeldt, founder of Epionce Skincare, told Byrdie. Holistic plastic surgeon Dr. Anthony Youn added, "Ideally, it should be organic and minimally processed." If you wear a lot of makeup or things like waterproof mascara that are more difficult to remove, or if you're prone to acne flair-ups, dermatologist Dr. Robert Finney told Allure that you'll still want to wash your face afterward with your regular cleanser in order to make sure all the oil and makeup mix is removed, to keep the skin clean and breakouts at bay.
Wash those brushes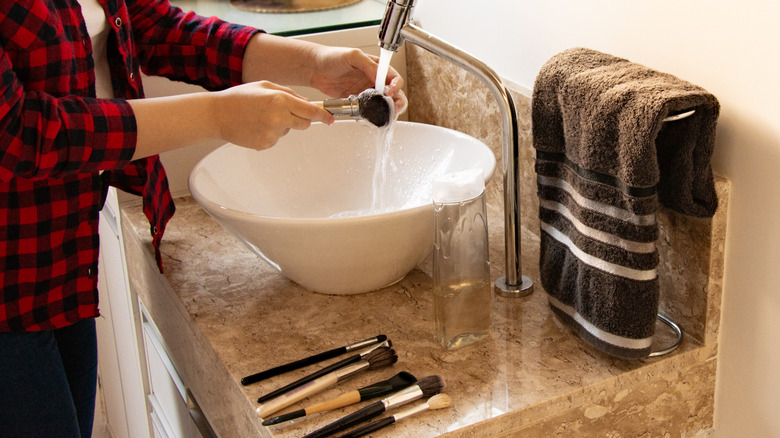 Jufagundes/Getty Images
We know, washing your makeup brushes and sponges can feel like such a chore. Before you know it, you've gone a whole month without clearing your makeup applicators of all the bacteria that can build up. But what if we told you coconut oil can help you there too? It's true! The product that does it all can also be used as a great cleanser for your dirty makeup brushes, since you can use it as a first step to getting all that old makeup off your tools. 
Cosmetic chemist Perry Romanowski told Allure that the best way to use it is to lather it on your brushes, wash it off, and then apply your regular brush soap in a second step to really make sure they're deep cleaned and all that bacteria buildup is removed. "Combining soap and oil just ties up the surfactant in the detergent solution and it competes with the other 'dirt' on the makeup brush, so it wouldn't get the brushes as clean if you combine them," he said, noting why it's so important to complete the process in two separate steps.
Make your own makeup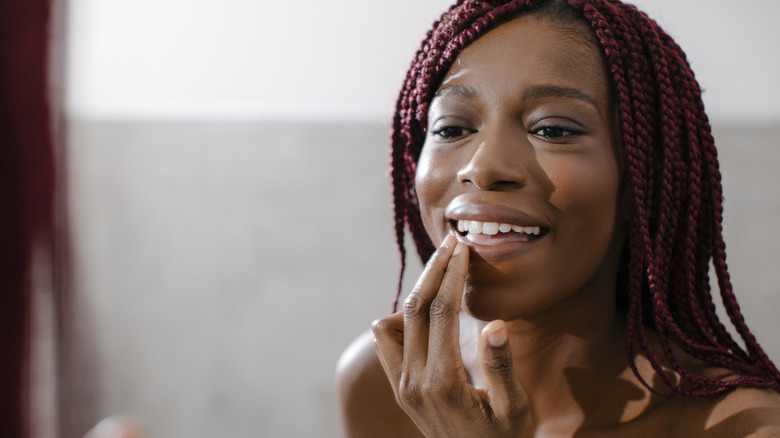 Freshsplash/Getty Images
Coconut oil won't just remove makeup, it can actually be makeup! Particularly for those who aren't a fan of heavy cosmetics or putting lots of products on their face, coconut oil can replace it. If you love the glossy eyelid look, coconut oil can replace eyeshadow with a simple swipe across the lid. Just remember that because it's also a makeup remover, it will only really work if your lids are clean and dry. 
It can also make a great clear and super moisturizing lip gloss or balm. All you have to do is smooth a little on your lips to finish off your look and keep your mouth super moisturized at the same time. "Coconut oil's makeup of fats helps replenish lost or missing components that lead to dry, cracked lip skin. It creates a thin but effective barrier that keeps water in and irritants out," dermatologist Dr. Adam Friedman told Allure.
For a little more color on your lips, you can mix it with lipstick to create a colored balm. Simply grab a small, empty pot, scoop both in and mix the two together! This is a particularly great solution for those whose lips can get super dry using traditional lip products. In a pinch, this could also be applied to the cheeks for a makeshift blush (in the right shade, of course). Because it leaves the skin glowy and hydrated, coconut oil also makes a great primer !
Coconut oil can be a staple in your manicure routine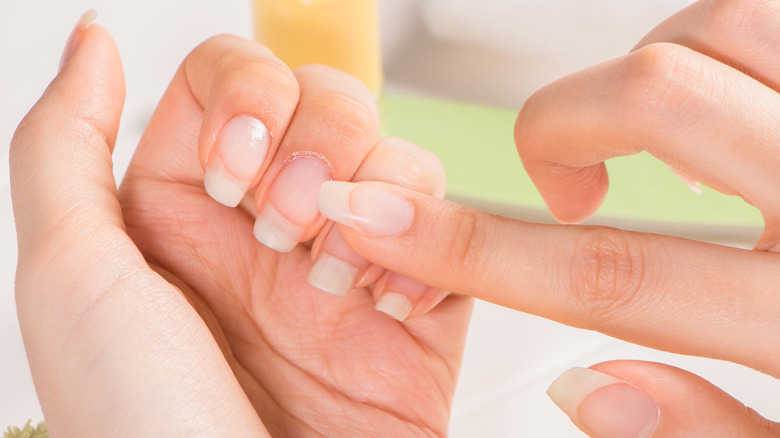 Natalya Sambulova/Getty Images
Coconut oil can also be a staple in your nail routine, as it can be a lifesaver for a number of different nail issues. Amongst them? Strengthening your nails, particularly if they're fragile or broken. "Coconut oil is great for treating brittle and cracked nails as well as damaged cuticles because of its moisturizing properties. It's an ideal skin barrier that contains multiple fatty acids, which act as transepidermal water loss barriers," dermatologist Orit Markowitz explained to Byrdie.
Of course, those moisturizing properties also make coconut oil ideal for hydrating your cuticles (and your hands in general) to instantly make your manicure look better. As manicurist Skyy Hadley shared, "You can certainly go as long as you want without washing coconut oil off your cuticles — the longer, the better. Doing this will help strengthen your cuticles, moisturize the skin around your nails, and get rid of hangnails." Its benefits don't stop there, though! Because your nails will be more moisturized, it can also help smooth out nail ridges which means you'll be able to apply nail polish in all its forms much easier, keeping your mani and pedi looking its best.
Coconut oil can even prevent toenail fungus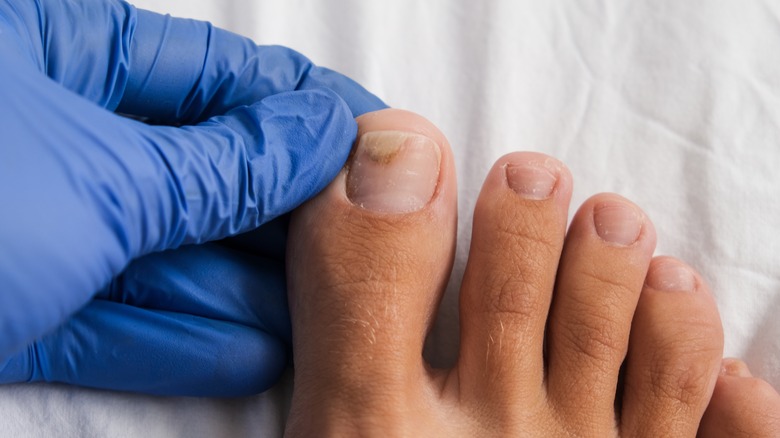 ReaLiia/Shutterstock
Another nail-related win for coconut oil? Treating unsightly and sometimes painful toenail fungus. According to a 2015 study, between 3% and 12% of people in the U.S. experience fungal nail infection, which can not only be uncomfortable but can really limit the shoes you feel comfortable wearing or how confident you are going barefoot. If you're one of those experiencing the symptoms (which can include dry, brittle nails that turn yellow), coconut oil may be able to help you. 
"Nails that are brittle and dry can have resulting cracks in the nail, which allow fungi to enter," dermatologist Orit Markowitz told Byrdie. But coconut oil can actually work to moisturize the area and stop these cracks from occurring in the first place, which decreases your chances of getting a fungal infection and allows you to keep on rocking open-toed shows with confidence. "Coconut oil can be a great preventative option to decrease the likelihood of a toenail fungal infection," he shared, which is why it's a great idea to incorporate it into your beauty routine early. If you already have an infected nail, coconut oil can be used to treat the issue by cleaning and drying the area, then gently massaging the oil onto the nail at least twice a day.