ThredUp's Fashion Footprint Calculator Lays Bare The Impact Of Your Habits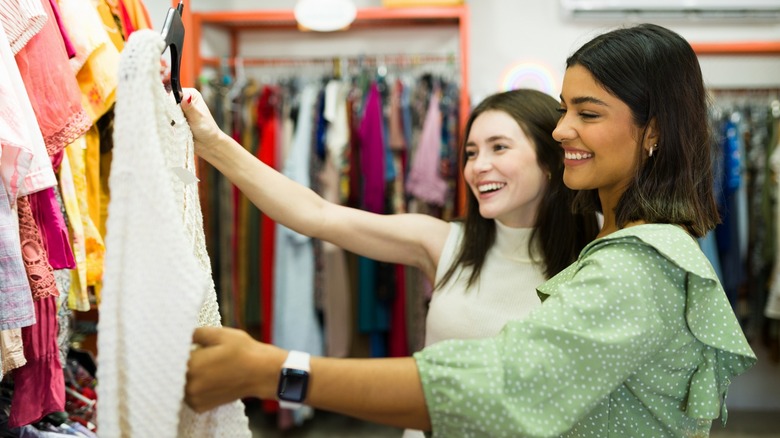 Antonio_diaz/Getty Images
As we continue to strive toward sustainable shopping habits, understanding exactly how much our individual choices are impacting the environment is more important than ever. However, gauging exactly how green our shopping behavior is can be hard to parse. ThredUp, a leading online consignment shop and service, has sought to make our buying habits less opaque. With the ThredUP Fashion Footprint Calculator, the company hopes to provide people a way to translate their shopping habits into a measurable carbon footprint that lets them compare their behaviors to other shoppers. 
The calculator consists of just ten straightforward questions and takes just minutes to complete. The basis of the results stems from research conducted by Green Story Inc., which analyzes how clothes production affects environment. This includes counting the estimated resources used to produce and distribute a particular type of clothing, including carbon dioxide, water, and energy, among other factors. From there, it compares your results to the average person to estimate how many carbon emissions you contribute to annually.
The calculator is a great tool to reflect on the vast process that leads up to your purchases. Depending on your results, you may reconsider how you shop and purge your wardrobe every season. Your shopping habits entail far more than just the frequency of your purchases. From the source of your clothes, to the kind of clothes you purchase, to how often you return them, the calculator covers ground that you might have forgotten about. 
Measuring your fashion footprint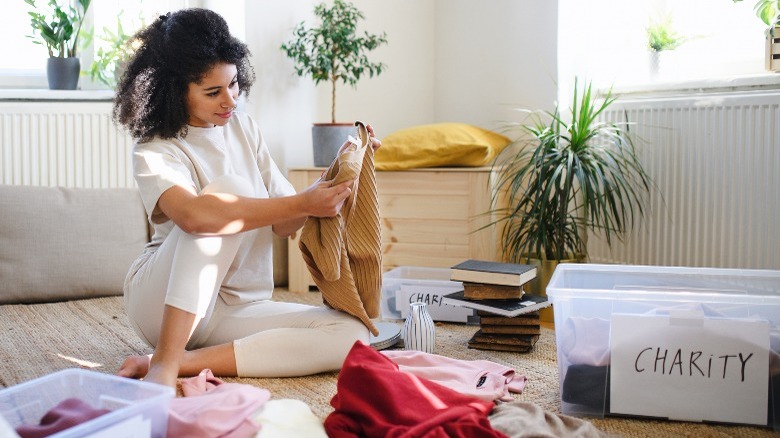 Ground Picture/Shutterstock
Even if you're not 100% certain about how many pieces of clothing you purchase per year, thredUP's tool can be a helpful exercise in developing some awareness around your habits. For example, one question the calculator asks is how often you purchase clothes, on a monthly, yearly, or weekly basis. The tool also provides detailed explanations and data insights into how the results are calculated, taking into account factors like the type of clothing you buy. Per data collected by Green Story Inc.,t-shirts and tanks have the lowest environmental footprint, while jackets and coats have the highest. Should you frequently buy new jackets, you could be hiking up your fashion footprint. 
Another question the calculator asks is how you buy your clothes and what you do with them when you're ready to let them go. You may be surprised to learn that shopping in person has a higher carbon footprint than buying clothes online, whereas online shopping with standard shipping has the lowest carbon footprint. Meanwhile, online returns  contribute to resource waste, with only a quarter of returned clothes actually resold, according to research from the University of Pennsylvania. 
The calculator also goes beyond your shopping habits and gauges how much energy you expend to maintain your clothes, such as through practices like washing and drying. National Geographic highlights how clothes washing contributes to millions of tons of carbon dioxide emissions, along with costing billions of cubic meters of water. 
Understanding your results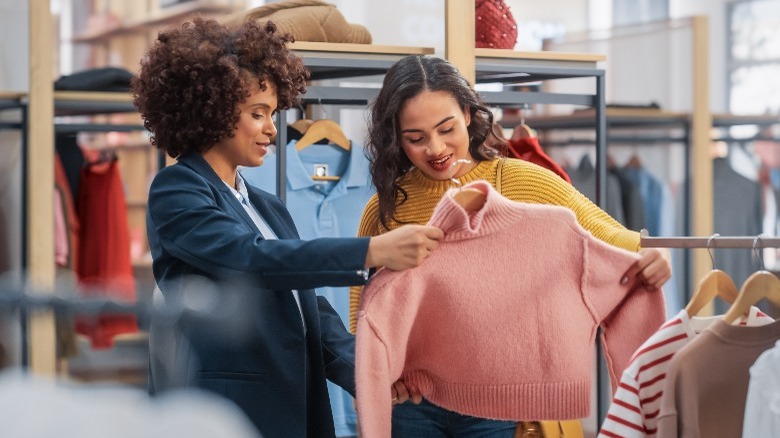 Gorodenkoff/Shutterstock
Once you have gone through each of the questions, thredUp's calculator will tell you where you fit into the secondhand shopping tapestry compared to the average consumer. The results are based on averages collected by Green Story Inc that estimate the average person disposes of 81 pounds of clothing per year, while the average person purchases 119 garments of clothing per year.
Of course, ten questions might just give you a mere snapshot of your fashion footprint, but it is a great motivator to begin your sustainability journey. Perhaps the calculator shows you that one particular shopping habit of yours is skewing your fashion footprint. Now, you can look into addressing it. While reducing your overall consumption of clothing is the best way to reduce your fashion footprint, thredUP also recommends other areas to cut back, be it washing your clothes in hot water less often, running the dryer less, or not returning items you purchase online. The company also highlights buying half of your clothing secondhand can make a drastic change.
It also helps to remember that sometimes what we think of as easy solutions aren't automatically the most sustainable option. For instance, while some brands may offer carbon neutral shipping or carbon neutral production, carbon was still used to create the item and get it to you, where carbon neutral typically means the brand has purchased carbon offsets to balance out the carbon it uses. Where reducing carbon emissions is critical to combatting climate change, which will take systemic, institutional changes to fully realize, doing what you can to help will still make a difference.