How To Throw Your Own PowerPoint Night Like The Ones You're Seeing Online
During the infamous 2020 COVID-19 lockdowns, we had to find ways to keep ourselves sane while indoors. One innovative way that gained popularity during those uncertain times was PowerPoint Nights or PowerPoint Parties. Think girls' night but with a PowerPoint presentation filled with topics of your choice. These can be a trivia game, pop culture news, or pretty much any other subject you want to chat about. After the world reopened, these presentation-themed shindigs didn't completely fade away. In fact, TikTok has breathed new life into these fun gatherings.
PowerPoint nights can go one of two ways: each attendee can bring their own laptop and simply read from their screens, or they can connect their devices to a projector or smart TV for the entire room to see their exhibit. The beauty of this fun-filled event is that there is no wrong way to do it. Let's put those Microsoft skills to use and have a bit of fun in the house this summer. 
The PowerPoints can be fun topics about each attendee
TikToker Kaitlin Julian went viral post-lockdown when she shared her "PowerPoint night and Friendsgiving" video. In the clip that attracted over 140,000 likes and 930-plus comments, Julian's buddies took turns holding a stickered laptop and displaying their pre-made PowerPoints on a big-screen television. One PowerPoint topic read "Reasons a kidnapper would return us within 2 hours," while another stated, "The alternate reality of how we all became friends." 
Silly topics such as these are precisely the sort of PowerPoint displays you'll want to get the night going in order to get to know humorous facts about your friends and share equally quirky nuances about yourself. Doing so in a presentation format allows you to explain each slide as you would during a morning meeting at work. However, this kind of presentation, paired with your favorite snacks from the comfort of your home, is far more fun. Since it can be hard to make friends as an adult, occasions such as these can bring people together in ways you couldn't imagine. 
While not everyone who attends your PowerPoint night needs to prepare a presentation, the more you have, the more fun it'll be. 
Your PowerPoint night can be conducted via Zoom, too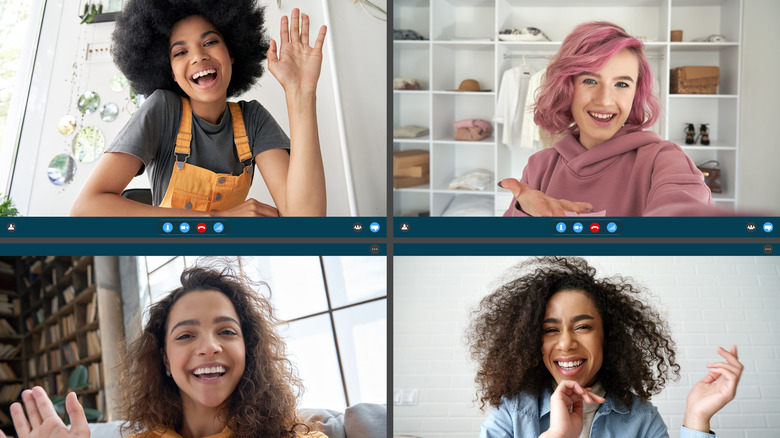 Ground Picture/Shutterstock
If you work from home, then you're likely accustomed to using Zoom. Depending on your plan, hundreds of attendees can join a Zoom from anywhere with wifi — perfect for your PowerPoint night. Now, this may require you to be just a bit tech savvy, as you'll need to ensure your pals can see your set of slides. Once you've completed and saved your presentation, open it on your desktop. After your attendees join in on the virtual party, you'll want to share the screen for all to see. Attendees can share their screens too, so everyone can take turns presenting. If you opt for "Real Housewives of Beverly Hills" trivia on each slide, you can make it a drinking game by requiring anyone who gets the question wrong to take a shot from the comfort of their home. 
Other great topics for PowerPoint night include "Which Disney character is husband material?" or "How would we survive if we were stuck on an island?" However, your slides don't have to be questions. You could quite literally rank your friends according to some bogus metric on each presentation slide, and it would be just as entertaining. The ultimate goal is to get everyone together and perhaps get to know a few new acquaintances. And who knows, this interactive kickback could even help you run a better Zoom meeting in the workplace.