What To Ask For At The Salon If You Want A Box Bob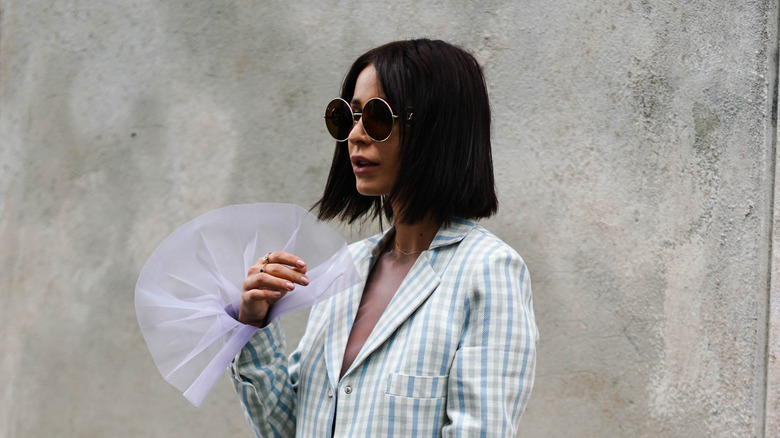 Edward Berthelot/Getty Images
Short hair is having a moment. It's the perfect solution when you are looking to switch things up. One reason it's so in demand is that it's a low-maintenance look. You can wash and go, rock an undone style, or just spritz with dry shampoo and be out the door. Plus, there are plenty of cute updos you can do with short hair, despite its length. A shorter style also means fewer products to run through, and overall healthier hair.
Many worry chopping off inches will leave them with an unsightly look, though. However, there is no need to worry. A hairstyle that highlights your face shape, features, and personality is sure to look stunning. One cut that checks all these boxes is the box bob. This look is not like the bowl cut, and no cardboard boxes are used in the styling of this hairdo. Instead, it is a version of the bob that puts the others to bed.
The box bob is all about movement
Most bobs have a sleek finish, but that doesn't always do fine hair justice. The box bob is a solution for this problem. Celebrity hairstylist Alex Brownsell explained in an interview with PureWow, "Bobs are getting shorter and squarer here lately. The box bob is a great way to retain the hair's movement and make the most of your natural texture." It is similar to the '90s bedhead bob, embracing a choppy, textured cut.
This hairdo creates volume and shape for a stunning head of hair. You can even take it up a notch by styling your boxy bob in waves or coils. A curly do adds dimension and more fullness. Better yet, the box bob is a short hairstyle that compliments every face. Hairstylist Annie Redman told Glamour, "You can add shape through the front with some grown-out bangs if you have a longer face, whereas if your face shape is a little rounder, I recommend keeping more length through the front of the haircut." If you want the show-stopping boxy bob, here's what to ask for at the salon.
Ask your hairstylist for a textured blunt cut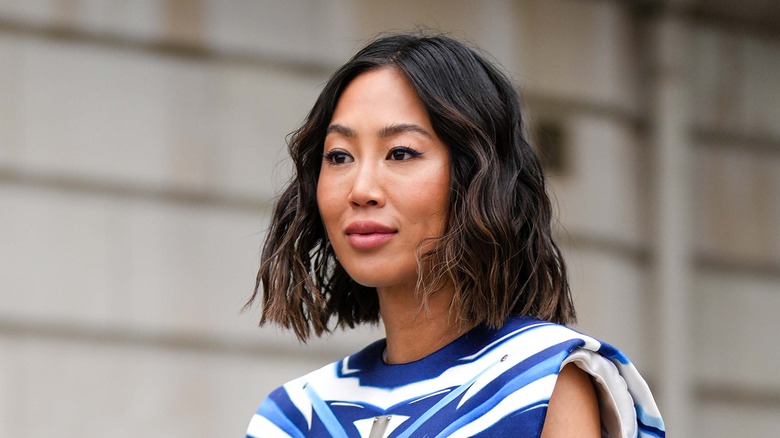 Edward Berthelot/Getty Images
For an authentic box bob haircut, be prepared for a chin-length hairstyle. You can go a few inches longer, but ideally, it should float around your neck. So if you have long locks, tell your hairdresser to get snipping (please and thank you). You'll want to ask for a crisp cut with ruffled ends. Bobs come in all shapes and sizes, so it helps to be specific.
Since the boxy bob is about texture, you can also ask your hairstylist for layers. Thicker hair can still opt for layers but go for ones that will add movement and not necessarily volume, as you already have full strands. For straighter hair, long layers will do, while curls will benefit from rounded layers. Remember you want a structured, face-framing cut.
It is always helpful to bring pictures to your salon appointment. Instagram's #BoxBob has great inspiration photos, while TikTok's "box bob haircut" search has all the videos you'll need.