How To Stay Cool In A Full Skirt In The Summer Heat
Skirts are the ultimate summer garment — they keep you cool in the summer heat and you can incorporate them into any aesthetic. However, shorter versions are leaving the fashion scene in favor of their longer counterparts, according to Kate Davidson Hudson, executive and editor-in-chief of LuisaViaRoma. "I think we'll see a slow phase-out of the micro-mini we've seen so much of for the past few seasons in favor of this slightly more demure silhouette," she shared with InStyle.
If you also can't wait to ditch your mini skirts and the classic maxi is not quite hitting the spot for you, it's high time to try a full skirt for the summer. The full-volume skirt is a variation of the maxi skirt; the difference is in the volume. When you twirl, a maxi skirt wouldn't move too much, while a full skirt would have quite a 360-degree motion around you.
The full skirt is easier to style than one might think, as it can be dressed up or down pretty effortlessly. A satin or silk full skirt would be the perfect statement piece for a high-toned event, while a cotton or linen one is a great everyday staple for the summer.
Command attention with contrast
A colorful full-volume skirt is bound to get all the eyes on you. This fun summer piece is the perfect garment to work around and create the ultimate warm-weather outfit. To really make the skirt stand out, go neutral with everything else. If the skirt is a lighter shade, the rest of your outfit would benefit from darker accents, and vice versa. A pointed-toe sandal or a heeled mule would round off the delicate vibes, but if you want to go all out with the boldness, do a platform shoe.
There's something about black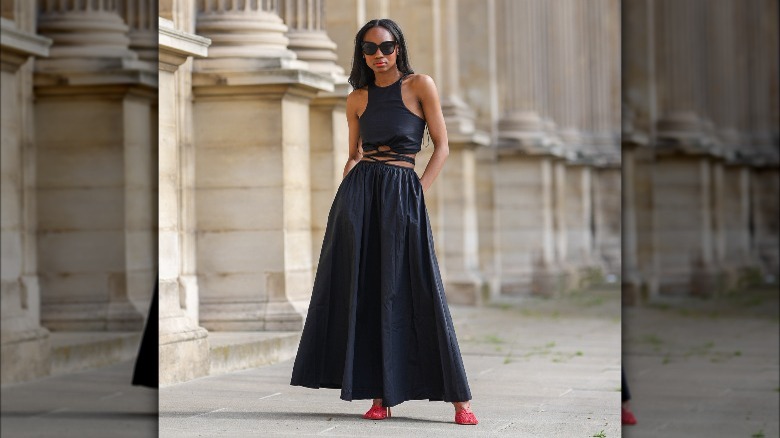 Edward Berthelot / Getty Images
An all-black outfit might not be everyone's first choice for the summer heat, but the strong shade counterbalances the femininity of the full skirt perfectly. Pair it with a shorter top to show just a peek of skin, which will additionally strike a balance between the dark pieces. Play with your accessories here and use them to add a splash of color; a fun-colored shoe or a bag would be great add-ons. Bold jewelry will complement the statement black, while pearls would add a delicate touch.
A fun co-ord sets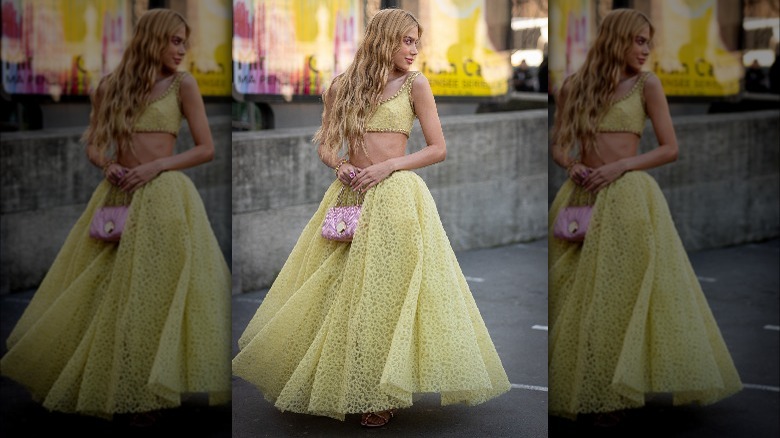 Claudio Lavenia / Getty Images
Co-ord sets are not only meant for shorter bottoms — a full skirt with a matching top is going to be your favorite low-effort outfit this summer. An interesting color like key-lime pie or baby pink would elevate the set further, but you can go for your favorite summer shade. Opt for open-toe sandals or mules, as they fit perfectly underneath the long skirt. Add a smaller bag in a complementary shade and some fun jewels — just make sure not to go overboard with the quantity.
Show your colors
There's no better time to go all out with colors and patterns than summer, so don't be afraid to incorporate them into your full-skirt outfit. As the skirt is the biggest piece of fabric here, work around it. Choose one that you love and pair it with a short-sleeve button-down shirt in a complementary shade. For a summer vacation vibe, go for some casual sandals and a woven shoulder bag. To elevate the fit for a classier occasion, opt for a kitten heel mule and a fun clutch. Since this look is pretty loud in itself, keep the jewelry dainty.
A tube top moment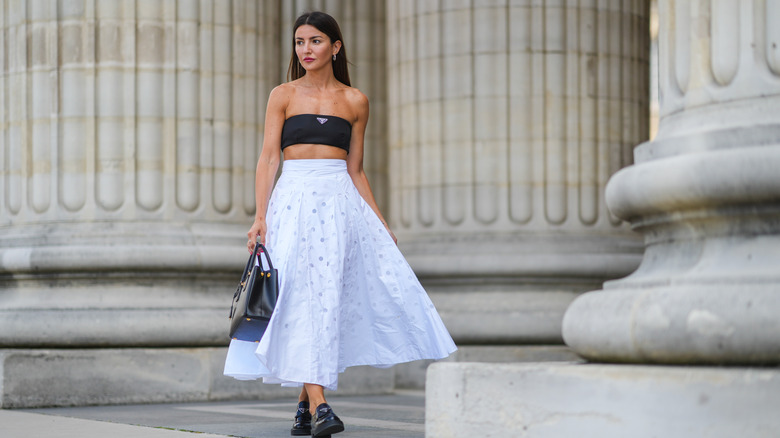 Edward Berthelot/Getty Images
For the ultimate outfit that will keep you cool in the summer heat, pair your full skirt with a tube top. The tiny top will beautifully counterbalance the fullness of the skirt, allowing you to have fun with the rest of the look. Any colors work here — just make sure they work together. For example, a white full-volume skirt would pair great with black details. Reach for a bold shoe for an edgy touch, while a pointed-toe pump will make this look more feminine. Jewelry can also go both ways, depending on your desired vibe.