McDonald's Bangs Are Hotter Than Fries — Here's How To Get The Look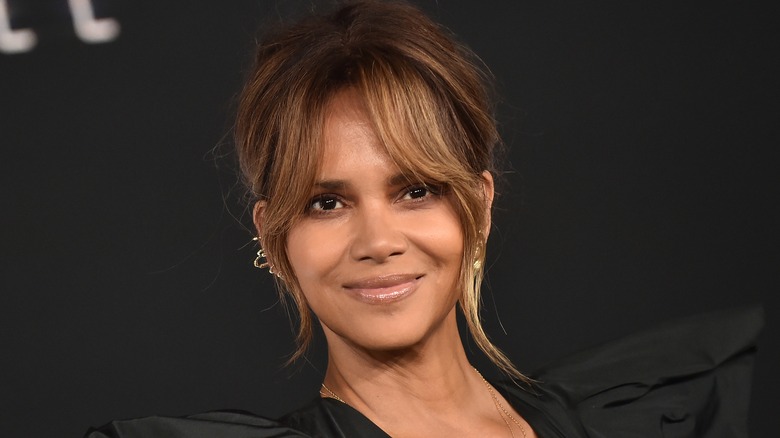 DFree/Shutterstock
When people think of McDonald's ... they probably will never think of hair. You think of McNuggets, cheeseburgers, fries, shakes, Ronald McDonald, and the golden arches atop the McDonald's sign. But lately on BeautyTok (the beauty side of the famous social media app TikTok), the golden arches have taken to a whole new meaning. BeautyTok and the media in general document new trends that go viral every so often, and there are always new viral hairstyles to keep on your radar, such as the animal-inspired cuts and resurgence of blue hues.
However, the new viral hair trend that has been gifted with the unique name of "McDonald's bangs," is very similar to curtain bangs in their style and cut. The name comes from the beautiful golden arch the bangs create that frames a person's face in a very flattering way. According to Bustle, these McDonald's bangs produce "bouncy, coquette-ish hair that lands in just the right places." Bolde also refers to these bangs as having a "relaxed look" and "effortless appearance". 
Before you commit to the new hairstyle, learn how to style these bangs, and discover the different hairstyles that look good with McDonald's bangs.
How to style McDonald's bangs
Styling McDonald's bangs may come across as a bit intimidating, as their look is so flawless and voluminous. But, believe it or not, it is not all that difficult.
Bustle explains that your hair must be damp when beginning to style your bangs. You need to separate the bangs from the rest of your hair, as you will style them on their own and then the rest of your hair. If you aren't washing your hair, you can just spray your bangs to wet them. They recommend using a round-shaped brush and a blow dryer, or any round-brush heated blowdryer if you own one. You simply need to curl your bangs under to begin with, as this will create immense volume and ultimately created the 'arches' we are trying to achieve. The article then says to curl away from your face on each side to create a natural-looking swoop. Once you have your hairspray in there, you should be all done! It's as simple as that.
Bustle also suggested that, if you're in a rush or don't have a heat tool on deck to use and your hair molds pretty easily, when the bangs are wet, pull them forward into the desired arch shape. You can also use a clip to hold them in place until you need to leave the house. Always remember to throw on a little hairspray, too, to keep them in place.
Different hairstyle ideas with McDonald's bangs
This style will work well with a variety of haircuts and styles, from blunt bobs to curls to poker-straight hair, as it frames your face nicely. It also pairs well with long or shoulder-length hair, but can also work with lobs or even chin-length bobs. 
Now realistically, bangs are bangs. You can wear any hairstyle you want with your new set of McDonald's bangs, but there are a few different inspo ideas to help get you started. As mentioned before, McDonald's bangs are very similar to curtain bangs, so the hairstyles that work for one would work for the other. If you need a little bit more guidance, there are plenty of ways to wear your curtain bangs, no matter what length your hair may be or where your part is! A little blowout action never hurt anyone either.
What are you waiting for? Go ahead and get your McDonald's bangs ready to rock and roll this summer.