Podcaster's Controversial Comments On Marriage Reignites Fears No-Fault Divorces Are At Risk
As women's bodily autonomy continues to be restricted through anti-abortion laws, the recent comments of one right-wing podcaster, Steven Crowder, has raised the alarm on yet another choice women are afraid will be compromised: the choice to divorce their husbands. On a recent podcast episode, Crowder announced that he had been engaged in an ongoing divorce that was initiated by his ex-wife, Hilary. After recounting the situation to viewers, the podcaster then expressed shock that the state of Texas allowed his wife to file for the separation at-will without consenting with him first. "No, this was not my choice," Crowder lamented. "My then-wife decided that she didn't want to be married anymore — and in the state of Texas, that is completely permitted." 
Following the overturning of Roe v. Wade in 2022, Jezebel highlighted an uptick in rhetoric from right-wing commentators criticizing no-fault divorce, as exemplified in a report from Media Matters for America. Twitter users were quick to point out that Crowder's divorce video echoed this same sentiment. "This is a wild rant. He's legit saying divorce shouldn't be "permitted" if both sides don't agree to it. Insane," tweeted @josbmessenger.
Presently, each state in the US does uphold its own version of no-fault divorce laws, but the ability to get a no-fault divorce is not a federally protected right. However, based on the conversation happening online, it seems Crowder's public disdain for his wife's ability to leave him has opened up the floodgates for those with traditionalist views of marriage to once again talk about making divorce more difficult. 
Some people have called for no-fault divorce to be illegal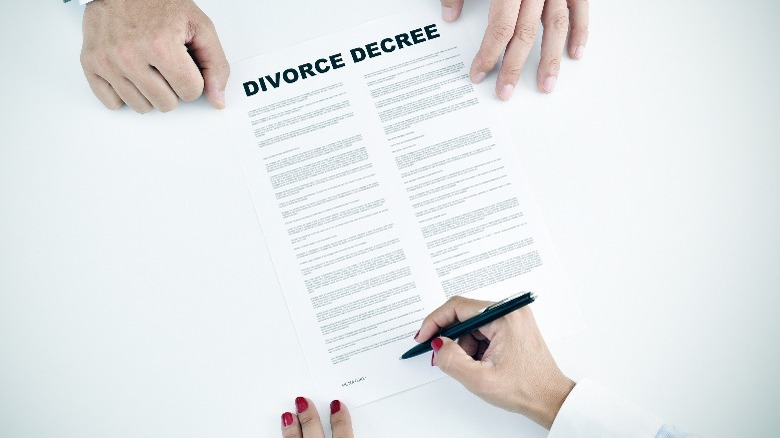 nito/Shutterstock
No-fault divorce, as defined by the Judicial Branch of California, is a provision that allows one to file for divorce without having to prove wrongdoing of the other party. A closer look at Crowder's history reveals he had previously spoken about calling for these permissions to end long before his own divorce (via Media Matters). During one episode of his podcast in 2022, he stated that he found no-fault divorces in heterosexual marriages unfair because he viewed them as giving women an unfair advantage. However, social media users have pointed out that no-fault divorce has helped both women and men. "Both men and women can be abusive. No fault divorce makes it easier for an abused spouse to get out of a terrible situation. The state shouldn't make it harder to leave a bad marriage," one tweet reads.
Within days after Crowder's divorce announcement, journalist Yashar Ali shared a video depicting Crowder in his home angrily berating his ex-wife for not living up to his standards. Users soon began to call out the podcaster's hypocrisy. "This is the same Steven Crowder who just posted a video of himself complaining about "no fault divorce" being legal because he'd rather keep his wife trapped in this abusive marriage" tweeted @kaylan_x. What's more, Crowder actually hired a divorce attorney one month before Hilary filed for divorce, according to Yashar's Newsletter. He also had elective surgery right before she gave birth, and then missed the birth. Yet support for Crowder and making divorce more inaccessible remain. In the comments section under one Twitter video of Crowder, several users showed support for the podcaster's statements, with one writing, "divorce without cause should be illegal." 
What an end to no-fault divorce would mean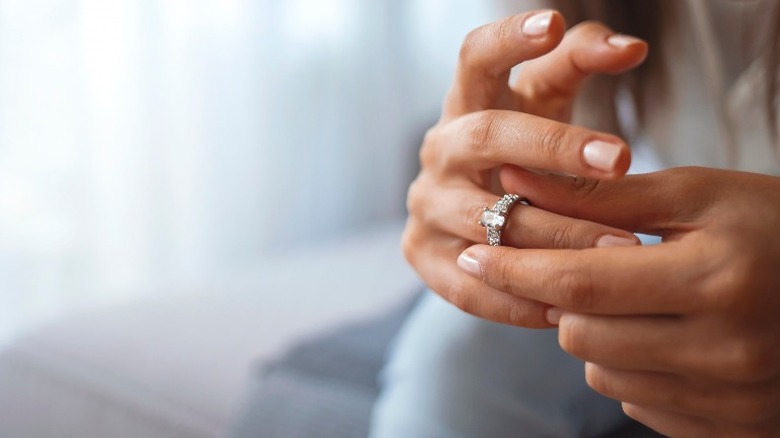 Dragana Gordic/Shutterstock
The impact of barring access to a no-fault divorce would set American women back close to a century. After decades of organizing, women finally achieved the right to divorce their husbands on the same grounds they had in 1937, when the Matrimonial Causes Act was passed. The act was then revised in 1973 to provide that no one had to prove fault of any wrongdoing in order to obtain a divorce. Conservatives like Crowder want to dial those freedoms back and make it so women must provide proof of some serious fault like abuse in order to leave their marriages. Per The Week, republicans in the state of Texas have already primed their platform to take on no-fault divorce, where its official stance is to "urge the legislature to rescind unilateral no-fault divorce laws and support covenant marriage." 
While differing the burden of proof onto women is not a new phenomenon by any means, its implications are consistently dangerous. Women who have survived sexual assaults, for example, are often tasked with the burden of proof, while also bearing the shame and trauma of the assault, causing many women not to report such incidents. In the wake of Crowder's comments, many online have spoken out about the fear that women (and anyone else) who is in an abusive relationship having to prove it to a court in order to change their marital status, potentially placing them in further danger. On Twitter, writer Meg Pillow wrote, "Ladies, you need to read up on what life was like before no-fault divorce. This will be terrifying for women who don't have the money or connections to make it through the justice system."