Is Your Whoop Compatible With Peloton Tracking?
Muse Studio/Shutterstock
If you're into fitness, chances are you've heard of Peloton. Probably best known for their Peloton bikes and engaging instructors, the company also has a Peloton app. The app contains tons of workouts, support, and access to a community so you feel even more motivated. Like most fitness apps, you do have to purchase a membership to use all of its features, which costs $12.99 per month. Likewise, fitness trackers such as Apple Watches and Fitbits have become a normal accessory for any outfit.
Enter Whoop. In case you haven't heard of Whoop before, it's a company that helps you "unlock yourself." They sell batteries, bands, and fitness equipment, all of which are designed to work with the specially designed Whoop app. However, if you already have a Peloton, you may be curious about whether you can use your Whoop equipment in collaboration with Peloton instead of needing to switch between the apps. Here's everything you need to know about whether these two can work together.
You could enhance your workout by using a Whoop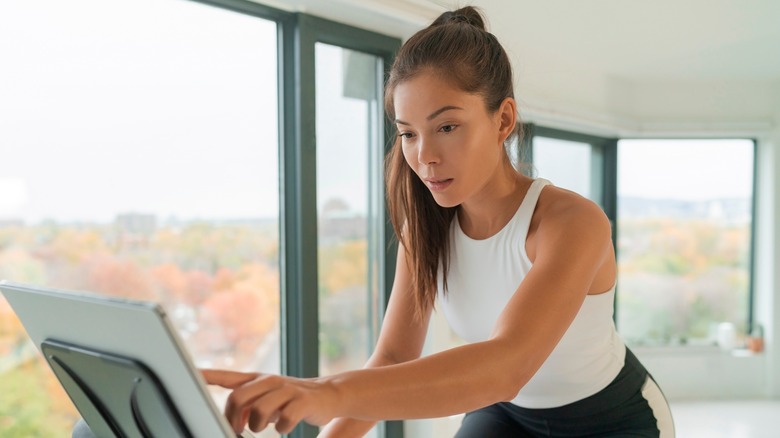 Maridav/Shutterstock
In general, the answer is yes, you can use your Whoop to enhance your Peloton workout. A Whoop is designed to tell you data about your body you don't usually have access to and lets you know how your body adapts to specific situations like a new workout. A good example of this is how Whoop will tell you about your HRV, i.e. your heart rate variability. Your heart beats differently every minute of every hour, and, though you may not guess it, longer gaps between heartbeats could indicate that your body is prepped for a high intensity workout over a more relaxed one.
Through the app, Peloton also offers tracking for things like calories burned, the distance you have run, walked, or cycled, and your heart rate. However, it does not offer HRV tracking, which is where Whoop comes in. With Whoop, you can see just how your body adapts to a workout and whether you should go harder next time or whether it would be better to tone things down.
Listening to your body is vital in getting the most out of your workouts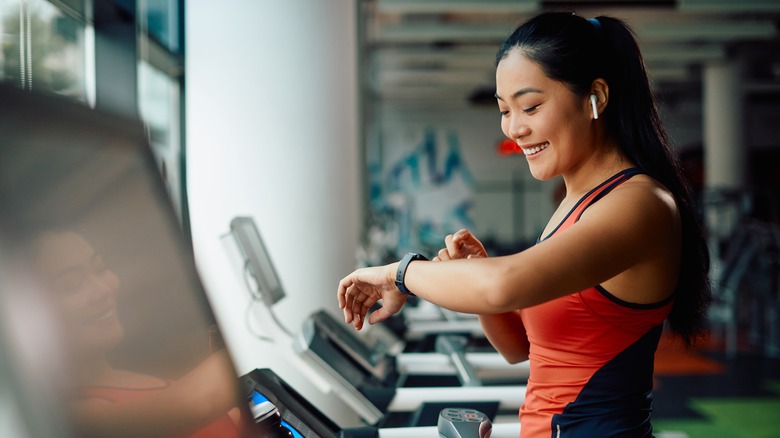 Drazen Zigic/Shutterstock
Following on from this, you can use the HRV data Whoop gives you to create a personalized Peloton workout schedule for yourself. For example, if you plan to run on Monday but your HRV isn't showing optimum levels for a high intensity workout, you might want to try a more medium intensity activity instead. If your HRV is extra fast, that could be a sign it's time to do a low intensity activity like yoga, or to take a rest day if you feel tired, too.
This method won't work all the time — after all, you know best, and so does your mind and body. If your HRV is optimized for a high intensity workout but you don't have the concentration or energy to carry one out, don't pressure yourself to push through.
Still, by utilizing your Whoop tracker to optimize your Peloton workouts, you could notice more benefits from your workouts than you did before. It's also a good tool for letting you know when your body needs rest rather than spending time guessing.