How Do Water Peels Work, And What Are The Benefits For Your Skin?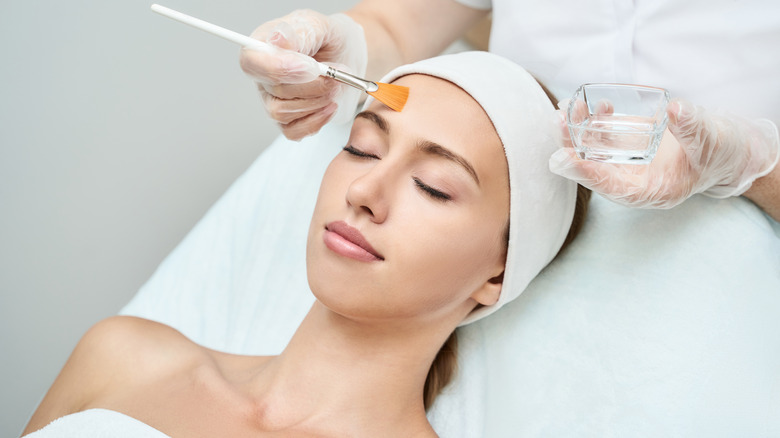 elenavolf/Shutterstock
When we see the word peel on a facial menu, we are usually looking at the word "chemical." A chemical peel, which is also simply a facial peel, has a ton of variations — you can opt for a lactic peel if you have sensitive skin or a retinol peel if you are dealing with acne or wrinkles. But no matter what kind of facial peel you choose, the basis of this treatment is to remove damaged skin cells underneath the surface that regular facials and at-home products may not be able to get to.
If the idea of a chemical peel scares you a bit, especially if you have ever seen an after photo of a red-faced person, you may be curious about a water peel. But, before you go searching the menu of your dermatologist or aesthetician for this type of peel, know that it may be hard to find. Water peels, or aquapeels, are designed to deep clean the face and hydrate at the same time, but this innovative beauty service popular in Korea is only recently making its way to the United States. Here's what a water peel really is and how it can benefit your skin so you can prepare to be the very first when it comes to your local beauty spot.
How water peels work differently from chemical peels
Water can be a secret weapon for a ton of things, but it can also treat many of our skin ailments if used properly. Korean beauty experts have been using water peels on clients for a while, exfoliating the skin and using suction to get out dirt and debris from the pores. But why would someone opt for a water peel over a more traditional facial peel?
According to Soko Glam co-founder Charlotte Cho, water peels are ideal for people with sensitive skin or for those who may have a big event, like a wedding, coming up (via PopSugar). The process is very similar to other peels, but the gentle nature of the treatment allows your skin to feel hydrated and look glowing without any of the negative side effects. After a water peel, your skin texture will feel softer and your skin will be deeply exfoliated, but the outer barrier of your skin, which is important for keeping the skin healthy and protected, will not be affected. In short, water peels are one of the most gentle yet effective treatments for deep cleansing the skin.
What to know about the U.S. version of the water peel
Unfortunately, if a water peel sounds the ideal treatment for your skin, you may not be able to find it here in the states quite yet. But, many beauty salons and dermatologists have created a similar treatment that is relatively easy to find: the HydraFacial treatment. Despite the name change, the HydraFacial works pretty much the same, suctioning all the bad out of our skin, exfoliating without irritation, and applying important ingredients, like hyaluronic acid, back into the skin to keep it looking fresh and firm.
If you are unable to find either of these treatments near you or want to try and get the same effects from home, you're in luck. Lauren Abramowitz of Park Avenue Skin Solutions recommends mixing a bowl of still and carbonated water together and dunking your face in it once a week for about 20 seconds (via Net-a-Porter). You can place cotton balls on your skin if you don't like the idea of submerging. You can also buy water peels to use at home — consider the COSRX Low pH Good Night Soft Peeling Gel or the Saturday Skin Rub-a-Dub Defining Peel Gel.