Fanny Packs Vs. Belt Bags: What's The Difference, And Which Works Best With Your Wardrobe?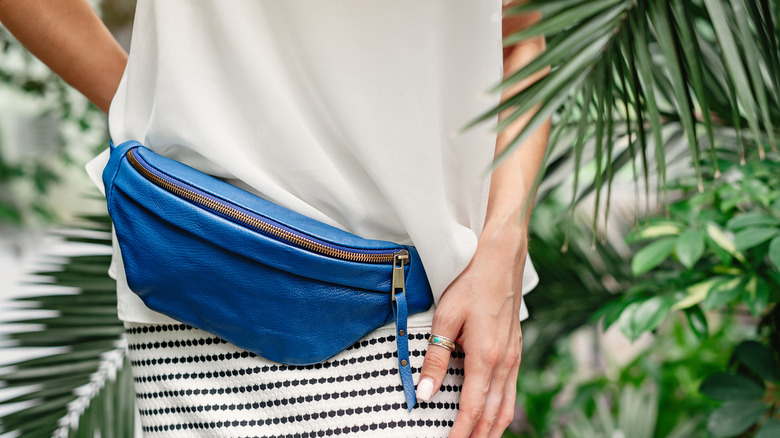 Lia Kos/Shutterstock
When thinking about fanny packs, belt bags, and waist bags, the same image likely comes to most people's minds: tired tourists walking through theme park; aka the epitome of uncool. But the truth is fanny packs are back in style and are now considered high fashion, too. However, along with the return of the fanny pack, there's been a new hands-free bag on the block taking the world by storm: the belt bag.
In the fashion world, where every little detail matters, some distinct differences exist when defining a fanny pack versus a belt bag. It may not seem all that important, but the key differences between the two types of bags can significantly impact your look.
Many people may know what a belt bag is because of the trendy Lululemon belt bag. No matter where you like to shop, there are numerous places where you can find belt bags and fanny packs. So, here lies the age-old question: What is the difference between the two iconic, remarkably similar bags, and which one should you buy?
What's the difference?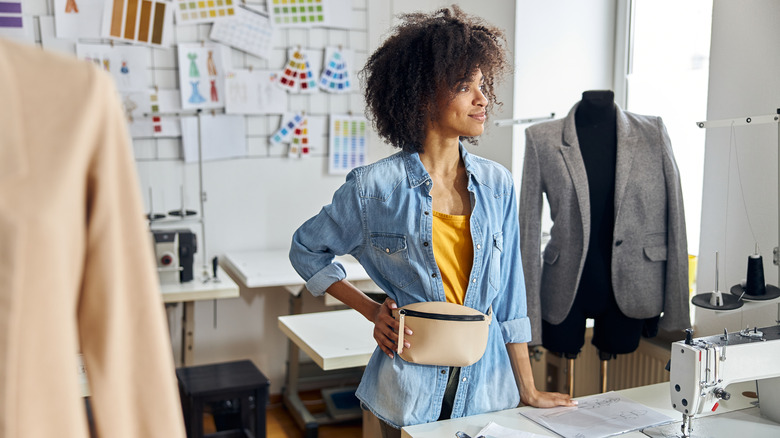 Dima_sidelnikov/Getty Images
When distinguishing between a fanny pack and a belt bag, it's essential to realize that the main difference lies in how it sits on your body. Does it hang onto your waist more, cinching it a little bit? Or does it hang at the hips, near your bottom?
Basically, a fanny pack hangs below the waist and low on your hips, closer to your thighs or rear. And at the other end of the spectrum, a belt bag is worn closer to your waist, whether high or low. To make it easy to remember, a fanny pack sits near your "fanny," and a belt bag is more like a belt.
Still, what you should buy ultimately comes down to what you feel most comfortable wearing. When you style your next look and are not sure which bag to choose, be sure to keep the following things in mind.
What works best with your wardrobe?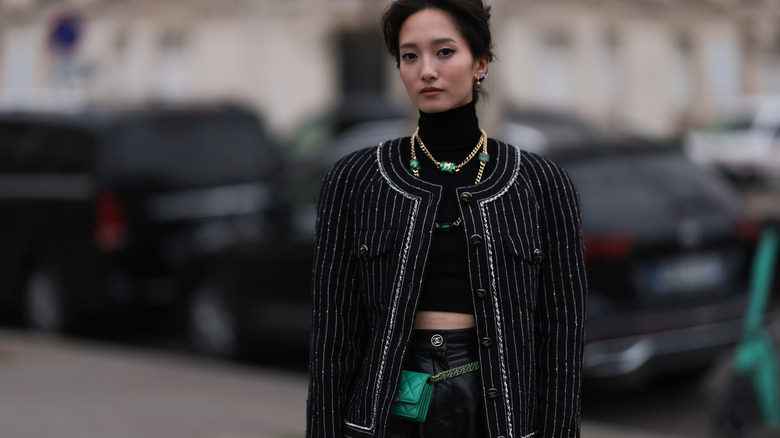 Jeremy Moeller/Getty Images
Finding accessories that complement your style is super important when building your wardrobe. And believe it or not, that goes for bags too. If you have a small waist with bigger hips, PurseBop recommends flattering your small waist even further with a belt bag rather than adding extra material to your hip area. 
On the other hand, they recommend that a fanny pack would be better for someone with a thicker waistline as the bag will hang lower on the body and not cause an awkward bulge at the waist area. Also, if you are wearing pants that may need a belt to be held up, opt for a belt bag for additional functional style!
Whether it is a belt bag or a fanny pack, these bags are made to be handy and make things stress-free, so at the end of the day, choosing what you feel comfortable with is the most important decision you could make.