States That Require Consent For Pelvic Exams While Under Anesthesia (Because Anything Less Is Not Okay)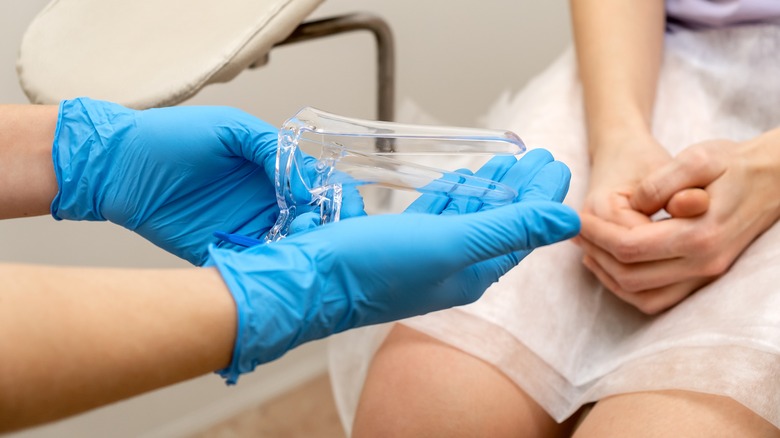 Tatiana Buzmakova/Shutterstock
Over the past several weeks, women have taken to social media to share harrowing accounts of surgery horror stories. While under anesthesia, they shared, in their most vulnerable state, their trusted doctors performed a pelvic exam with their students, without the consent of the patient. The pelvic exam is allegedly for the sake of education, even if it has nothing to do with the surgery taking place. For some, these stories were shocking, bringing to light a practice that few knew took place. For others, these stories were a chance to speak up in solidarity — this practice is not okay.  It is also not a new phenomenon; research that was collected on pelvic exams performed in 2003 found that, as they took on the exams, medical students were less and less sensitized to the significance of asking for patient consent. 
One TikTok creator (@paimonsays) recounted their experience in a viral video after being told they were given a pelvic exam under anesthesia. "While you were under anesthesia, we brought some students in to do a pelvic exam, don't worry it was just so they could learn," the text says. They also disclose in a following video that they are a minor. 
According to PBS, 21 states currently ban the practice, but the exams are still allowed in 29 states. Here's what we know. 
States that require consent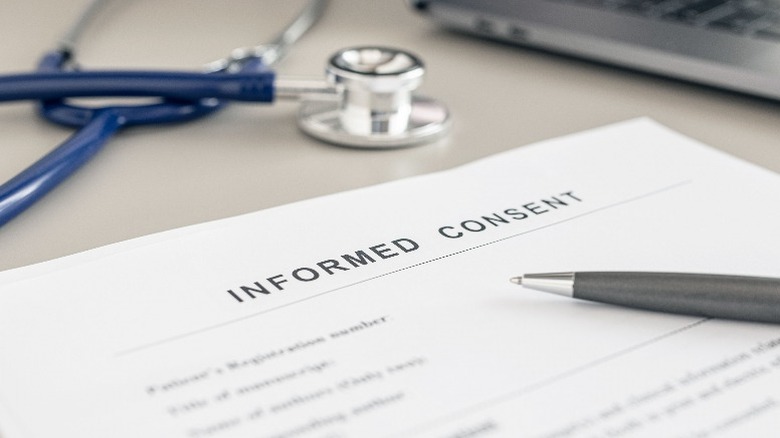 Wirestock/Getty Images
Before 2019, just six states has passed legislation that explicitly prohibited pelvic exams from being performed without patient consent while patients were under anesthesia. Those states were California, Oregon, Illinois, Virginia, Hawaii, and Iowa. Utah and Maryland as well as New York and Delaware, passed legislation in 2019. And in 2020, another 11 states, including Washington, Louisiana, and Maine, proposed legislation to have the practice expelled. In 2022, Connecticut also introduced legislation banning the practice. And states are continuing the trend, for example, where Pennsylvania proposed a law banning nonconsensual exams under anesthesia — which also include prostate and rectal exams — in March 2023. Other states include such provisions as well. 
The Pennsylvania bill emphasizes the concept of informed consent, a medical and ethical principle (and often legal mandate) where patients have full knowledge of what will happen to them during treatment, and are in full agreement as to what will happen to them during treatment. The bill would require medical institutions, including teaching hospitals and medical schools, to obtain full, informed consent from patients to complete the exams while under anesthesia. 
According to the Association of Professors of Gynecology and Obstetrics, a pelvic exam for teaching purposes must solely be given after receiving explicit consent from the patient; is related to the procedure; is performed by a student who the patient knows as part of their care team; and is done under direct supervision by the educator. 
Knowing your medical rights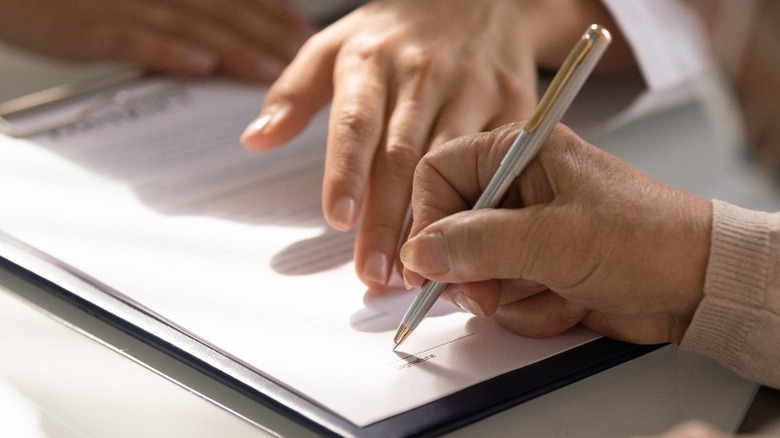 fizkes/Shutterstock
According to the Associated Press, some states have shot down legislation that would provide informed consent for such an exam, citing that the requirement to provide informed consent already existed. New Hampshire, for example, proposed a bill that would require informed consent for pelvic exams while under anesthesia, but after testimony from entities including the New Hampshire Hospital Association, which argued that such nonconsensual exams did not happen in the state, the bill did not pass (via Citizens Count). Of course, the flawed logic here is that patients under anesthesia might not even know they were given a pelvic exam, making the instances hard to quantify and stripping patients of a voice in circumstances where informed consent was not given. And, even in states where the practice is outlawed without informed consent, the legislation might not define what constitutes informed consent, leaving it open to interpretation. 
Other states thus require a separate consent form, such as Utah, which also requires that the specific words, "CONSENT FOR EXAMINATION OF PELVIC REGION," are included on the form. Keep in mind that, in the absence of state laws, medical institutions state-by-state may have their own policies in place.
The fact that states continue to perform pelvic exams without the patient's informed consent and explicit approval is abhorrent. Survivors of sexual assault report feeling re-traumatized and violated. In a post-Roe world, where uterus-owners are losing their rights to do what they want with their bodies, informed consent must be non-negotiable.