So, What Are You Actually Supposed To Wear To A Restaurant With A Business Casual Dress Code?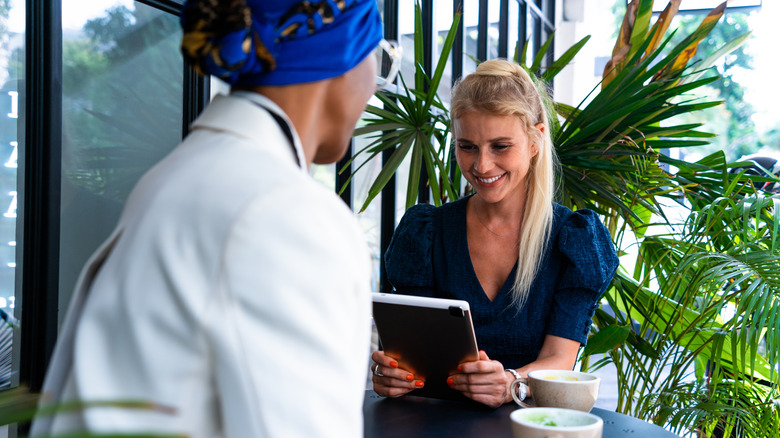 Diamond Dogs/Getty Images
The entire concept of dressing for work shifted dramatically during the pandemic when many industries became remote overnight. Work attire became more casual, though sometimes accidentally. The person who showed up on a Zoom call in a suit and tie was occasionally spotted wearing shorts from the waist down. People's cats, dogs, and children burst into the room during business meetings, appearing on camera to the delight or embarrassment of all. 
Socializing and going to restaurants were out of the question, and much of the stuffier, more rigid side business was softened and became somewhat more relaxed as a result.
As a style of dress, business casual really took root in the 1990s in Silicon Valley. Tech executives rebelled against the status quo, showing up in jeans and t-shirts instead of suits, and corporations began instituting "casual Fridays." This eventually morphed into daily business casual. But, as it often does, fashion reflects economic trends, and when the job market became tougher in the early 2000s, candidates' fashion choices reverted to more buttoned-up styles so they would be taken more seriously. Having said all that, business casual is still a thing and people are going out to eat again. So, how do you dress for the occasion?
What to look for: length, color, fit
Restaurants' dress codes range from "come as you are" casual, to business casual, smart casual, business, semi-formal, and formal, though the last two are pretty rare and reserved for the highest of high-end dining experiences. There are no hard and fast rules here, but we would describe business casual as attire you might wear if you were going to lunch with your boss.
Think knee-length or longer skirts or dresses, blazers over a structured top, slacks or dress pants instead of jeans, and attractive, non-flashy jewelry. A-line dresses are universally flattering. Business casual colors can vary, but a safe bet is all neutrals, like white, black, brown, navy, tan, forest green, and anything else as long as the hue and intensity are on the more subtle side. Patterns, if any, tend to be small and unobtrusive. A tailored fit is perfect, whether it's a suit or separates. Personalize your look with cute heels, mules, loafers, and original-looking scarves and belts.
What to avoid
To some extent, business casual do's and don'ts at work depend on the industry. Dressing for a job on Wall Street is generally more conservative looking. A marketing company's environment is creative but they do receive clients, so they keep it professional-looking. For a restaurant's business casual dress code, consider sticking with a middle ground.
Avoid jeans, leggings or jeggings, t-shirts, athletic wear or sneakers, loud colors or patterns, and sleeveless or tank tops. If you love your spaghetti strap dress or halter top, wear it but throw a blazer or sweater on top. Avoid bare arms. As for shoes, no open-toed anything.
Watch the length — make sure your skirt or dress isn't short. Watch the color — business casual tends to be neutral or darker in hue. And watch the fit — too loose and unironed or too tight and revealing is no good. To avoid feeling stuffy, try styling baggy clothes for a flattering fit.