What Should You Wear To A Restaurant With A Casual Dress Code?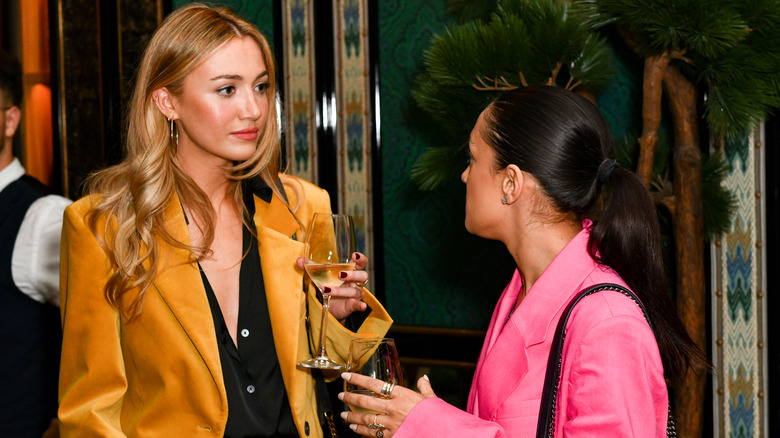 David M. Benett/Getty Images
Going to dinner with friends may be the highlight of your week. As you solidify the time, number of attendees, and location, you should consider the restaurant's policies — specifically, the dress code. In the age of fashion liberation, many restaurants still conform to dress codes. This can be for a number of reasons, with some establishments wanting to maintain a respectful atmosphere. Others may want to appear classy to attract a crowd of young professionals. Either way, failure to adhere to such outfit rules might result in you leaving with an empty stomach.
Luckily, several lounges with such restrictions lean towards a casual dress code that is inclusive for all. While this may be a reason to exhale, this version of simple may not be what you'd wear to run to the grocery store. Eateries that are both upscale and casual, such as Charley's Steakhouse, allow sandals and strapless dresses, but tank tops are frowned upon. Patrons can usually dress comfortably, but not as lax as that seen in a bar. Make sense? So, what is a good balance for a casual restaurant? That depends on the type of environment you're stepping into.
For dressy casual, think Casual Friday at the office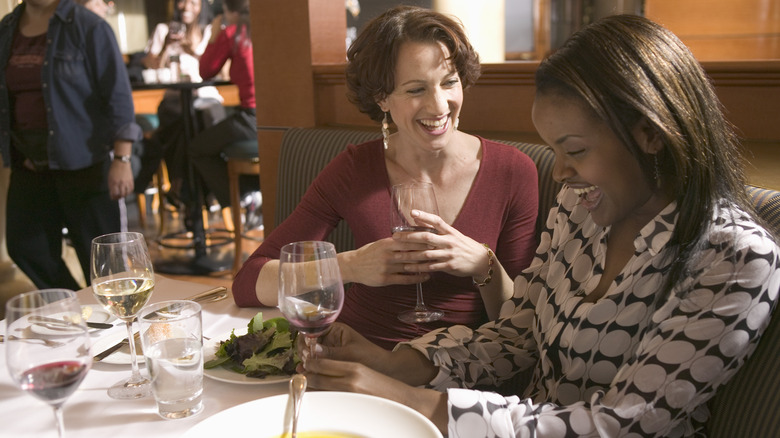 Burke/triolo Productions/Getty Images
Different restaurants may have their own definition of informal. Some may call their dress code "dressy casual." Masterclass refers to this as "a combination of relaxed and refined pieces." If opting for denim in a location with this dress code, it may be a good idea to go for the darkest your closet has to offer. Try to steer clear of acid wash and ripped jeans if you can. Since dark denim can resemble black pants, this is a great selection to pair with a flowy blouse. Or, try your staple white button-down top with a classic pencil skirt that you can rock any time of year. As far as shoes go, there may be some wiggle room, but you still want to go for something you'd be comfortable wearing to the office.
If a high heel isn't on your agenda, a dressy flat such as the Journee Collection Hannae Flat could be a perfect alternative. This slingback style includes a pearl accent on the toe, adding elegance to this shoe, perfect for a dressier occasion. You pretty much want to add a bit of pizzazz to your convenience clothes. Casual Fridays at work typically follow similar guidelines. So, if you'd be at ease wearing this look around your boss, it will likely pass the hostess' dress test.
Casual dress code doesn't totally mean do as you please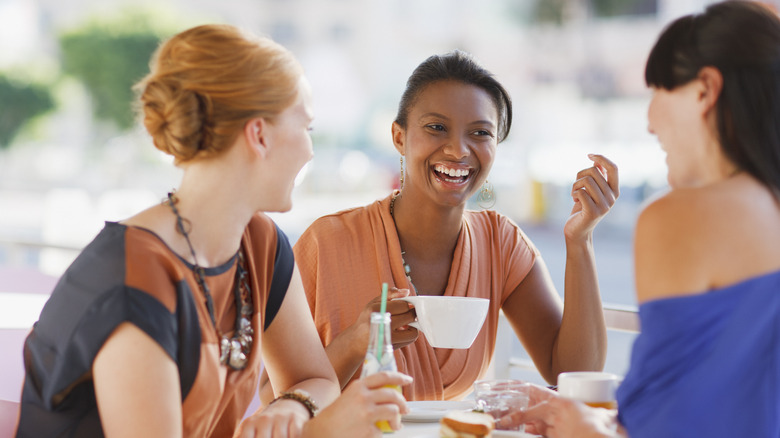 Paul Bradbury/Getty Images
If the restaurant is super chill but still has a dress code in place, that usually indicates mild expectations. Establishments such as these typically request that customers be mindful of children that might be dining with their families. However, this could vary depending on location. For example, at a diner on the beach, swimsuit cover-ups and flip-flops are acceptable. Though, an equally relaxed setting on Rodeo Drive is definitely not where you want to rock your water attire.
If you usually walk around in your favorite pair of stretched-out sweatpants, this may be inappropriate even for the most cozy eateries. Those pair of mesh palazzo pants with the built-in visible panty is another piece you may want to shelve for the night. Athleisure wear may be an option for a relaxed dress code but with a bit of reservation.
The ambiance will let you know everything about the dress code. If fine pieces of art adorn the walls with dim lighting throughout, you may be entering either a formal or dressy casual type location. If there are dollar bills taped to the walls with wish-me-wells written on them, those fringe shorts and slides are perfect. Before heading out, take a quick glance at the establishment's social media or website. If still unsure, give the restaurant a call. Ask what type of garments have gotten patrons turned away. It's better to be safe than sorry.