The Shoe Choice That Will Add A Bit Of Grunge To Your Favorite Little Black Dress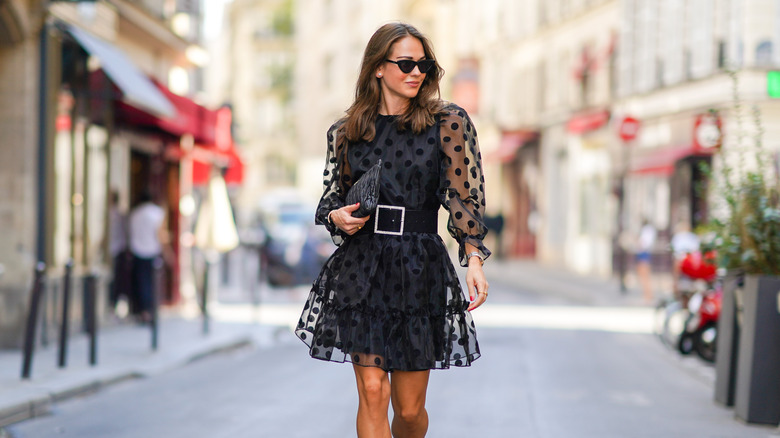 Edward Berthelot/Getty Images
Certain things in life are timeless, and a little black dress is one of them. Despite the name, a little black dress can actually be any length, and simply refers to the black dress that is your go-to. First introduced all the way back in the 1920s , it's still a style staple 100 years later. However, you probably find yourself styling your LBD the exact same way every time because you've found a formula that works for you. This is fine, but even just changing up one thing will help to elevate your regular little black dress look.
If you're looking for new ways to style your little black dress, swapping out your usual shoes for a different kind is one of the easiest ways to do so. Though you may instantly reach for your tried and trusted heels when it comes to a little black dress moment, it's always good to switch things up now and then, and this shoe choice is sure to do just that: If you want to look more grungy than dainty, you should be pairing platforms with your little black dress.
Think outside of the box with this shoe choice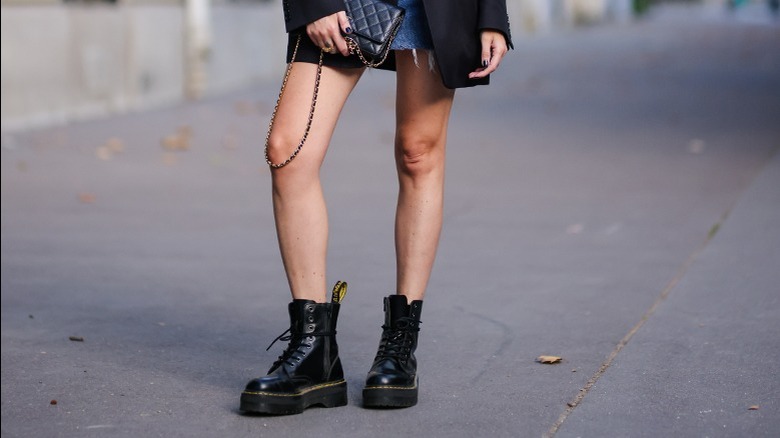 Edward Berthelot/Getty Images
There are tons of platform shoe styles out there, from towering platform heels to stompy loafers. However, the pair of shoes that will give you the most edge are platform boots. Strappy heels have their time and place, but there's nothing like a platform boot to elevate a look. By simply replacing your tired heels with some Doc Martens platforms, you'll be giving your look a whole new vibe.
The heaviness of platform boots will add instant coolness to any look, but particularly when paired with a traditionally feminine item like a little black dress. Note that platform boots are typically heavier than heels to walk in and can make your ankle feel weighed down if you're not used to them, so perhaps wear them around the house a bit first. 
Still, if you're not a fan of a super grungy look, there are plenty of other platform shoes to choose from.
Any platform shoe will look great with an LBD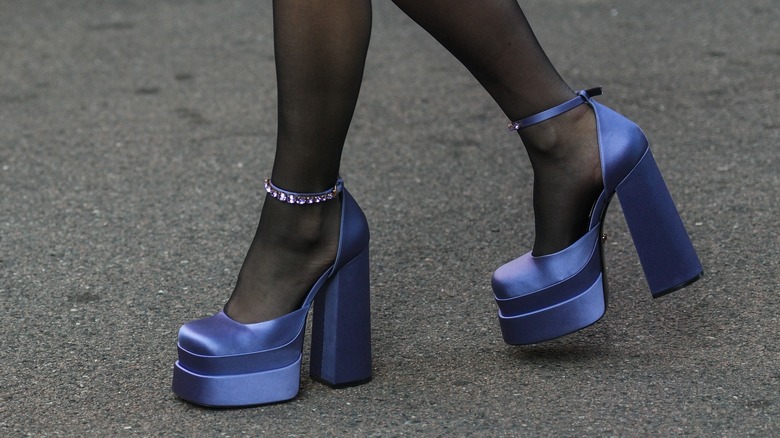 Creative Lab/Shutterstock
Platform sneakers are now more popular than ever, and can turn a little black dress into a casual outfit rather than a formal one. Platform sneakers will also be markedly more comfortable than platform boots, as most don't have the added heaviness boots usually do. Both low and high-rise platform sneakers will look good, though high rise are the best way to go if you don't want socks peeking out.
Alternatively, take inspiration from "Daisy Jones and the Six" and embrace your inner '70s rocker by stepping out in a pair of sky-high platform heels. Alongside giving you an instant height boost, there's something about platform heels that will make you feel like a disco queen. They don't have to be black, either. A pair of platform heels in a bright color will create a striking contrast to your little black dress, especially if you match this color to your accessories.
The next time you go to grab your trusty heels, think about grabbing some platforms instead to put out a completely different vibe.