How To Wear Wide-Leg Pants When You Have Shorter Legs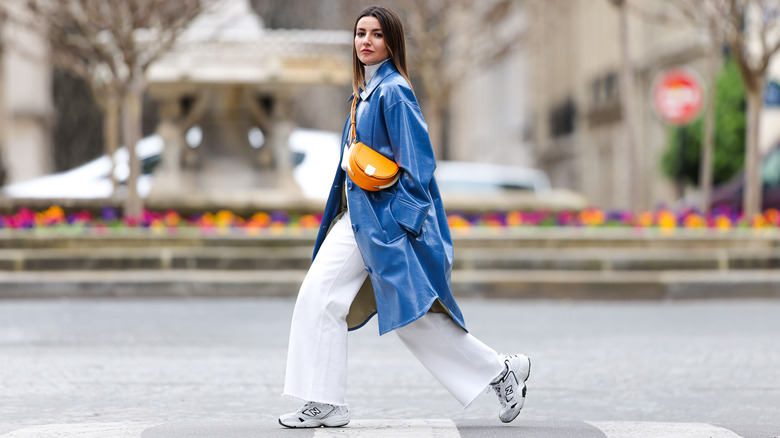 Edward Berthelot/Getty Images
Being petite can have its downsides, and one of the most common is feeling like you have to stay away from certain items of clothing. You may not even be petite, but have a longer torso and shorter legs that make it difficult to find clothing that fits well. There's no rule that says you have to stay away from longer clothing pieces like maxi skirts if you're on the shorter side, but you will need to make a few adjustments to the way you style these items. Otherwise, it will look like the outfit is wearing you rather than the other way around.
Wide-leg pants are a staple for all year round, but if you have shorter legs it's easy for them to be too long and overly baggy. Don't despair though, as there are definitely ways to wear the style that will suit your body type better. Here are a few of our favorite tips for styling wide-leg pants if you have shorter legs (that aren't just wearing heels).
Proportions are key when it comes to styling longer pants
One of the simplest ways to make a wide-leg pant more proportional to your body is to opt for a shorter top. This especially applies if your wide-leg pants are high-rise, in which case a crop top is the best option. A crop top doesn't have to be informal — many shirts and blouses are now cropped. You could even DIY your own crop top by tucking a longer shirt into a sports bra for a fuss-free cropped shirt hack. If cropped tops aren't your thing, a top that sits directly at the waistband of your pants or just below will still work, as will a well-fitting tucked-in tee.
Another thing to think about with wide-leg pants is the length. Though full-length wide-leg pants are the most popular style, not all of them fall below the ankle. Ankle-length pants can have a positive lengthening effect on your legs, though make sure they're not too cropped as this can have the opposite effect. If you do want full-length wide-leg pants, a good hack is to look for pants that are designed to fit cropped on those who are taller. They will act as a regular wide-leg pant length for you instead of being cropped.
Certain styles of wide-leg pant will look better than others
It's also best to avoid wide-leg pants with details like a paper-bag waist. The reason for this is that a paper-bag waist rises higher than a regular waistband, which can make you look even more compact. Paper-bag waists can also add bulk around your middle, another potential negative depending on the look you're going for. The exception to this is if you have a much longer torso than leg length, in which case paper-bag waist pants could help to balance out your top and bottom half. 
Finally, prints and patterns are vital when it comes to wide-leg pants. You want to give the illusion that you have long legs, and a solid, unbroken color palette will do just that. Hop on the monochrome fashion trend by choosing an outfit that's all one color. This will help to create a streamlined look and draw the eye away from where your torso ends and your legs begin.
The next time you want to style some wide-leg pants, try out some of these tips and see how much of a difference they make.