How To Approach Gift-Giving In A Financially Unequal Relationship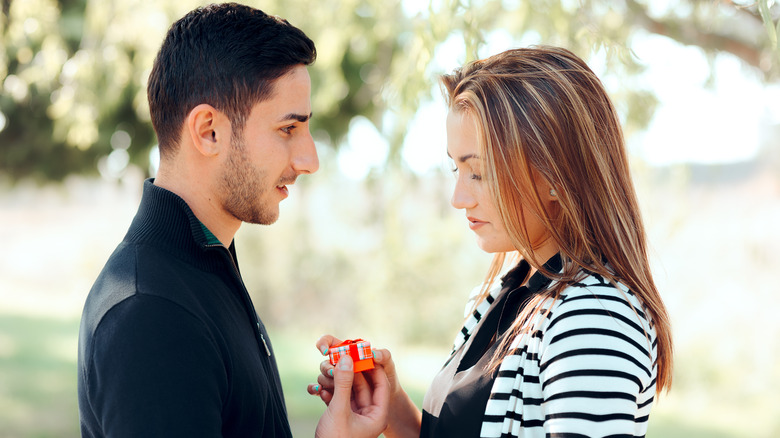 Nicoleta Ionescu/Shutterstock
At its best, gift-giving can be a beautiful act, one that makes a loved one feel seen, appreciated, and celebrated. But at its worst, gift-giving can make a loved one feel overlooked, dismissed, and even start spending squabbles. While gift-giving is not a requirement in romantic relationships, many people enjoy giving and receiving gifts. And gift-giving means more than just spending money to make your partner happy. It's about the time and thought that went into finding the most exact gift for them, one that you are sure they will love. But what happens when you are in a relationship with imbalanced finances, and your partner wants to go all out on your birthday present, for example? Would you feel uncomfortable? What if the reverse is true, and you found the perfect gift for your partner, but it is way more than you know they can spend on you? How would that make your partner feel? 
There is an etiquette to gift-giving that exists for a reason: Gift-gifting should feel uplifting for everybody involved. It should not turn into a power contest over who can afford the most extravagant thing, nor should someone feel as though they were treated unequally. Gift-giving is always something of a delicate balance, but when a difference in finances is involved, it can become even more so. Here's how to approach gift-giving in a financially unequal relationship.
When you make more than your partner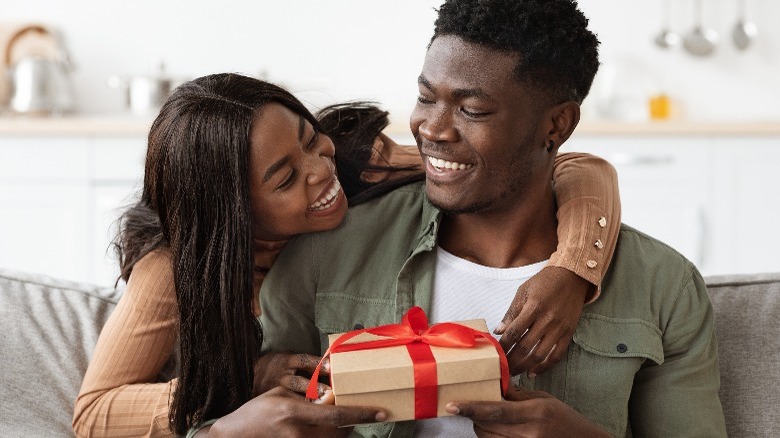 Prostock-studio/Shutterstock
When you make more than your partner does, the first step in a fruitful gift exchange is to acknowledge this fact. Just because you can afford to spend more on a gift for your partner does not always mean you should. While you might feel accomplished and proud to afford to buy your partner an expensive present, consider that your partner could feel minimized by your extravagant present, should they not be able to mirror its cost. Consider talking to your partner first about how they would feel if you bought an expensive gift for them; perhaps they would love the idea. 
One Redditor who is in a financially imbalanced relationship writes, "I make 3x what my partner does, I always effectively pay for my own gifts. My philosophy is that if I didn't have to work extra hours and struggle to buy my partner's presents, they shouldn't have to struggle to purchase mine," the post reads. Another Redditor responds, "We are a team, so we should feel equal. For example, it would make me feel awful for my partner to kill themselves at work/not go to events/sell stuff to afford a $100 present for me, when I'm fortunate enough to be able to drop $100 without batting an eye. Which is why everything is split percentage wise, etc," the comment says. Here, acknowledging the money differences in the relationship can assist in a more thoughtful exchange of gifts, as well as allow for greater compassion within the relationship — a win for all. 
When you make less than your partner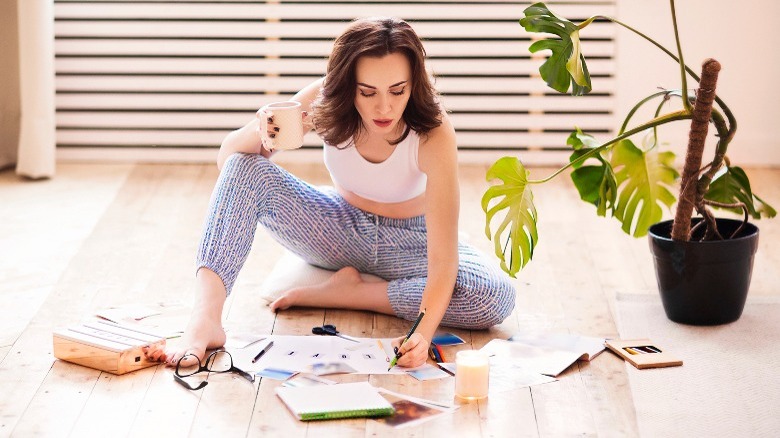 Dasha Petrenko/Shutterstock
When a celebration is forthcoming and you're getting anxious about how the gift-giving will go down, you do not need to make assumptions. Chat with your partner about your worries, and trust that your partner cares more about the thought you put into their gift than its cost. (Should they not, well, that's a separate issue.) Remember that a gift does not have to be expensive for it to be meaningful, and by no means do you need to spend outside of your budget to prove your love, or to prove a point. Remember, too, that you can ask for help from your partner's friends and family to make their wishlist a reality. Instead of taking a chance on a gift that maxes out your budget, double-check with your partner's friends that the gift will really be worth it.
And depending on your budget, you can get creative when it comes to the gift you give. When cash is tight, everybody loves homemade presents. Focus on your strengths. Perhaps you are an amazing photographer; make your partner a photo album to cherish. Perhaps your partner loves food; consider cooking your partner a beautiful meal. Or perhaps you play an instrument; write a song for your partner. Gifts that are both thoughtful and create memories are among the best kind. Everybody can swipe a credit card, but not everybody has the talent, or takes the time, to create something from the heart. 
Ideas for managing gift-giving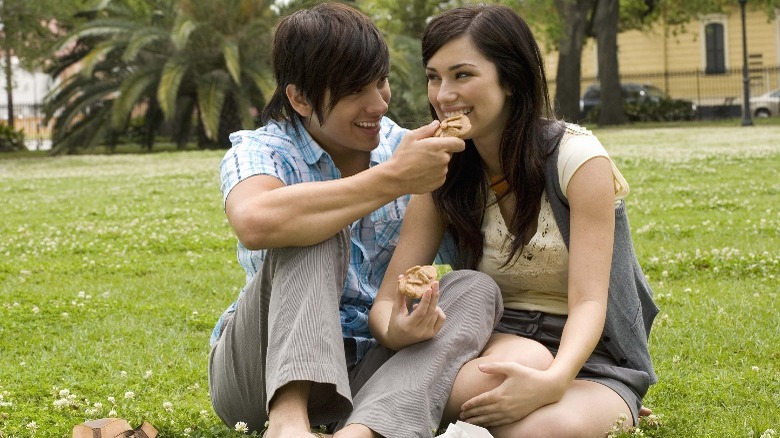 Jupiterimages/Getty Images
Perhaps neither partner is a particularly excellent gift-giver, or perhaps you simply want to avoid the hassle and stress that can come with finding each other a gift. Some couples may choose alternatives to gift-giving. Consider making donations in each other's names, volunteering together for a cause you both care about, or simply writing each other heartfelt letters. You might also choose to cover the cost of an activity that you can do together; for example, taking a pottery class or visiting a museum. Planning a date at a free location such as a local botanical garden or a nearby park is also a beautiful way to spend time together without the stress of spending. 
But if exchanging gifts is important to you or your partner, consider setting a budget that you can both agree on. Whether that's a flat number for each of you or one that is proportionate to your income levels, talk about what you envision a successful exchange to look like. At the end of it all, gift-giving comes down to showing your partner that you care, which should be a consistent effort to begin with. As such, remember to take gift-giving seriously — but not too seriously. The quality of your love, and the quality of your relationship, is not defined by material things.