Makeup Tips To Highlight Your Freckles For Every Season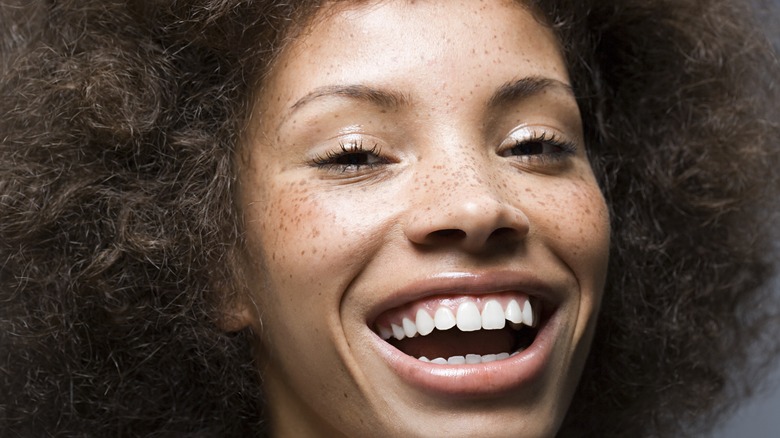 Image Source/Getty Images
Freckles haven't always fit the mold for society's beauty ideals – unhealthy and impossible standards for what makes a woman beautiful, as they were viewed as a trait to hide with makeup or other skincare products. However, many people now embrace their freckles as beautiful and expressive of their true selves. 
Freckles are so popular now, that some influencers, such as TikTok user @bexcxpbell, are even creating fake ones to add to their skin. Comments on her post, such as, "I wish I could go back to my teenage self and tell her freckles were beautiful and one day everyone would think so" and "So my freckles are in vogue? Who knew[...]spent my teen years trying to hide them," reveal how transformed our perception of freckles has come to be. Of course, if you're someone who has spent years concealing your spots, figuring out how to highlight them throughout the year can be a challenge. 
Instead of hiding your freckles, beauty experts discuss how makeup can be applied in specific ways, depending on the season, to highlight your natural freckled beauty. Freckles tend to change in color and quantity from summer to winter, therefore makeup and skincare applications should also change seasonally.
Prepping your skin before makeup is crucial for maintaining healthy, freckled skin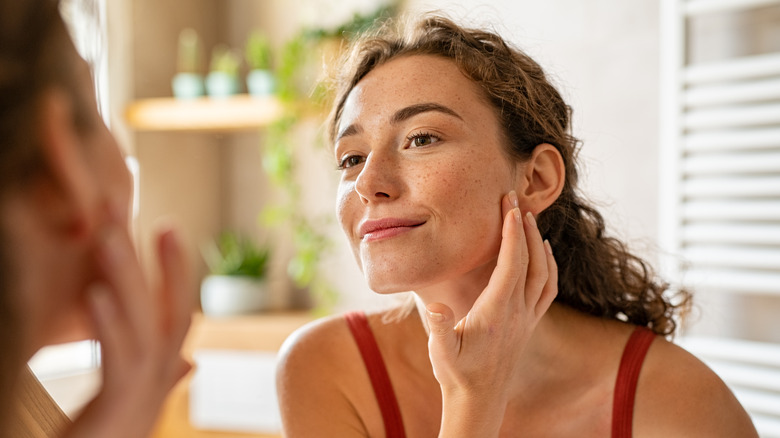 PeopleImages.com - Yuri A/Shutterstock
In the summer months, freckles tend to be more noticeable with sun exposure, while they are often fainter during winter months. This means that how you apply your makeup and prep your skin throughout the year is key. 
Since sunlight during the warmer months can cause additional freckles to form and darken, it can be tempting to want to cake on foundation during the summer. That said, to make the freckles you already have look great, experts recommend focusing first on skincare more than cover-up. Therefore, if you have freckles, your pre-makeup ritual should always include proper skin prep, including wearing SPF every day, especially in summer but in the winter months as well. Proper sunscreen application, which includes reapplying throughout the day, can protect you from skin cancer, as well as keep your skin looking healthy and fresh. This will also keep your face from developing sun or age spots that could outshine your natural freckles and tempt you to cake on extra foundation. 
Another important step to include in your beauty routine for freckles is exfoliation, esthetician Renee Rouleau tells Byrdie. Exfoliation can be done with gentle scrubs, peels, acids, and cleansing brushes. Vitamin C serums are also beneficial, particularly in the summer, because they help to lighten the pigment of freckles and make them appear brighter. Research has shown freckles also have various uses such as anti-aging, preventing hyperpigmentation, and providing protection from harmful UV rays.
Lightweight foundations and eyebrow pencils can enhance the look of your freckles
As makeup artist Ashleigh Ciucci tells SELF, "Creamy, sheer products will put your freckles on display." Lightweight foundations include products such as powders, tinted moisturizers, tinted primers, and BB creams. TikTok user @sophiamariee2 demonstrates in a video how to highlight her freckles in the winter when they are faded by using powder foundation, highlight, and bronzer instead of heavy cream foundations. They advise using a light application tool to not totally hide them and focusing mainly on applying concealer to areas that don't have spots. They also suggest using a bronzer to play up that natural, sun-kissed glow. 
If your freckles are faded in winter or after applying makeup, you can go over them with an eyebrow pencil to make them pop again. User @jordanaticacosmetics on TikTok, demonstrates how to go full glam without covering freckles, which includes using a brow pencil to bring out your freckles after applying makeup. You can even use a brow pencil to create freckles where there are none. Celebrity makeup artist Lilly Keys told Seventeen, "Take the pencil and dot haphazardly on the face, concentrating around the bridge of the nose and on to the cheeks, making slightly different dots with the two different shades."
So whether your freckles are dark and numerous or light and faded, create the best freckled look possible by following a proper skincare routine that includes exfoliation and applying SPF, choosing sheer products for foundation, and enhancing or creating freckles with brow pencils. Ditch the heavy, thick concealer and show off your natural, beautiful skin!