May's Full Flower Moon And Lunar Eclipse Combination Is Your Chance To Make Radical Change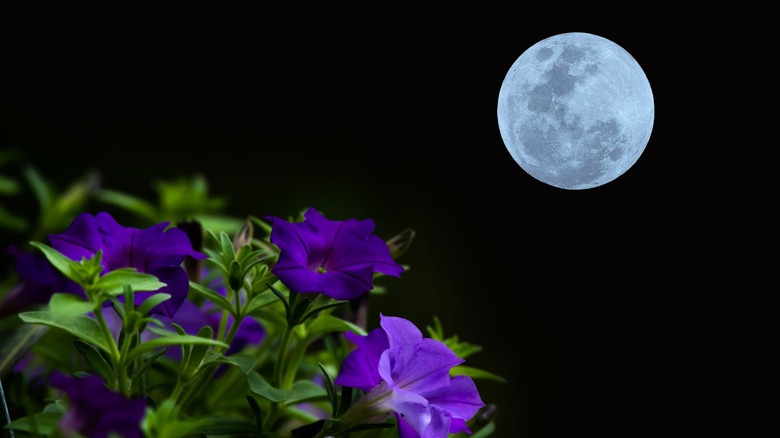 Onkamon Buasorn/Getty Images
A full moon can be a powerful spiritual event on its own, but when paired with a lunar eclipse, we're in for an energetic encounter to remember. The first of two lunar eclipses in 2023 is set to take place on May 5 in the form of a penumbral eclipse, where the moon will darken slightly in the Earth's shadow, but still remain visible. While those in North America will not be able to see the eclipse, astrologers predict the energy of the lunar event will be palpable. First, note that the full moon in May is named the Flower Moon, after the abundance of flowers that blossom at this time in the spring. Where full moons signify the height of manifestation, the Flower Moon is particularly significant, as it represents a period of flourishing, both in nature and within our spiritual lives.
The full moon will occur in the water sign Scorpio, which is often associated with emotional depth and transformation, and represented with the Death card in tarot, symbolizing the endings that lead to new beginnings. Lunar eclipses are additionally associated with release and evolution in astrology. This full moon eclipse also may ask you to balance competing energies as you set your intentions. Taken together, these combinations are potent when it comes to creating change.
What to expect from the Flower Moon eclipse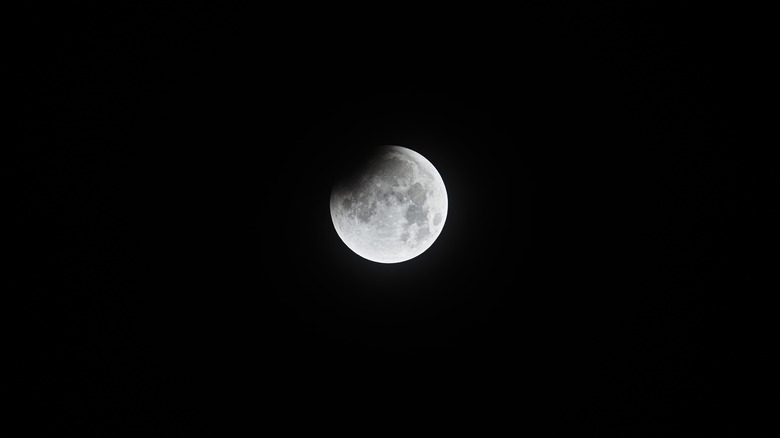 Vw84/Getty Images
Change is a word that can both freak us out and excite us, as we tend to think of change in dramatic terms. But the truth is that change mostly tends to happen gradually through a series of events, choices, or habits — not all at once or overnight. Consider that even the smallest changes in our lives over time can lead to radical changes in ourselves and the world around us. Astrologer Celeste Brooks tells Well+Good that during the full moon, "We release what we thought we could do ... and get a sense of acceptance of what we can do." Understanding our capabilities could be considered the first step to creating radical change — resisting this could lead to struggles both with ourselves and others. 
Astrologer and digital creator Patrick Arundell also says in his YouTube video that this full moon eclipse will entail a hefty dose of themes surrounding relationships. "This month may start off with some frank exchanges, there may be some revelations, you may be challenged in some way — maybe you challenge yourself," he says. "But there are lots of opportunities that can come through around relationships for you." 
When considering how the full moon eclipse will impact you, first take a step back and investigate the energies of the new moon on April 19. The full moon eclipse will reflect the energies, experiences, and manifestations you were cultivating during this new moon.
Tapping into the Flower Moon eclipse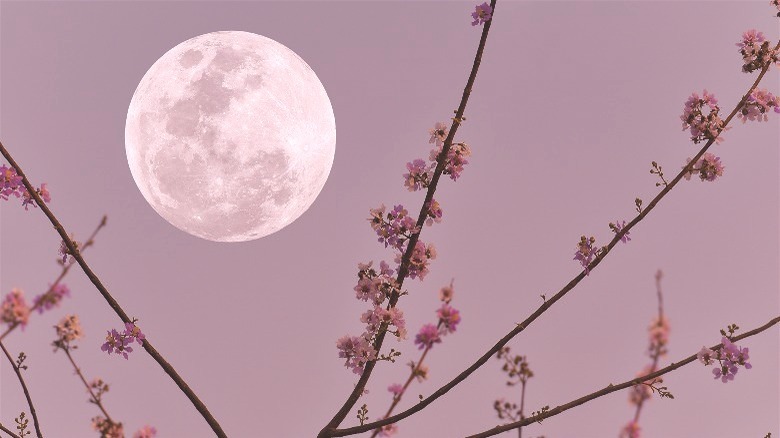 Onkamon/Shutterstock
Working with the energy that the full moon eclipse will entail, consider setting your intentions on areas of your life in which you would like balance, to see change in, and ultimately flourish in the next several weeks. 
When you really want to tap into the energy of the full moon, why not create or join a full moon ritual? You could take a bath in Epsom salt to cleanse your energy, go for a walk in the moonlight, and even write down a list of affirmations that you want to highlight at that time. While astrologers typically recommend charging your crystals during a full moon, because this full moon entails an eclipse, wait until the next one. Focus on cleansing your crystals, and the energy around you, instead. 
Full moons also entail release. At the height of this cycle, consider what you have learned since the last new moon. Have you had to let go of any limiting beliefs or habits? Perhaps in more extreme cases, have you had to let go of a job, a relationship, or a vision you once held of yourself or your life that is simply no longer aligned with your reality? As you celebrate your successes this full moon, remember all of the changes you made to get yourself to where you are now.