Why The Old-Fashioned Smile Trick Is Still The Best Technique For Applying Blush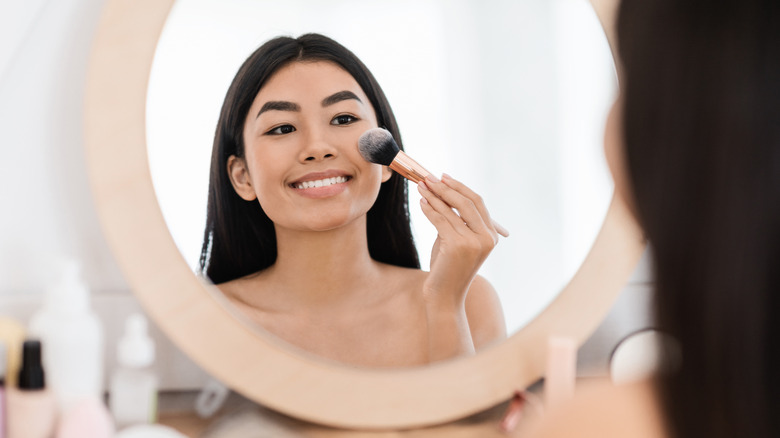 Prostock-studio/Shutterstock
Thanks to social media, we have access to a never-ending stream of creative and unexpected hacks for makeup application and beauty routines. People are putting snails on their face for the alleged healing benefits of slime. Others are using lube as a primer. And just went you thought things couldn't get more out there, some are wrapping their hair around radiator piping to get curls in what looks like the most uncomfortable way imaginable. It's the wild west out there! Reinventing the wheel can certainly be fun, but when it comes to beauty techniques, what's novel isn't necessarily the best.
Though it seems counterintuitive to not keep up with the trends, one can't deny the credibility of the old-fashioned beauty tips that have stood the test of time. We know, for instance, red lipstick will never go out of style. We also know that foam rollers of yesteryear are still one of the most proven ways to get heatless curls. And though we've all spent the decade learning how to achieve model cheekbones with contouring, it's hard to deny a good blush look remains timeless. And chances are, the classic technique you learned to first apply this product is still the best one. Yep, you know it. It's basically the grandmother of all beauty techniques: Smiling to find the apples of the cheeks.
Why it beats out other techniques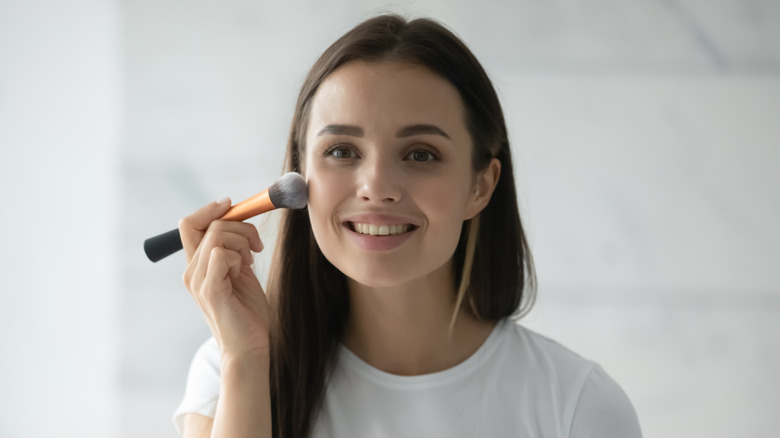 fizkes/Shutterstock
There are several other blush techniques that people swear by, so why do we keep coming back to the smile trick? Well, part of that is because it helps with placement. A big smile creates a lift in the canvas of the face so that we can see exactly where blush should be placed for the most flattering, natural application. It places color exactly where we'd  see color if we were well, actually blushing. When keeping the face neutral during blush application, it's harder to pinpoint exactly where we should apply our product, running the risk of putting on too much when the cheeks aren't elevated, or applying product too low on the face. 
There are other trends that advocate placing blush high on the cheekbones, spread out to the ears. While this can create a more daring or high-fashion concept, it may not be the most flattering option for people who want an everyday look. Other trends like "cold girl makeup" suggest packing plenty of blush on the nose as well as cheeks. It can certainly be pretty for a statement winter look but a year-round red nose might not be the best signature look.
Another reason why the smile technique is great? It works when using more intimidating products, like cream or liquid blushes. When working with cream and liquid formulas, the smile trick lifts the area for the most fool-proof application.
How to perfect the smile trick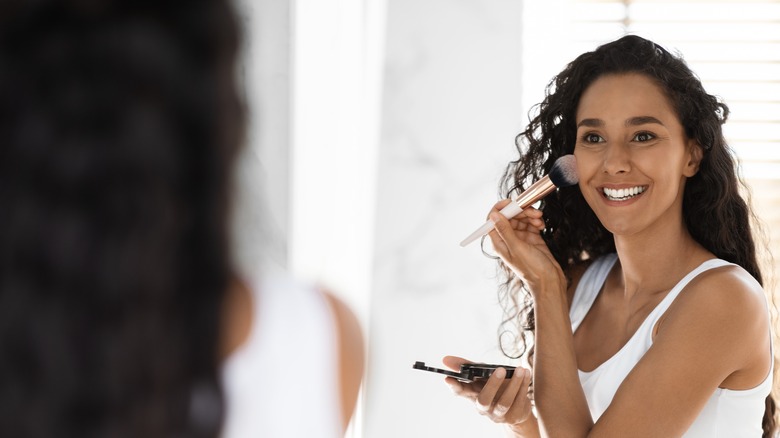 Prostock-studio/Shutterstock
Another reason why the smile trick works so well is that it's super easy to follow. No wonder makeup artist Pati Dubroff told Net-A-Porter that she still favors the technique above all others. For best results, she recommends, "Do a big cheesy smile and you'll see exactly where you want to apply it." This is because when you give the mirror an exaggerated smile, it elevates that part of the face, making it a cinch to find the right spot to add blush. From there, using your brush, fingertips, or a sponge, apply the product to the apples of your cheeks. This gives the face a youthful, healthy wash of color. For best results, Dubroff advised, "Avoid taking it too close to your nose and those crinkles by the eye." 
Makeup artist Dominique Lerma echoed this sentiment while talking to Marie Claire, offering an additional tip for how to perfect the time-tested smile technique. After giving a big smile, she explained, "[a]pply the product on the meatiest part of the cheek area and then blend upward in the shape of a crescent moon." This simple technique has the makeup artist's stamp of approval.