Why You May Want To Try Chebula-Infused Skincare Products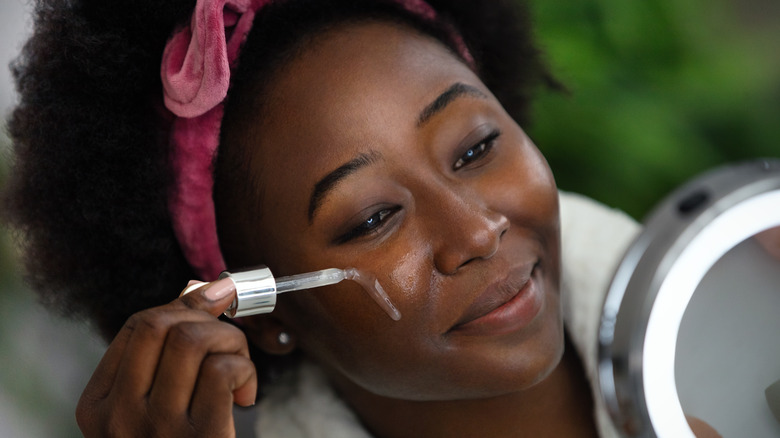 Aja Koska/Getty Images
Chebula seems to be the skincare ingredient on everyone's lips right now. It feels like we're seeing more and more skincare products hitting the shelves that have been infused with the herb, because of its many benefits for the body. "Brands are starting to show more interest in ingredients like chebula because they are versatile and have the perfect mix of science, history and naturality, which is what consumers are looking for," Mel Black, Pierre Fabre training and scientific communication spokesperson, explained to Women's Health. As for why everyone's putting it in skincare? Dr. Jeannette Graf, a board-certified dermatologist and assistant clinical professor of dermatology, told TZR that chebula is packed with antioxidants and is a great anti-inflammatory and antibacterial ingredient. In other words: it's one of those ingredients that truly does it all.
But what actually is chebula? Well, you may know it by the name terminalia chebula, or one of its many other monikers (such as chebulic myrobalan, birhara, harada, haritaki, or even myrobalan). Though it may be new to many of us, chebula is an herb that has been around for centuries. "It is known as the 'King of Herbs' as it has so many beneficial effects," Joanna Webber, a fully qualified Ayurvedic Practitioner and co-founder of The Ayurvedic Academy, said. "It helps with both internal digestive and detoxification support, as well as external use for skin issues." And it may have even more uses on the skin than you even realized.
Chebula's antioxidant properties mean it has so many skin benefits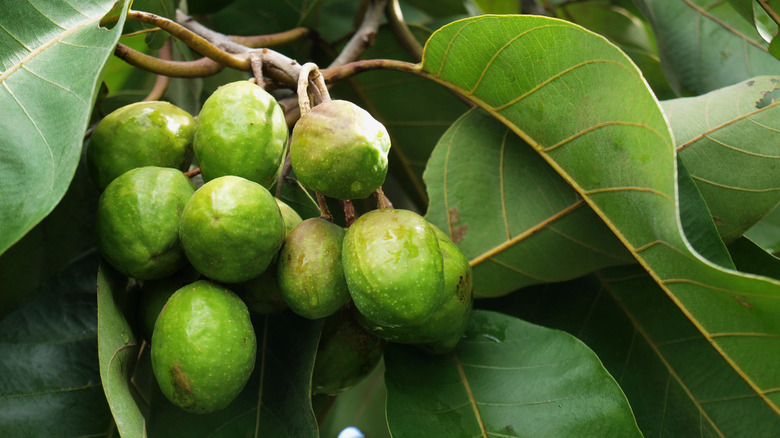 kaninw/Shutterstock
So let's get into it, because chebula has a whole host of skin benefits that may make it one for you to try. Because of chebula's status as a powerful antioxidant, it may be a solid option for those looking to treat visible signs of aging, like fine lines and wrinkles. On the skin, antioxidants help protect the skin from damage and toxins, which can keep the skin barrier healthy and strong. In fact, chebula is such a powerful antioxidant that a 2016 study found it may even be more potent on skin than straight up vitamin C.Anecdotally, some reviews of chebula products have called it gentler than typical vitamin C serums, making it a potential alternative to those who are sensitive to vitamin C serums.
But we're not done when it comes to this multi-talented product. Dr. Jeannette Graf told TZR that chebula can also be handy in treating skin affected by sun damage. One study found it minimizes visible UVB reactions on the skin, while also promoting collagen production. In other words, chebula's antioxidant tendencies not only help protect the skin from the photo damage (though you always need your SPF on hand too) they also help restore the protein that reverses it.
But even without all the antioxidant benefits, chebula is still worthy as a moisturizer. A 2012 study found topical creams containing chebula to be capable of producing a rejuvenated skin appearance after a few weeks of use. Sheila Malmanis, founder of Derma MD, also sung the praises of chebula to The Standard, sharing, "It works to even skin tone, reduce roughness, reduce lines and wrinkles and improve moisture retention. If you have pigmentation or melasma issues then you will see significant results within weeks." 
And it's easy to incorporate into your skincare routine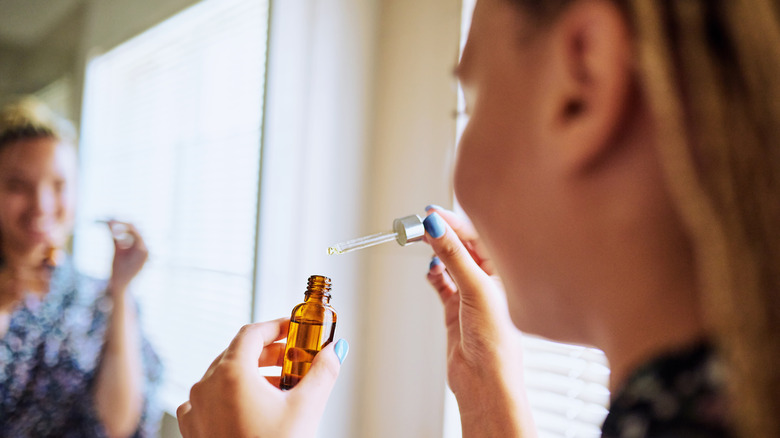 Laylabird/Getty Images
Typically in the skincare world right now, chebula is commonly infused into serums, which is another reason to potentially give it a go — as it's pretty easy to get it into your routine without a lot of fuss. Simply get your hands on a serum containing chebula and apply it to the skin after cleansing and toning to start seeing the potential benefits. Dr. Jeannette Graf recommended to TZR not applying it at the same time as too many other active ingredients though, and using it in the morning only under an SPF product.
However, before adding anything new into your skincare routine, it's always a good idea to seek advice from your doctor or dermatologist. Especially if you have any pre-existing skin conditions. That's because, although chebula has been around for years and there is some research out there to support the notion it's a strong skincare ingredient, there's still research to be done into its true benefits for the skin. "As a medical doctor, I will always suggest that it's best to rely on ingredients that have a wealth of clinical backing behind them," Dr. Glyn Estebanez, an aesthetic surgeon and skincare expert, told Women's Health. "Regarding chebula, more clinical studies are required to provide further stronger evidence for its use as an ingredient within topical skincare."