How To Master Floating Eyeliner For Next-Level Makeup Looks
Eyeliner allows you to make a statement and accentuate your beautiful features. While a traditional winged eyeliner along the lash line will always impress, don't be afraid to go outside of the box with graphic looks, like floating eyeliner. This unique liner technique can be used to create a variety of creative looks that flatter pretty much any eye shape
Rather than solely painting a line along your upper lash line, a floating eyeliner look utilizes negative space around your eyes to create unique shapes.
Typically, this is done by painting a line along the crease of your eyelid. Any kind of eyeliner will do the job, and some makeup experts say that a pencil liner is a bit easier for beginners compared to liquid liner, which is sometimes harder to control. You can get creative when drawing your own floating eyeliner look, whether you want a maximalist, colorful look or a simple and chic black liner.
Prep your eyelids and apply eyeshadow first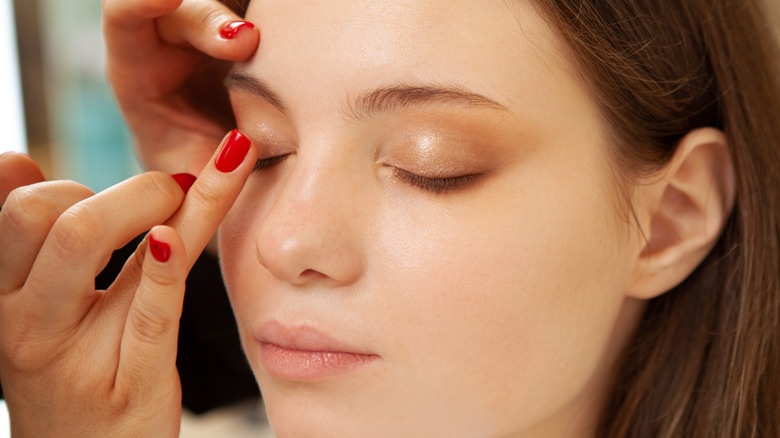 Ihor Bulyhin/Shutterstock
A primer helps create a good base for the liner to adhere to, as well as an even, matte surface to prevent creasing throughout the day. Begin by adding a seed-sized amount of eyeshadow primer on your eyelids up to your brow bone. If you don't have primer, you can use concealer instead. 
Eyeshadow is optional, but if you do want to add it to your look, it's best to apply it before eyeliner. Go for a neutral-toned eyeshadow if you want the liner to be the star of the show. If you don't use eyeshadow for your look, it's still a good idea to prime the eyelids before you do your eyeliner. 
Map out your look
Eyeliner can be tricky, and it might take a couple of tries to get the look you want. Experts at Glamour recommend using a kohl liner to map out your lines, as this can easily be erased if you mess up. Others, like TikTok user fauxnicolerose say you can also use an angled brush with a shadow color of your choice. Close one eye to see where your crease is and use the liner mark a horizontal line where it naturally begins on the outer corner. From there, as fauxnicolerose explains, gently bring the line inward and outward as far as you want. Curve the line on the outer part upwards for a more dramatic effect. It's important to note that if you have hooded eyes, you may need to paint the line a bit higher above your crease to avoid the eyeliner being hidden in the folds of your eyes.
Have some makeup remover handy in case you need to correct any mistakes, and then you'll be ready to trace over your guide with a heavier eyeliner.
Apply eyeliner along your crease depending on the shape you want
Once your eyelids are prepped, you're ready to apply your liner. There are a few different ways you can go about doing a floating eyeliner look. 
If you want a double wing, begin by drawing the first wing on the upper lash line. Then, starting from the line you mapped out previously, draw a line outward from your crease to line upwards, creating a second wing. You can also connect the two lines together at the outer points to create a round or pointed wing shape, as shown by TikToker lecomptoiresthetique. This look works well for those who have hooded eyes and not a ton of lid space for the higher floating eyeliner looks.
For a simple, yet chic pointed look, you can draw a line at the outer part of the crease only rather than starting from the inner/middle portion and then connect it to the bottom wing. Additionally, another option is drawing a straight horizontal line above the crease, like Gigi Hadid. 
While floating eyeliner looks fabulous in black, feel free to play around with color. Try drawing the crease line with white or green liner, and the lower line with purple. You can even opt for varying shades of blue and silver metallics for a frosted floating look. 
Finish the look with embellishments or mascara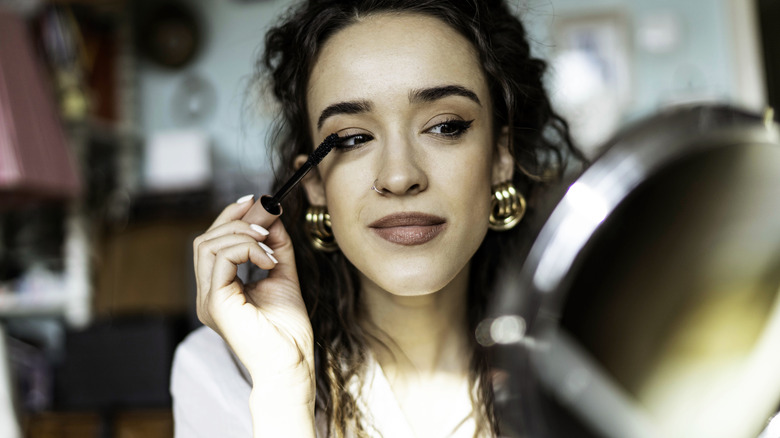 Gorica Poturak/Getty Images
Once you've applied liquid liner in the right places, you can go in with a fine felt tip liner pen to add any extra embellishments, like adhesive gems. For instance, you can place a few rhinestone-like pieces near the inner corner of the eye to make a simple, black floating eyeliner look really pop.
In any eye makeup look, mascara is like the cherry on top. Apply your favorite mascara to your top or bottom lashes to complete the look and elongate your gorgeous lashes. Depending on your own style preferences, you can choose to go light or heavy on the mascara. If you're going for a colored eyeliner look, you can even try a colored mascara to match or contrast the eyeliner.