The Fake Eyelash Hack That Will Make You An Application Pro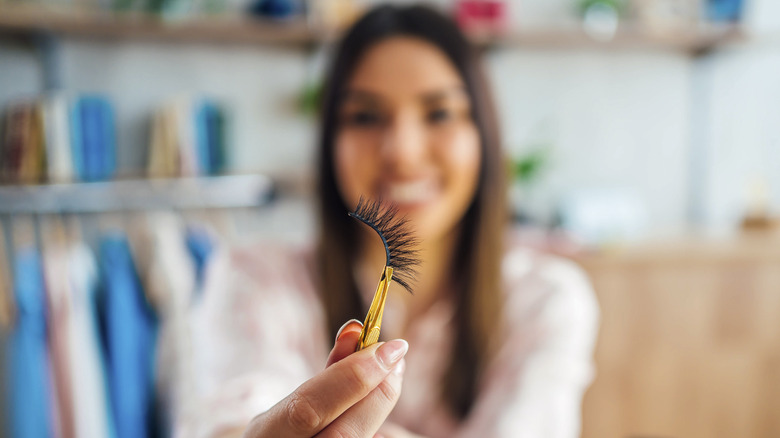 Lordhenrivoton/Getty Images
Anyone who's ever applied false lashes will know how difficult the application process can be. More than once we've been late because we've been messing around in the bathroom trying to get the darn things to actually stick to our natural lashes properly. Instead, all too often they just seem to hang off the end of our lid or droop down in a way that most definitely does not open up the eye. That's why we're down for any fake eyelash hack we can find that makes the whole process easier — and we think we've just found one. We have TikTok user @youngcouture to thank for this easy technique, as she showed us the simple way to get your falsies applied correctly every time.
For this, you'll need your false lashes (this hack is designed for a strip lash), eyelash curler, and some lash glue. Start by placing your fake eyelash strip inside the clamp of your eyelash curler, with the band where the metal hits the rubber stopper. It should look like you've already applied your lashes and now you're curling them. Then, apply your glue to the underside of your natural lashes. Next, put the curler to your eye, open it with the falsies still inside, and place it on your eye, like you're curling your natural lashes. Give your lash curler a squeeze to push your real and falsies together and remove it. The falsies should then stick to your lashes perfectly. Who knew!?
There's an extra step you can add to this lash hack if you're struggling
But there's a little more to the hack than meets the eye. The impressive falsies tip was originally thought up by another TikTok star, Adrian Ross, aka @arartistry. He gave a more in-depth insight into how the fake eyelash technique actually works. In a follow-up video shared on the social media site, he explained that you may want to start the process by applying a brow gel to your lash curler first. That will help the lash strip stick to your curler a little better, but it won't make it so stuck to the curler that it won't come off easily when it's time to apply it to your eye. He also suggested that those trying this hack who have straight lashes give them a curl before starting the process, as the technique is more about application than actually curling your natural eyelashes.
Another great tip Ross shared in his follow-up clip? Make sure you don't put too much glue on your natural eyelashes. "Just kiss the lashes," he suggested. In the clip, Ross demonstrated how he only applies a few dots of black lash glue to the underside of his natural hairs.
And there's a tip for getting rid of that pesky lash glue, too!
Did you apply a little too much lash glue to your natural lashes, or are you struggling to get it all off without really tugging on your eyes and pulling out your real lashes? We have a tip for that, too. @SultryLashBar shared the same false lash technique in a video posted to its TikTok account and gave a little insight in the comments section about how to make sure your lashes get clean again after using this technique.
After one fan questioned how to remove the excess glue in the comments section, the company responded, "With a hot face cloth and a gentle cleanser, gently rub your eyes and the glue should start coming off." False lash glue can be just as, if not more, stubborn than waterproof mascara, so you may also want to check out our tips on removing makeup from around the eye safely without a lot of pulling or rubbing.