Why You're Going To Want To Try Trendy Milk Tea Hair Color This Fall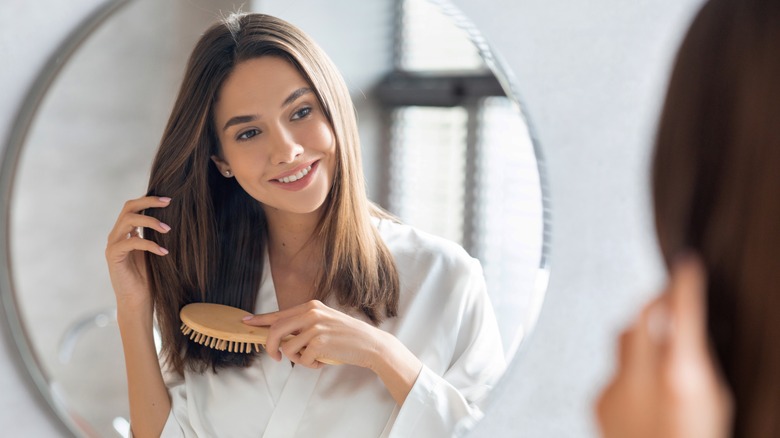 Prostock-studio/Shutterstock
This fall has been the era of rich, cocoa brunette, but chocolate isn't the only food getting an homage through hair. The latest trend dominating TikTok is milk tea hair. According to celebrity colorist Guy Tang, milk tea hair is a low-effort and high-reward trend that everyone should be hopping on.
As the name implies, milk tea hair quite literally depicts the colors of milk tea, such as beige, gray, and a hint of white. The trend has been sported by a number of celebrities, including Blackpink's Rosé and BTS' Taehyung. "Milk tea hair is the hottest shade of blonde brewing up an interest on TikTok," stylist Jason Collier explained to Metro UK. The ashy brown/beige/gray shade is an anticipated trend for fall and winter 2023, which means our favorite public figures are and will continue to show off the unique look. 
It's easy to pull off
Because of its neutral palette, milk tea is easily adaptable on various hair types. "Milk tea's hair color has a creamy beige tone that falls between warm and cool," celebrity colorist Guy Tang explained to PopSugar, emphasizing its efforts "to create the two-tone feel of milk tea." As fall creeps up on us, taking on a warm and cool collection of colors can help you celebrate the season.
One of the most popular styles includes blonde milk tea hair. As Jason Collier explained to Metro UK, "This blonde shade is quite cool tone and ashy and can be adjusted to suit different skin tones," emphasizing that anyone can tailor and pull off the look alongside their stylist. It's best to head to the salon if hair requires multiple rounds of bleaching, but don't be afraid to bring your own skillsets to your hair.
Milk tea isn't all just blondes and creams, either. Popular versions of the trend include rosy, brown, blonde, bronze, and violet milk hair, each of which focuses on a different color to work off of. The one thing they have in common is a lightness to them, as if you mixed on one of these colors with a glass of milk.
Play with gray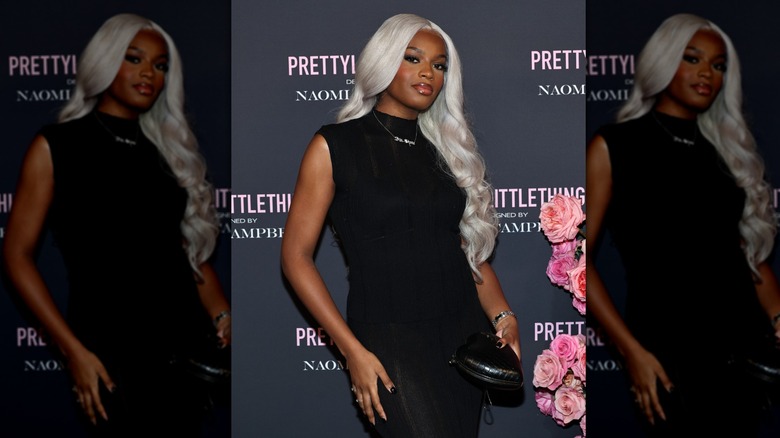 Jamie Mccarthy/Getty Images
One of the best parts of milk tea hair is the duality between milky and gray shades. It's a great transitional shade for those who have been hesitant about embracing gray.
As hair colorist Olivia Smalley explained to Allure, the ideal milk tea shade mixes a perfect balance of warm and cool colors. "It's the perfect balance of warm tones and cool tones that adds almost an edgier feel to the average balayage," she said. "The key here is making sure there is a complete elimination of gold on those lighter ends, while maintaining gold on the roots." With that being said, milk tea maintains some of the natural gold hues in our hair. However, choosing between a milky or gray color that can properly melt into your natural hair is essential.
Go subtly blonde
Hair is a delicate part of us, and that's why it requires proper care and maintenance to stay healthy. First and foremost, dyeing your hair when it's already thin and brittle will only cause more damage to the scalp. If that sounds like you, it's best to avoid heavy dye processes and instead focus on smaller changes, like a face-framing haircut or highlights. If you're lucky enough to have strong and healthy hair, be sure to care for dyed hair properly, like using a purple shampoo throughout the week and treating your hair to a hydrating mask. Since milk tea hair uses less dye products than other styles, proper upkeep of milk tea hair always leads to soft and shiny locks. 
Going subtly blonde — like the client pictured above — is perfect for the transition into fall, although it requires the same upkeep as louder shades of blonde. However, milk tea hair sets itself apart by reacting positively to purple shampoo and other maintenance products, unlike dyed hair that easily becomes brassy. Ultimately, you know what's best for your hair — and we can't wait to see what you'll do!
Lift to a rosy pink
Achieving milk tea hair starts with identifying your hair type and color. For example, darker hair shades will need to lift the hair before adding a toner and semi-permanent color. If you have lighter shade hair, you'll likely skip right to toning and coloring. According to celebrity hairstylist Jason Collier, "The key to a long-lasting blonde is strong hair," which is an essential component of achieving milk tea hair. Per Collier's recommendation, it's best to ask your hairstylist for a gentle and bond-building formula when lifting hair color. Once hair is light enough to be dyed, your stylist will know what to do next.
Rosy pink hair is a great option for clients with dark hair who are looking to go lighter, especially because the bleaching process is more intense than other milk tea shades. The Daily Vanity Singapore explained that the ultra-light shade will require multiple rounds of bleach, but the rosy look is worth the trouble. The color is great for cool-toned skin, bleached eyebrows, and a gray and black wardrobe to make your creamy pink tones stand out.