Here's What Went Down With TA3 Swimwear After Shark Tank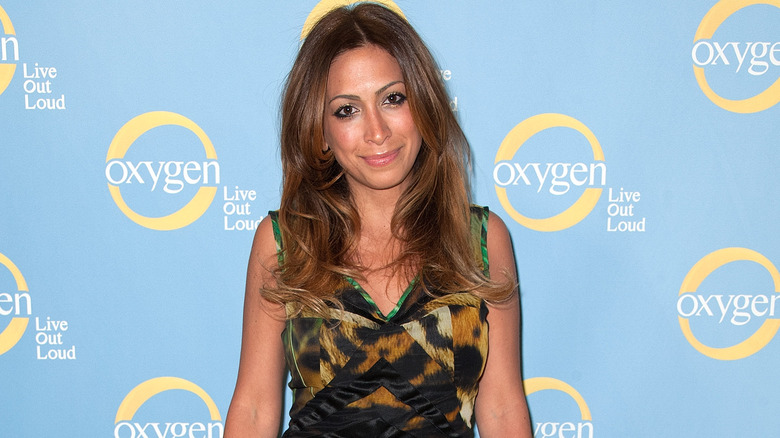 D Dipasupil/Getty Images
"I was always self-conscious about my stomach, particularly when I was wearing a swimsuit. I'd diet for weeks leading up to a vacation, which really took the fun out of it for me." Those are the all too relatable words of Leila Shams, CEO and Founder of TA3 Swim, speaking to Natfluence. It was that lack of confidence that inspired Shams to undergo liposuction, which is when she had the lightbulb moment of a lifetime. "During recovery, I had to wear a surgical compression garment and was blown away by its shaping ability. I thought, if I could wear something like this on the beach, I would have never gotten surgery." And that's how TA3 came to be. Shams created her line of shapewear swimwear in the hopes of making more people feel comfortable in their own skin. But she knew her dream would take money ... which is where "Shark Tank" came in.
Shams explained to Medium that she first applied for the ABC show in 2019, but only made it through to the first round before being rejected. "I am so relieved I didn't make it then — it would have been horrible. I was not ready and my product was not ready," she admitted. But, a year later, Shams returned for another shot. "I was elated when I made it, it was always a huge dream of mine," she shared. And it's safe to say her dream came true in a bigger way than she could've ever imagined.
TA3 didn't get an investment from the Shark Tank entrepreneurs
Leila Shams took TA3 (TA3 is "eat" spelled backward, by the way) to the Sharks on Season 13 of the show in 2021, looking to give the entrepreneurs a 10% share in the business. She explained that she wanted $500,000 in exchange for creating new lengths of her existing swimwear pieces, as well as hiring new employees to help her keep up with increasing demand.
As for what the Sharks thought? The gang seemed pretty taken with Shams, even after she let out an expletive after forgetting her lines in the tank! They also appeared impressed by the entrepreneur's revelation that the business had made $800,000 in profit after earning a total of $1.4 million over the 13 months that led up to her appearance on the show. But, unfortunately, Shams proved that a good impression doesn't necessarily lead to investment. Mark Cuban made it clear that he was out because he didn't believe the business was in his remit, while Kevin O'Leary (aka Mr. Wonderful) also shared that his business expertise didn't fall into the women's swimwear category. As for Daymond John? He made it clear he wasn't sold on Shams's aim to get a lot more inventory. Barbara Corcoran followed her co-stars by rejecting the business offer, while Lori Greiner admitted she didn't like Shams' plans for licensing the products. And, with that, Shams was forced to walk away from the tank without an investment.
But TA3 didn't need Shark Tank
Proving a no deal on "Shark Tank" certainly doesn't mean a business can't go on to thrive, Leila Shams went on to do huge things with TA3 Swimwear. And she doesn't hold a grudge against the businesspeople who sent her home empty-handed. "I was heartbroken but in retrospect, it was for the best," she told Medium, explaining in 2022 that the company had made four times what it was pulling in pre-"Shark Tank." The businesswoman also wholly admits she didn't do her best work on the show. "They didn't like the idea, I didn't stand up for myself like I should have, I forgot my lines, and I was just heartbroken after that," she explained to The Suite Collective. But it sounds like everything that happened was for the best, as she admitted she'd actually been disappointed had the deal gone through, because she would have lost such a large percentage of her company.
But Shams used her rejection and turned it into motivation. "Everyone that fired me or laid me off, I think about them on a daily basis; that motivates me. Oh, and I guarantee you, we have more revenue than anyone who was on that season of 'Shark Tank,' the season before, or the season after!" As for how much money the company is really making? As of January 2023, TA3 had an annual revenue of an eye-watering $20 million. See, we told you this business has seen some serious success!
TA3 Swim is still very much in business, and totally thriving
It probably comes as no surprise with such a huge revenue figure that TA3 is still very much in business as of October 2023 —  and totally flourishing. Leila Shams has made good on her plans to expand her staff, which means her role in the business has shifted somewhat since her "Shark Tank" appearance. "I was the one who would write a note on every item. I would text [customers] (which I think is illegal actually) and would follow up and ask for feedback. Now I have the most amazing customer service team and we are constantly checking in with customers," she told The Suite Collective. "We really, really listen and we're obsessed with fit and fitting the customers well." And that's more than evident with how the business has grown. It's made the move beyond swimwear into clothing, including selling shapewear dresses.
But the company's success is certainly no fluke. The entrepreneur has been working hard for years to get her thriving to the place it's in today. "I've been a fashion designer for 25 years, I had a previous business, I was on three different reality shows. I've been trying to 'make it' for a really long time," Shams said. "Having said that, I still am super surprised — I never thought anything would work out this well."
Leila Shams still has big plans for her brand
Despite already seeing so much success, it sounds like Leila Shams still has plenty of ideas for where TA3 could go next. "I want to change the way we fit and size clothing," the businesswoman said of her big ambitions while speaking to Hamptons.com in 2020. She shared that creating different-length products for different torsos was at the top of her list. She's since achieved that goal, but shared that she also has big plans to incorporate more technology into the company. "Eventually I want my customers to use their phone to scan their body and then give their fit," she said.
Shams also opened up about her vision to Natfluence. "I am adding lengths and fits to my best-selling styles, and I'm adding bodysuits. I'm also expanding my team," she said. And it seems like Shams is continuing to grow her team. On her LinkedIn page, Shams proudly states that TA3 is currently hiring, suggesting the business has no plans to slow down anytime soon. 
Shams's next step is making sure there are clothes all around the world that are guaranteed to fit all body types, no matter what shape and size her customer is. "Can you imagine shopping and knowing that the clothes you tried on were actually going to fit you? Not only that, but they would make your body look better?!" she told The Suite Collective. "I would love to do that for every product."