We Already Know The Accessories That Will Be Hot With Brides In 2024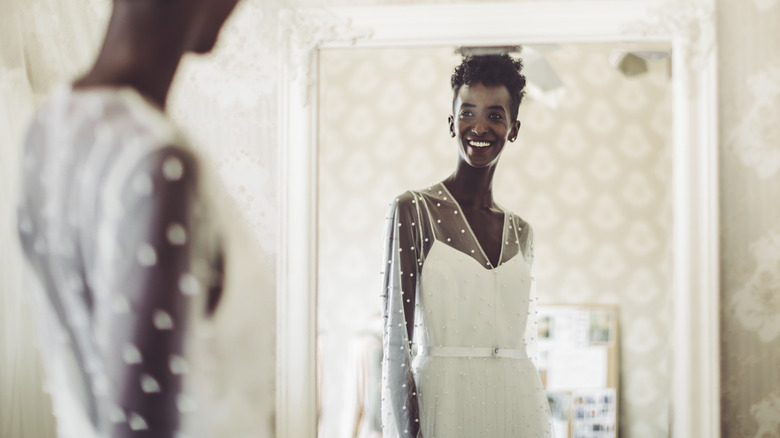 Eva-katalin/Getty Images
Getting married in 2024? Well, you're not alone. As we make our way out of national lockdowns and event restrictions, more and more people are catching up with tying the knot following plenty of cancellations and postponements. In fact, Shane McMurray, the founder and CEO of The Wedding Report Inc., revealed to National Jeweler that there could be as many as 2.2 million weddings in the U.S. in 2023 and 2024 combined, with a further 2.1 million scheduled for 2025. Now, that's a whole lot of I Do's!
But, naturally, with a lot of weddings comes a lot of wedding trends. And if you're set to be a blushing 2024 bride, then you're in luck. That's because the year peaking over the horizon is set to bring with it some seriously hot accessory trends ready for you to incorporate into your big day. From jewelry to capes to hats, wedding style is getting a major fashion-forward upgrade in 2024.
Transformative wedding dress accessories will be super popular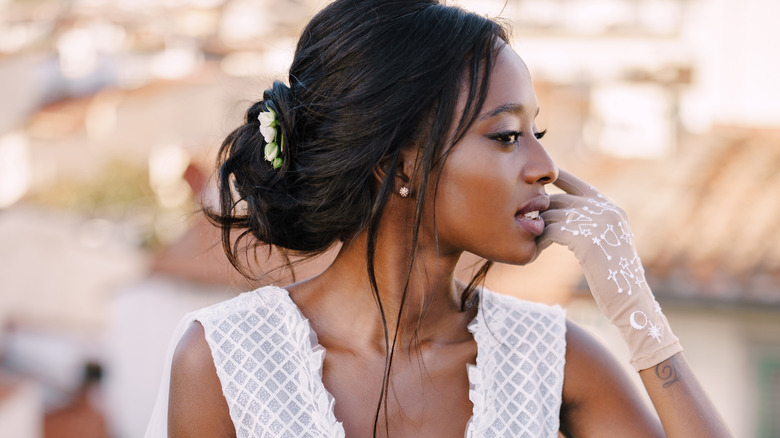 nadtochiy/Shutterstock
One of the biggest trends we've been seeing and are predicting will continue on into 2024, are accessories that totally transform a wedding dress, making it look like something new. That's because it's becoming increasingly popular for brides to have two dresses on their big day. As we know all too well, pretty much everything has gotten pricier lately, which is why brides and designers are getting creative and making two looks out of one dress. Not to mention brides making more eco-conscious decisions, like re-using their wedding items, to make things like wedding dresses more sustainable. 
"Social media has told brides that they need to change out of their wedding dress and have a second look or reception outfit. One dress or 'look' is no longer enough these days," bridal stylist and influencer Hope LaVine explained to StyleCaster. "The bridal designer's fix for this is offering separates. Gloves, neck scarfs, detachable sleeves, hooded veils, and even transformative dresses. These separates are giving brides their two bridal looks, all within one dress."
And statement hats are set to take center stage at weddings, too!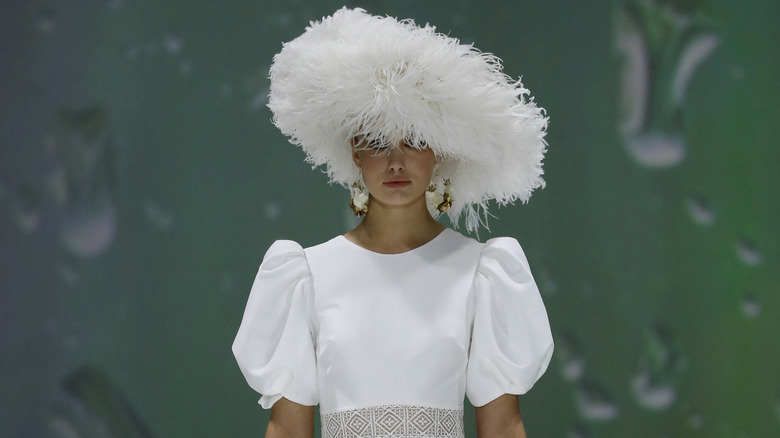 Estrop/Getty Images
A hat may not be the first thing you think of when you imagine a bridal accessory, but it turns out many bridal designers are turning to them in 2024. Yep, pairing a hat with a wedding dress is expected to be very popular, with a number of brands showing off unique bridal hats on the runway while introducing their 2024 collections.
As Zoe Burke, editor of Hitched, shared, "This is a really unique wedding dress trend as typically brides go for more delicate headwear — floaty veils or glittering tiaras for example." That doesn't mean there aren't ways to make hats (including trilbies) work on your big day, though. Even if they're more of a big statement piece. "I was really excited to see so many designers accessorizing with hats. It's such a cool new take for bridal fashion," she added.
Personalized and long veils will also have a moment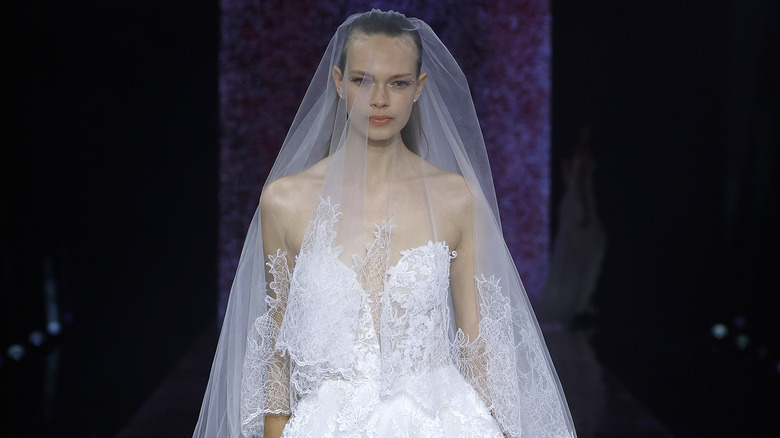 Estrop/Getty Images
Bridal hat not for you? That's fine, because many people are also still going a little more traditional with a veil. Only with a twist. Many brides are opting to wear personalized veils to put their own stamp on their wedding accessories, which is a big trend we're expecting to see in 2024. "Even brides who may prefer something understated and timeless love the option of embroidered personalization on their veil, for added sentimentality. Something as simple as your embroidered wedding date elevates your bridal look and makes it truly 'yours,'" Rebecca Andrews Bridal designer Rebecca Andrews told Hitched.
But that's the only way veils will be updated for the new year. "Alongside personalisation, brides are seemingly opting for even more dramatic veil lengths too," Andrews explained. One of the biggest veil trends we can expect? Super long trains (which is perfect for extra personalization).
While capes are making a comeback on wedding days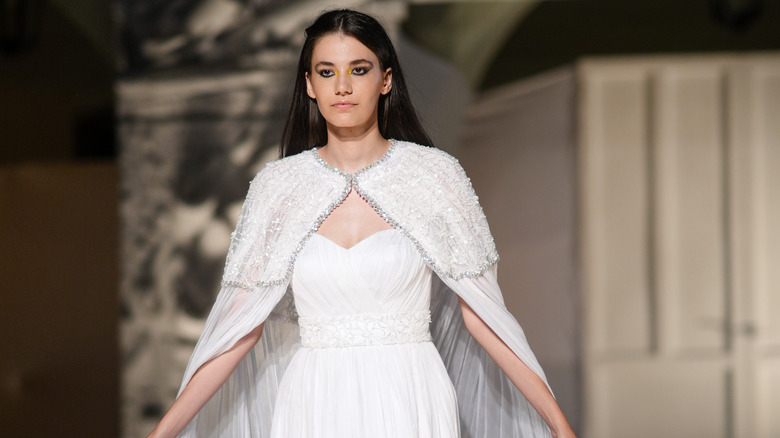 Edward Berthelot/Getty Images
Ever thought you'd wear a cape on your wedding day? If not, then hear us out on this one. It turns out that capes are set to have a bit of a moment in 2024, with many brides actually choosing to wear them instead of veils. Similarly to the trend of bringing in different transformative accessories like scarves and gloves, a cape is another fun way you can change up your wedding dress, just in a more dramatic way.
Popular bridal designer Elie Saab was one of the big names who showed off a number of different cape designs on the runway. The brand's Bridal Spring 2024 collection came complete with several different takes on the cape. One even featured a floral hood! This accessory is super versatile, which we love, and is particularly ideal for those getting married in colder weather or locations.
As are bridal jackets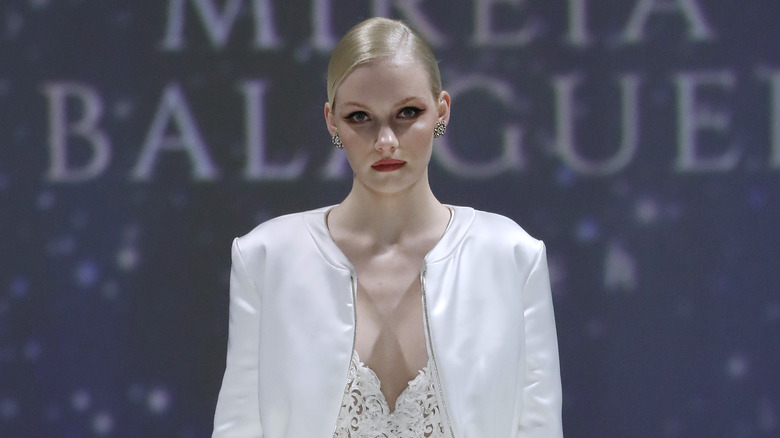 Estrop/Getty Images
If a cape isn't something you can feel yourself gravitating toward though, something more like a jacket may be. There were plenty of bolero jackets in particular on show during the 2024 bridal runway shows, making a fun way to accessorize your wedding dress and stay warm at the same time (perfect for if you're tying the knot at the start or the end of the year). The modern way to wear a bridal bolero is in a more streamlined, formfitting way and in an extravagant, upmarket material. Hey, it is your wedding day, after all. "It's such a great way to stay true to your style and the dress you fell in love with while showcasing it in so many fun and functional ways," Sharon Sever, head designer at Galia Lahav, told The New York Times.
Another fun way to change up your wedding dress and put your own spin on it at the same time? Count us in!