Honey Lips: Your Guide To Mastering The Chic Viral Trend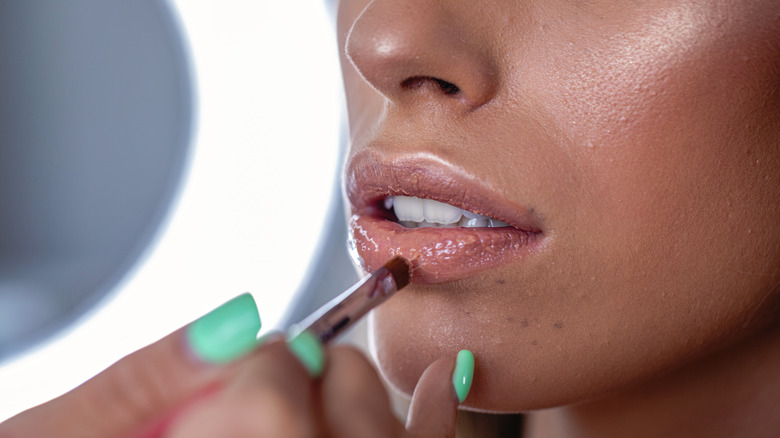 Fluxfactory/Getty Images
We may receive a commission on purchases made from links.
What happens when you mix beauty products with a rich antioxidant? You get honey lips. Rather than lining with a typical brown or red, this trend highlights your pout with an unexpected, shimmery golden hue. It's also a perfect transitional look for those of us heading into fall with hydrated lips at the front of our mind.
According to makeup artist J Guerra, honey lips uniquely stand out on their own. "This hack brings a gorgeous, luscious glow that's almost dripping off of your lips," he told Allure, adding that the gold hue of honey lips "adds warmth to any makeup look." The trend was first coined by TikToker Eva Larosa, who first stunned her audience with the effortless glow of honey lips in late August.
We know what you're thinking: how can I get the look? And to that we say, we've got you covered. Even if you're over the rise and fall of TikTok's latest beauty trends, you'll be sure to say 'just one more time!' before hopping off the bandwagon. All you need is a lip scrub, liner, lipstick, and your favorite golden eyeshadow.
Products and application process
As makeup artist Fatima Thomas explained to PopSugar, getting honey lips right starts with your base. "The equation is really half your natural lip color, then a greenish-yellow shade," she told the publication.  "Combine the two, and you'll have the desired look." 
Before getting started, make sure your lips are smooth and well hydrated. You can prepare for this ahead of time by wearing an overnight lip mask or balm while you sleep. When you're ready to apply your honey lips, use a lip scrub to remove any dead skin before applying cosmetic products. Follow up with a balm to lock in moisture.
Once your lips are extra hydrated, use a neutral tone lip liner to trace the shape of your lips, followed by a few dabs of your favorite golden eyeshadow on the top and bottom center of your mouth. Follow up with a tinted gloss or neutral tone lipstick, and voila: you've achieved honey lips. For bonus points, use the same golden eyeshadow on your lid to complete the look.
Benefits of honey lips
Not only are honey lips highly glamorous, they're also great for the health of your lips. While you don't necessarily have to use honey-based products, honey lips can be achieved with products high in antioxidants. For example, Gisou's Honey-Infused Lip Oil ($32) uses Mirsalehi honey and hyaluronic acid to hydrate the lips with a yellow-tinted gloss. Using a hydrating gloss will instantly smooth, repair, and condition lips for the glossiest lips possible, per Gisou. For a more pronounced take on hydrating honey lips, try Gisou's Golden Shimmer Lip Oil ($32).
Honey lips are also a great addition to bold eyeshadow looks, which are typically the hardest look to find the perfect shade of lipstick for. Pair the honey lips look with that glittery eyeshadow palette you haven't touched, like the teal hued look achieved by digital creator Eileen Amirian. Finish off the completed look with a hydrating setting spray and you're ready to hit the town.