Vertical Contouring Is The TikTok Trend Helping Round Faces Get Snatched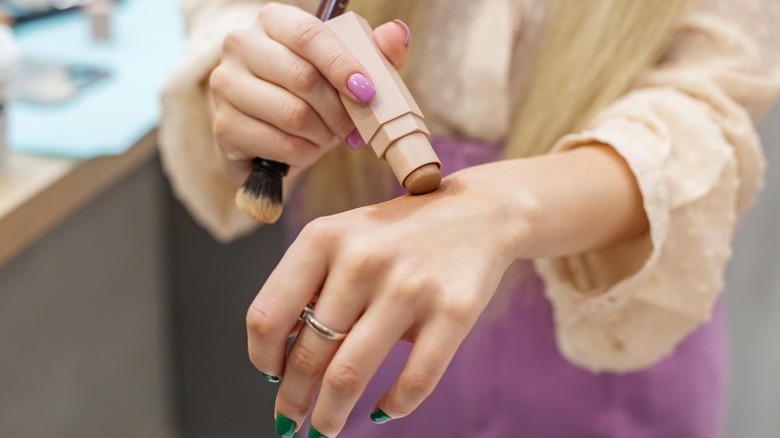 OlhaTsiplyar/Shutterstock
By now, we've all heard of regular contouring and, if you're anything like us, you've probably watched hours and hours of tutorials in an attempt to learn how to nail it. The makeup technique revolves around the idea of shading the areas of the face we want to push back (such as under the cheekbones or either side of the forehead) to make our features, like our noses, look slimmer. But there's now a new twist on the classic that's been heating up TikTok worldwide — and it's called vertical contouring.
Vertical contouring has seen a sudden surge in popularity on the social media site, with countless videos popping up explaining how it can be used to slim the face. This technique is particularly aimed at those with rounder faces and appeared to take hold after Asian beauty influencers like @mirchelleytiktok discovered the technique and vowed never to return to the traditional way of contouring.
But what in the world is vertical contouring and how is it different to the way we've been shading and highlighting our faces for years? Well, there's one key difference.
Vertical contouring is probably easier than you think
It probably won't come as too much of a surprise to hear that vertical contouring consists of, well, contouring in an up-and-down fashion. In a viral TikTok video from @cczuleighka (which has a whopping 10.5 million views and over 1.2 million likes), we can see how simple the technique really is. Essentially, all you have to do is take your choice of contour product and draw three lines vertically from the hollow of the cheekbone down to the jawline, shortening the length of each line the closer you get to your chin. A cream contour product will work best here to give you maximum precision. Once you have your three lines, grab a brush or a sponge and blend the lines in to create a shadow. Voilà! You now have an instantly more contoured face.
Clearly aimed at those looking to slim down their faces, the technique has been a big hit. "Finally!! have had a round face my entire life and finally found something that works! thank u!" TikTok user @belleb.01 commented on the viral video. "[I've] been contouring like this for the past few days and it's such a game changer," @summer_angel134340 shared in the comments.
Why the technique works (if you get the shade right)
The reason vertical contouring works so well on round faces is because it works to create more angles in the face, giving a more chiseled and hollowed out appearance to the area under the cheekbone. When compared to traditional horizontal contouring, which works for widening a narrow face, this technique creates a vertical shadow that leads the eye upwards, elongating a rounder and wider face.
To get the best results and avoid looking like a muddy mess (or even worse, like you have a bruised face), pay very close attention to the contour shade you're using. "Shade choice is key," celebrity makeup artist Taylour Chanel explained to Bustle. "You'll want to use a cool-toned contour to truly mimic a natural depth, but it can't be too dark or else it'll look like a 5 o'clock shadow." Warmer bronzers are usually reserved more for bronzing and creating the appearance of a tan, so going with something cooler, like a taupe product will help you avoid looking too orange.
Finally, remember not to go too crazy when it comes to the amount of product you use. While a heavy contour looks great on camera, in real life, sometimes it can look too much. So, if you're not planning on having an all-out photoshoot or are planning for a more casual day, you may want to be a little lighter handed. Now, with all that in mind, go forth and contour!