What Are Hybrid Lashes & How Do They Differ From Traditional Extensions?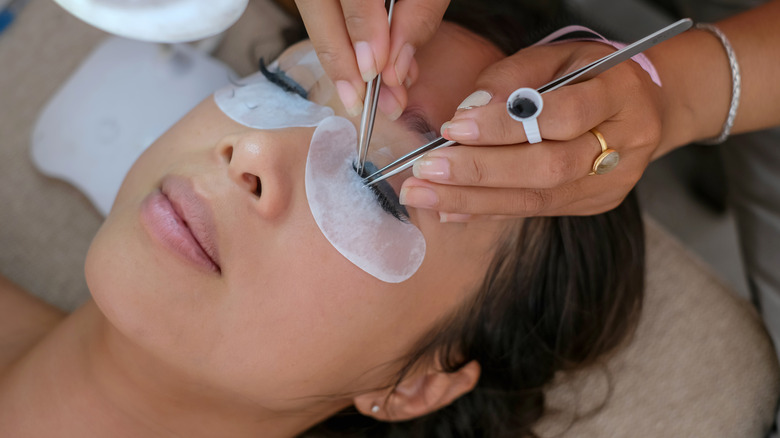 Kanawa_studio/Getty Images
It seems like more and more people are getting a little help highlighting their peepers with lash extensions these days. If you haven't got them yourself, we're guessing you probably know someone who's dabbled in the beauty treatment. That's because, according to Verified Market Research, the lash extension market size was estimated to be worth $1.36 billion in 2020. And that figure is only expected to keep rising, about $2.31 billion by 2028. There's no doubt that lash extensions are crazy popular — and it doesn't look like the beauty treatment's popularity will slow down anytime soon. But why are lash extensions just so beloved? "We live in a social media-driven environment these days. I think everybody wants to look good for those selfies," Sephora makeup artist Jeffery English explained to ABC News. "I think that they're not necessarily a trend, [but] maybe the new standard."
And it seems like more people than ever are opting for extensions over traditional strip falsies, which may at least partly be down to how they can be tailored to each individual customer. "We really take a different approach to really bring out and enhance the natural beauty that every woman possesses," lash bar owner Tirzah Shirai shared. Part of that customization comes through different versions of lash extensions, with hybrid lashes becoming ever-popular in the beauty world. But what actually are they and how are they different from the standard extensions? We've got your questions answered.
Hybrid lash extensions offer length and volume without being too severe
Ever looked at lash extensions and thought they're just a little too, well, harsh for you? Then hybrid lashes may be the way to go. For those unfamiliar with the hybrid lash technique, it makes use of both classic and volume lash extensions. That means your lash technician will put multiple extensions on your natural lash. Typically, hybrid lashes are made up of anything between 30% and 50% volume extensions. The finished result is often softer and more natural when compared to traditional lash extensions, as the classic method is often more focused on adding extra length than creating volume. Essentially, what you're getting with hybrid lashes is a more fanned-out effect. Not only that, but hybrid lashes give a more textured look to the lash line, so they can be particularly great for people who have sparse lashes that they want to fill out.
Many people opt to get hybrid lashes before going all out with volume lashes because it makes for a less dramatic transition from your natural lashes to falsies. It's also a great way to test out lash extensions before going full-on. "I find that some clients will try hybrid extensions before upgrading to a full set of volume lashes. It's always great to take baby steps if you are unsure of the look you want to achieve at first," Clementina Richardson, celebrity lash expert and founder of Envious Lashes, explained to Byrdie.
Getting hybrid lashes may take a little longer than traditional extensions
Because of their voluminous nature, the biggest difference between getting hybrid lashes and traditional lash extensions is the time it takes your lash technician to apply them. "Regular extensions are applied individually to each natural eyelash. These lashes usually measure .15 to .20 mm in width. When applying hybrid volume lashes, multiple extensions are applied per each natural lash and these strands vary in sizes from .03 to .07 mm in width," Clementina Richardson explained to Byrdie.
While a traditional lash extension application appointment can take anywhere between 90 minutes and two hours, applying hybrid lashes can take closer to two and a half hours from start to finish. That's because it needs more precision and is often more bespoke, which means your lash technician may need to get a little more creative when it comes to filling out certain areas of the lash line more than others. "Hybrid techniques allow a lash artist to create multiple bespoke styles including wispy, textured, angular, and spiky. Where the lashes are placed is the key to creating the illusion of a different eye shape," lash expert and Nouveau Lashes international trainer, Debbie Law, told Women & Home. And with all the extra time and effort that comes with applying hybrid lashes, it goes without saying that they can be costlier than traditional extensions, too.