Blueberry Milk Nails Are The Sweetest Manicure Trend Of The Moment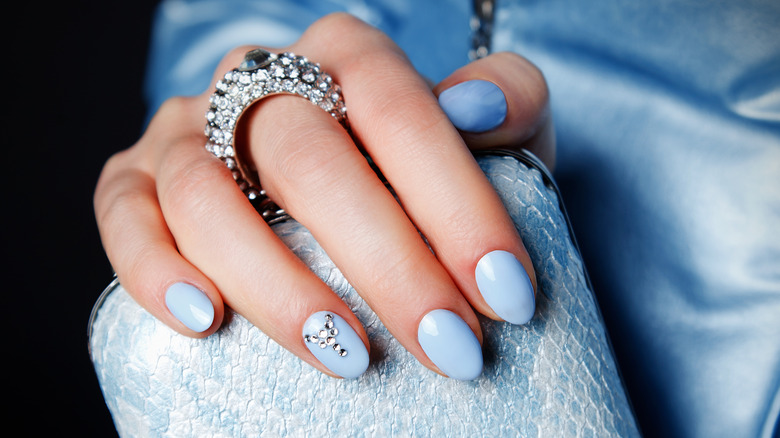 Imcsike/Shutterstock
It can be difficult to keep up with every new beauty trend that sprouts up, but at the very least, all the cute and yummy-sounding names that the BeautyTok crowd comes up with make the effort more fun. For example, who would have thought that baby blue nails would be a hit this year, thanks in part to its catchy moniker?
Blueberry milk nails is yet another food-based beauty look that makes getting a fresh coat of nail polish sounds like a sweet treat. Spotted earlier in summer 2023 on the likes of Sophia Richie and Dua Lipa, this trend transforms pastel blue nails into a pearlescent hue that, depending on the lighting, can look like the subtlest periwinkle or the lightest azure. "Unlike a plain pastel blue that can look flat, the blueberry milk trend has a creamier tone to it," nail artist Sonya Meesh described to Byrdie. We have the milk bath trend's "your nails, but better" aesthetic to thank for that since it provides the blue with a soft base to make it more complementary to different skin tones.
Although this manicure looks great during summer (it perfectly mimics the season's signature clear blue skies), blueberry milk nails are great as a transitional look into fall because of blue's naturally cool tone. You can adjust the vibrancy of your baby blue polish by making it more or less sheer, depending on your skin tone, mood, and the weather. Either way, your nails will look like tasty desserts.
Prep your cuticles and nails first to nail this trend
Just because this look seems straightforward doesn't mean you can be sloppy with it. As with any milk bath-based manicure, there's less room for imperfections to hide when you're sporting solid yet light-colored nails. Nail artist Hayley Imbler (@mysticsnakenails on Instagram) captioned her post that featured the blueberry milk look with an explanation that her manicures run a bit long because of the attention she gives to cuticle and nail-bed prep. "I want to take the focus away from just art and put it on the cuticle work and application," she wrote. "Art is the cherry on top that looks 1000% better when it's on top of a good foundation!"
Follow her suit by doing proper nail prep. Aside from pushing back your cuticles gently and using your cuticle pusher to remove dead skin cells, Nail Craft also advised keeping your hands dry at least an hour before your manicure — that includes lotions, oils, and other kinds of moisturizers. "Any moisture in your nail beds will cause the polish or dip to lift from the nail," the website explained. They also suggested using a dehydrator after filing, shaping, and buffing your nails to ensure their total dryness. Make your own by combining rubbing alcohol with acetone. "This final cleansing ensures the surface is clean of any oils and will act like a glue to help your nail product adhere."
Say oui to French blueberry milk nails
Combine two manicures in one by adding French tips to your blueberry milk nails. Have two complementary blue nail polishes on hand: one pale and sheer as your base and the other one opaque. If you don't have translucent blue polish, follow women's lifestyle brand Lulus' tip to mix light blue polish with a clear one.
A few swipes of base coat would be enough to create a milky backdrop for your French manicure, though you can make it look more solid if you wish with additional layers. Add your French tips by drawing two diagonal lines from both sides of the nail with opaque polish and having them converge in the middle with a curved stroke. Fill in the tip then finish off the look with a glossy top coat.
Add some fresh blueberries
It's always fun to do a literal interpretation of a food-based trend, and blueberries are of the perfect shape and size for creating nail art patterns on a milky blue base.
To draw the perfect clusters of fruit, nail artist @tessa.lyn.nails on Instagram recommended preparing two dots of different-toned blue polishes on a palette. Dip your dotting tool (you can also use the rounded end of a tailor's pin) back and forth between one color then the other and then lightly apply the combined hues on your nails. "This creates a unique dimension [to your blueberries] really easily," she explained. For darker berries, dip your tool more in the darker polish. Draw leaves with a fine brush dipped in light green. Once everything is dry, apply a layer of smudge-free matte top coat.
Create a celestial spectacle with a chrome finish
Missing the clear skies of spring and summer? Use your manicure as a pretty reminder. Draw stars and sparkles in gold and yellow on your blueberry milk nails and marvel at how these soft shades contrast each other so well. (You can also go with silver instead of gold for a cooler finish.) If you're still shaky with your nail art skills, apply 3D details and studs that will stand out against your nail polish.
To mimic the sky's gentle gradation of color during twilight, combine your blueberry milk manicure with the glazed-donut look to create a buildup to a darker blue as it approaches the tip of the nails. The dusting of chrome powder creates a heavenly iridescent shine that you can then seal in with a top coat.