Cloud Skin Is Replacing Glass Skin For Fall 2023 - How To Get The Makeup Trend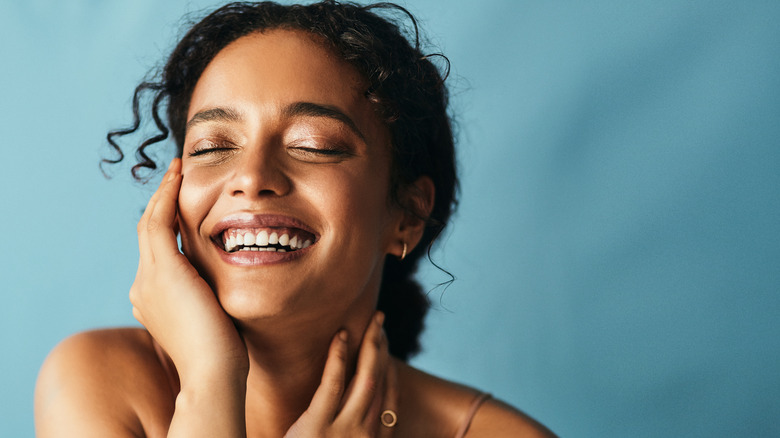 Delmaine Donson/Getty Images
In a perfect world, all of us have skin as soft and delicate as a cloud. Although this may not be our reality, that doesn't mean cloud skin is completely unachievable — with the right tools, this makeup trend may be replacing glass skin (we'll dive deeper into the difference!) in no time. You may already be familiar with the stunning results of skincare trends, like phenol peels or buccal massages. While cloud skin is slightly different, its purpose is the same: for the skin to achieve a smooth, matte, and flawless look.
Although the trend has gained its popularity on TikTok, the look was created by makeup artist Dominic Skinner. "The term cloud skin describes a soft, light touch skin texture, unlike glass skin, that is shiny, glossy and reflective," he explained to Vogue India. "Cloud Skin is just so flattering due to the mix of products that give you a balance of radiant glow and soft-focus blurring, this trend gives your skin a smoother, real-life filtered finish." If that sounds like a look you're ready to achieve, you've come to the right place.
The formula to cloud skin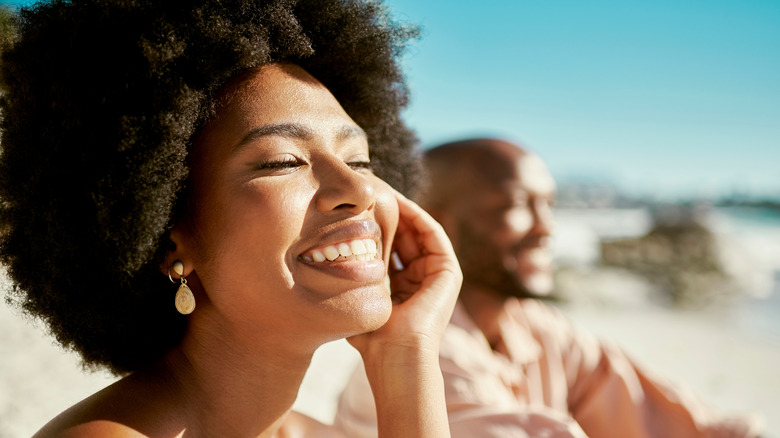 Delmaine Donson/Getty Images
Cloud skin can be achieved by anyone, but it's likely you've seen it on red carpets most frequently. The smooth appearance the look creates makes it ideal for events where one is going to be photographed, according to makeup artist Jenny Patinkin. "In a nutshell, 'cloud skin' is softly mattified makeup that doesn't look dull or flat but that also doesn't have the bright dewy or highlighted reflection we've been seeing so much of recently," she explained to Real Simple. It does not features the obviously sculpted streaky cream highlight or ultra-bright, shiny glow near the cheekbones we've become familiar with over the past few years. Instead, the glow is much more subtle, with the highlight strategically placed to create an all-over brightness. 
The best part of cloud skin? It's available to any skin type, according to celebrity makeup artist Kritika Gill. "It's more inclusive as it can work for all skin types and look good throughout the day without making you look like a greasy mess," she explained to Vogue India. 
How to get the look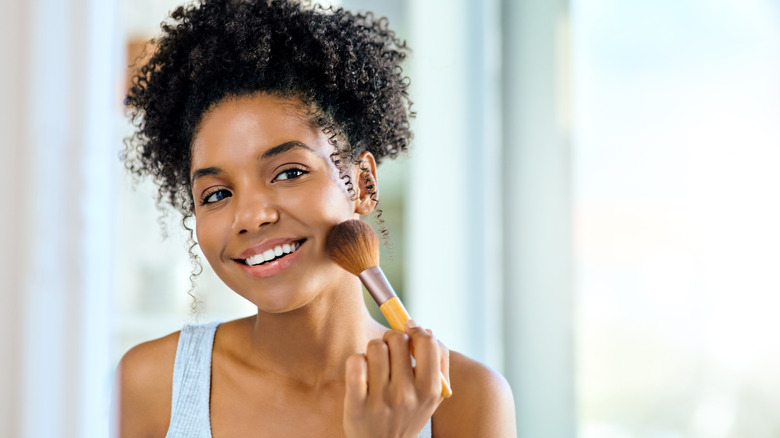 Katleho Seisa/Getty Images
Ultimately, achieving cloud skin can be broken down in three steps: Hydrate the skin, apply thin layers of makeup, and finish with a light dusting of your favorite setting powder. All you need are your most moisturizing skin care products, your favorite foundation and concealer, and a loose powder. The more matte each product is, the better. Now that we've gathered all the information we need, it's time to get to work.
After applying moisturizing cream, follow up with a hydrating serum of your choice until skin feels quenched. Then, apply a hydrating primer for a dewy base, and use a foundation brush to layer a light coat of liquid foundation on top. Once foundation is even, add blush, highlight, and contour to enhance the face with color and shape. TikToker chaneleliza advises highlighting your jaw to add to the overall glowy effect. Finally, use a small brush to apply a translucent setting powder in specific areas with a tapping motion, as recommended by celebrity makeup artist Sofia Tilbury.
"Using a brush and pressing a little product on at a time is the best way to create a flawless finish," she told Byrdie. Apply powder over the t-zone and other high points, with an emphasis on mattifying the finished look. Be careful to not go overboard as this could create a cakey look. Once makeup is set in place and to your preference, apply a few spritz of setting spray, and voila: you've achieved the cloud makeup look.