Translucent-Brown Hair Adds Dimension Without A Big Commitment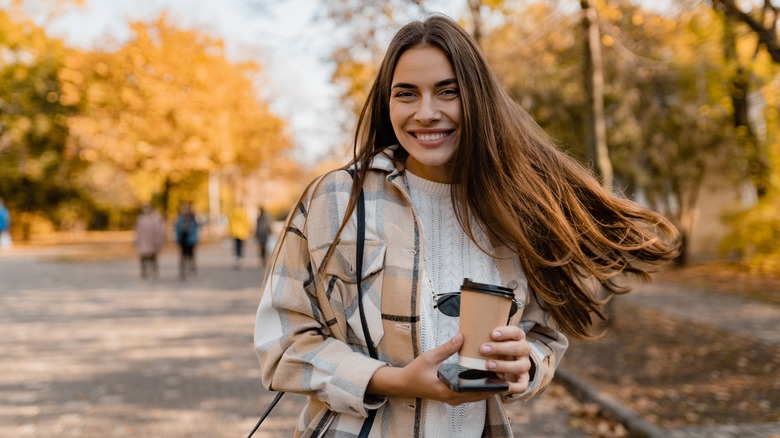 false/Shutterstock
Blondes may have more fun, but the possibilities are endless when it comes to brown hair. More specifically, the hottest new trend — translucent brown hair. According to celebrity stylist Sunnie Brook, translucent brown hair sets itself apart from traditional hues of brown. "Translucent brown offers pops of lighter strands that provide versatility to deepen or lighten, depending on the season," she explained to PopSugar. "It's much subtler and gives your hair more dimension, and it requires far less commitment because it's softer with not as much pigment saturation."
As summer comes to close and we head into fall, translucent brown hair may be the perfect way to celebrate the season. We'll dive deeper into how to achieve the ultimate translucent brown hair, but it's important to know where to start, according to Brook. "Achieving this look will vary depending on your natural/current base," she explained. Whatever your hair concerns may be — whether it's achieving smoother, silkier hair when styling to using hot tools without frying your hair — translucent hair could be the solution.
Why translucent brown hair stands out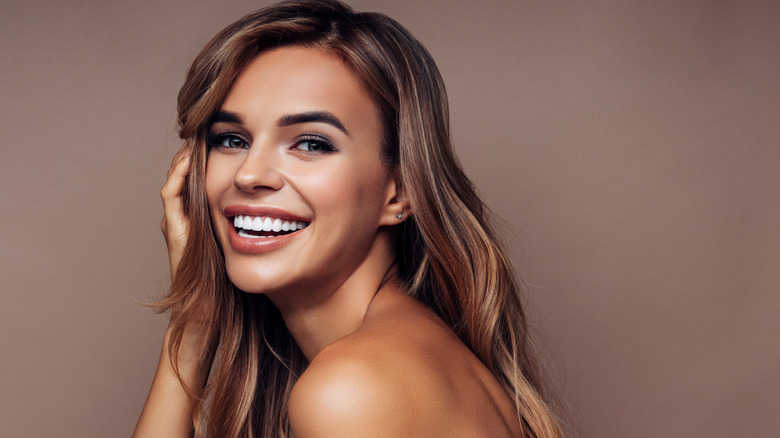 Coffeeandmilk/Getty Images
There's no denying that brunettes have the hardest time making significant changes to their hair color. If you go for a dramatic change like all-over blond or red, you then have to deal with upkeep otherwise you're left with dark roots that stand out awkwardly. So what's one to do if they want to make a change? That's where translucent brown hair comes in, incorporating warm and cool toned highlights to build a color gradient and that adds dimension and depth to an otherwise plain, solid brown without looking too obviously like dyed hair. The depth and structure of translucent brown hair helps to create a sophisticated and luxurious look, according to celebrity hairstylist Tom Smith. Translucent brown hair is "all about adding detail and interest with multiple deeper shades to make the result more dimensional and expensive looking," he explained to Glamour, referring to the look as 'expensive brunette.'
It's also true that dark hair is having its comeback this year, which means everyone is trying to achieve the translucent brown hairdo. Rather than opt for a traditional shade of brown, the expensive brunette look uses a variety of tones and shines to create a uniquely luxurious result. Best of all, the colors can be worn well by everyone, as explained by celebrity colorist Cassondra Kaeding. "This trend can be a multi-tonal brunette that is rich in depth and glossy, but this does not mean you can't be one-dimensional," she told InStyle. "If you are a person that loves one color this is definitely a trend for you as well." If that sounds like you, we'll tell you exactly how to get your desired look.
Achieving the look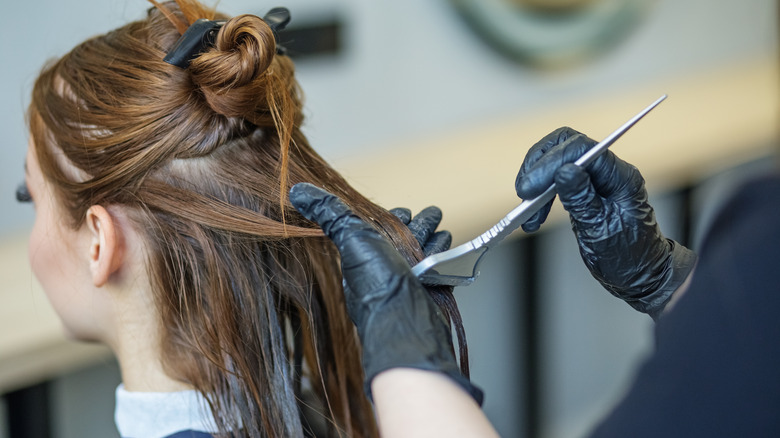 Olha Romaniuk/Getty Images
Once you're ready to head to the salon, it's important to communicate with your hairstylist on what would look best. "It's also worth discussing whether warmer or cooler tones suit your skin, as this decision can be taken independently of how light or dark you want to be," explained Tom Smith. Per Glamour, warm tones include shades like coffee, gold, and caramel, while cooler tones include silver, ice, and taupe. Your stylist will highlight hair to give it depth and dimension, similar to a balayage (only more sophisticated).
Depending on factors like time, effort, and money, it is recommended to finish off expensive brunette hair with a gloss treatment. If salon style is out of your budget, try an at-home treatment with products like Kérastase's High Shine Gloss Treatment ($55), amika's Flash Instant Shine Hair Gloss Mask ($28), and Moroccanoil's High Shine Gloss Mask ($8). Apply gloss to hair a few hours before your post-salon shower and rinse off with cold water.
How to maintain translucent brown hair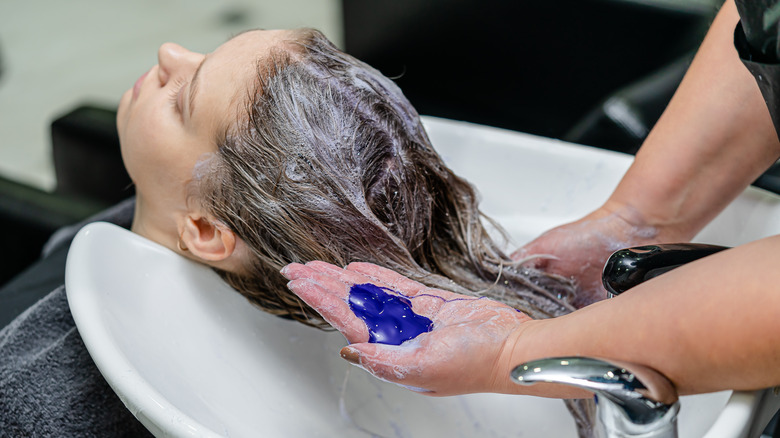 Tetiana Tychynska/Shutterstock
Beyond following up with a glossy treatment, maintaining translucent brown hair can be daunting. Surprisingly, upkeep is fairly low-maintenance and only requires a few visits to the salon, according to Sunnie Brook. "The main area of upkeep with this color is the tone since the lighter pieces are intended to be very subtle," she explained to PopSugar, adding an at-home alternative to salon visits. "You'll need to stop in and see your stylist every eight weeks or so to freshen up with a gloss, or do what I like to call a 'tune up' by taking the translucent-brown tone, applying it to the base, and just pulling through a few strands to create lowlights."
When washing hair regularly, use a purple or blue shampoo to minimize any brassiness, especially if you have lighter shades of brown in your hair. Using a purple shampoo will also keep blonde highlights from getting dull, along with ensuring consistently soft and shiny strands even as the color fades. Follow up with your regularly scheduled post-shower hair care products such as oils, serums, and curl creams.