You Should Try Lip Stain Trick If You Don't Like Lip Liner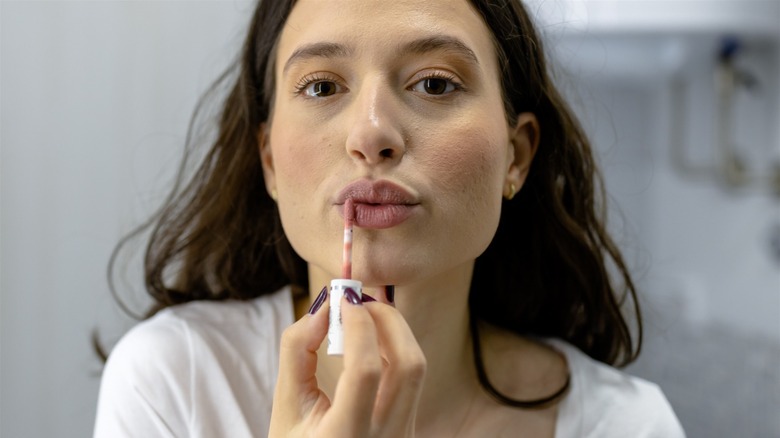 Professionalstudioimages/Getty Images
Peruse any drugstore, beauty shop, or online store's lip product section, and you'll quickly find that creating the perfect pout is more often a recipe for frustrated scowling than flirtatious puckers. With endless options of product colors, types, and functions, finding the ideal lip look can seem like finding a needle in a lippie tube-filled haystack. And you'd likely be told you need not go rogue and simply draw lipstick or gloss directly onto your lips. No. You need a lip liner.
Pencil and cream lip liners are great for creating the illusion of fuller lips and for holding other lip products like lipstick or lip gloss in place, but they aren't without their downsides. Depending on the formula, you might be stuck reapplying your liner as it smudges and fades after prolonged wear. Moreover, applying lip liner can be difficult for beginners, as it's incredibly easy to overline, creating an unblended, unnatural appearance. Hello, nineties glam.
That's why we love the viral lip stain-as-liner hack making its rounds on TikTok. Not only does it seem easier to apply than regular lip liner, it also lasts longer.
Repurposing products for new uses
L'Orèal Associate Principal Chemist Roselin Rosario told Makeup that lip stain differs from other lip products in that instead of forming a layer of pigment over the skin, lip stain is absorbed into the skin. Because the product is absorbed, not layered, these lip stains tend to last longer than their cream or liquid counterparts. In other words, they don't require you to constantly reapply them.
TikTok users Zoe Smith and Tara Sigari have posted their own demonstrations of the viral lip stain hack, and the results are surprisingly impressive. The color of the lip stains blends effortlessly into their natural lip line, while giving the illusion of more volume. Smith even describes her results as comparable to the appearance of getting fillers. When lip gloss or lipstick is applied over the stain, their lips instantly transform into full, lush pouts that, most importantly, won't fade after the first couple of hours of wear.
Finding the right lip stain for you
Applying lip stain as a lip liner is relatively straightforward. Carefully line the outer edge of your lips the same way you would with regular lip liner, then use the pad of your finger to blend the line inward toward the fullest part of your lips. You can either leave the stain on its own for a natural, barely there pout or layer on your go-to gloss, lipstick, or liquid lippie. 
The trickiest part of this viral lip hack is finding the right type of lip stain applicator for you. Selena Gomez' Rare Beauty brand offers a Soft Pinch Tinted Lip Oil that applies like lip gloss but sets like a stain, as seen on Rudy Berry's TikTok. Alternatively, Zoe Smith used a Palladio Lip Stain that looks more like a regular marker than a lip product. Other online MUAs like The Mexican Beauty use peel-off liners from brands like Sacheu Beauty. 
Once you find the best application method for you, the next step is finding the right shade. We're fans of this TikTok makeup hack that helps you select your perfect lip color, but sometimes, experimentation is the best way to find your ideal product. Regardless of which lip stain you choose, the results are sure to be long-lasting, smudge-proof, and perfectly pouty.