Products That Can Safely Remove Vaseline From Your Hair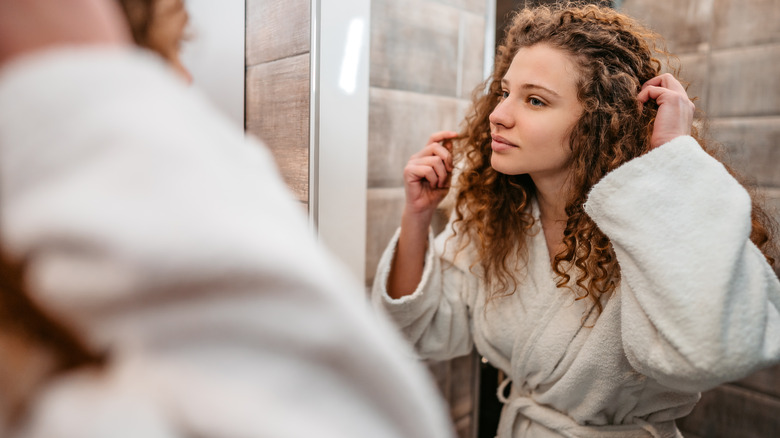 Urbazon/Getty Images
Vaseline has many everyday uses, from soothing chapped lips and healing minor cuts to hydrating nails and keeping chafing at bay. But what many may not be ware of is that it's also quite beneficial for hair, too. Composed of natural waxes and mineral oil, petroleum jelly can help hair retain moisture, as per Healthline. Similar to when it is applied to the skin, Vaseline creates a protective barrier that looks in moisture. For this reason, many people add a conditioner to the hair and top it off with Vaseline to get silky and lustrous results. It can even work as an overnight hair mask.
In fact, Vaseline can even help treat a dry scalp and dandruff. When lightly used on the ends, it curbs frizzy, flyaway hair and protects against breakage. However, removing Vaseline from the hair isn't always easy since it's not water soluble. But with a few simple products, it is possible.
Start with a clarifying shampoo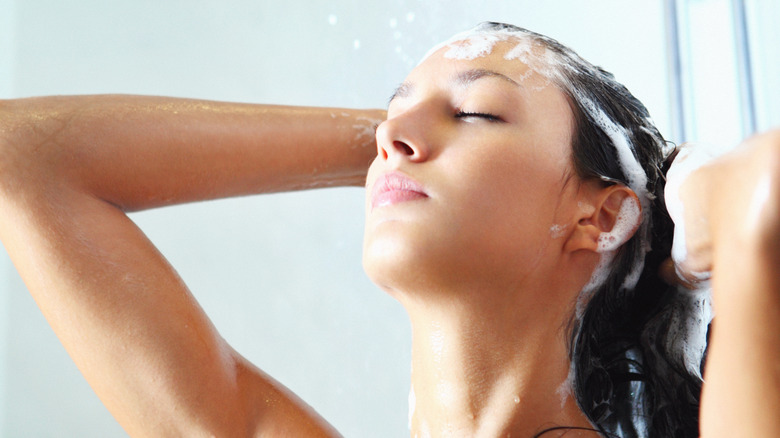 Gilaxia/Getty Images
Similar to removing any buildup, getting Vaseline out of your hair starts by using a clarifying shampoo (via Hair Everyday). Wet your hair and concentrate on scrubbing the areas with the heaviest amount of product. As you lather and rinse, the clarifying shampoo will help strip residue, but keep in mind it may also leave hair feeling coarse and brittle. Follow up with a good conditioner to keep hair soft and smooth.
If you don't have a clarifying shampoo on hand, you can try something that may seem counterintuitive, like a kitchen oil. This is because oil attracts other oil in ways that a water-based product cannot, which will make it easier to remove from the hair. Baby, avocado, and coconut oil can work. Before you start, try to remove any existing clumps first and then add a few drops of oil to your fingers. Then proceed to massage the oil into the hair where Vaseline is concentrated, leaving it on your hair for 10-15 minutes. Finally, blot the strands with paper towels to help remove the Vaseline and oil. This step can be repeated. Once you've gotten out all that you can, wash your hair as you normally would.
These household products can help remove Vaseline from hair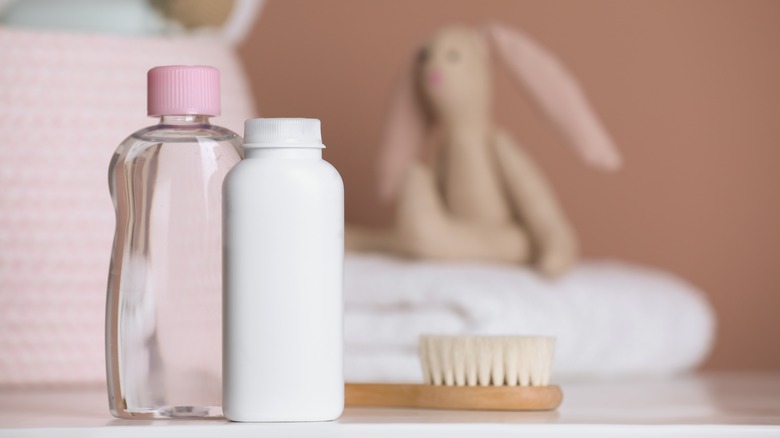 New Africa/Shutterstock
Believe it or not, a few basic pantry staples work pretty well in ridding Vaseline from the hair. Before you begin, try to get rid of as much as you can with paper towels. Lightly tap the hair with the paper towels to soak it up, and avoid rubbing it into the strands. Next, sprinkle baby powder, corn starch, or baking soda onto the parts of the hair where there is the most Vaseline to help dab out the greasy substance, as per Byrdie.
If you don't have powder on hand or don't want to deal with the mess, apple cider vinegar can also do the trick.  After removing the excess vaseline with a towel, pour some vinegar into a spray bottle and spritz onto hair. Using your fingertips, massage the vinegar into the strands and inch the Vaseline down the hair stands to maneuver it out.
Oddly enough, eggs can also work as a shampoo to remove Vaseline. Just whisk them as you do when you make scrambled eggs and shampoo them into your hair. Rinse as usual, finishing off the process with a regular shampoo and conditioner as you normally would.