Capri Comeback: How To Style The Sartorial Staple In 2023
Capris are back again! Sure, not everyone is a fan. The abrupt mid-calf line and exposed ankles can leave some feeling less than confident. Capris aren't an easy style to pull off without balancing your visual silhouette, and the mind hiccups for a reason. Are they pants you've outgrown? Are they shorts needing a hem? Is that the most flattering part of the body you were aiming to highlight or did you need some high-waters for fishing? Hard to define the reasons for this reboot summer style, but whether you're going for a sophisticated look or something more casual, sometimes a disruption of the ordinary is all it takes to make a statement and follow a trend. Change is good, they say.
During the Victorian era, bare ankles were considered lewd and pornographic. Fabric-free ankles are still a flirty notion, symbolizing an end to oppressive etiquettes masking the realities of women's growth. Riding a bike with your ankle coverings getting caught in the spokes literally and figuratively kept women from getting where they were going, so up went the hems, and on went female freedoms. 
If you haven't noticed the runways' zeitgeist influencing today's looks, celebrities will give you the clues. Look around! Capris are back and they're cooler than ever. With that, we've rounded up our best styling tips to keep them looking fresh rather than frumpy. 
Keeping it cool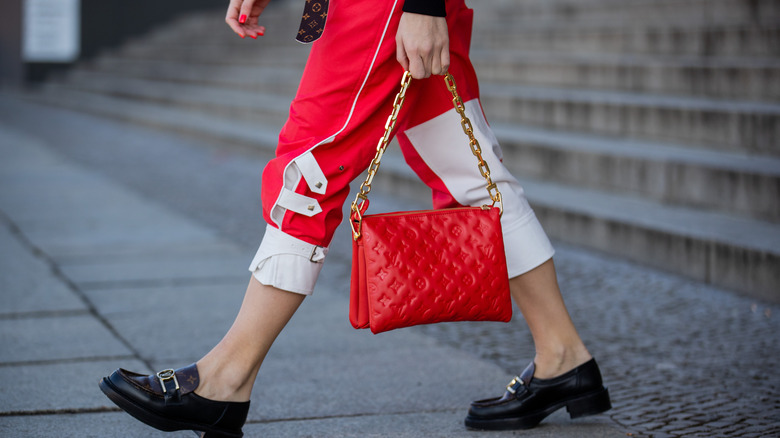 Getty Images
The variety of styles of capris can vary greatly, sometimes more that other staple pieces of a wardrobe. You can add to a more fashion forward summer look with distinct "tea length" pants that have a little flare or something extra you've added yourself. Capris can be much more than a way to cool your ankles on a Florida beach. With a higher hemline, you, as well as the designers, have an opportunity to emphasize bolder choices like buckles and buttons, fabric and color shifts. Any additional adornments adds more flare to the full look as the actual distance of the entire outfit is closer to the average eye-line. 
Sure, capris can add a few years to your vibe,  but what's wrong with a little maturity? Creative designs that come from the runway typically come with "mature" price tags. So don't be afraid to take those capris off the beach and into more formal situations if you find a design that has a little more "extra" at the hemline.
Easy breezy and right there
Sometimes quick comfort and ease are the first priorities in your wardrobe. A busy life might not have time to follow a fashion trend, especially if the life you're living calls for function first. But when it comes to this summer's capris trend, you busy folks are lucky. Have no fear creating your own pair by trimming up some underused pants without worrying about how the hem with look. Cut them, tie them, tuck them, or let the fabric fray in any old way. Capris are a quick way for both style and practicality. Stay comfortable while also donning styles the stars are taking to the streets as well as the stage.
Go monochromatic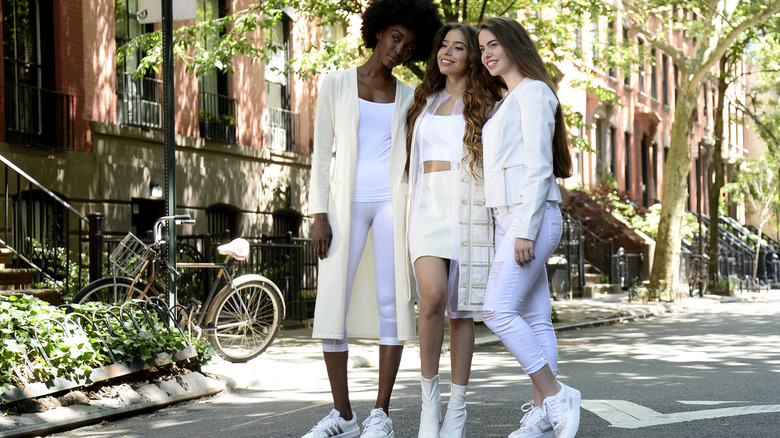 Getty Images
Capris inherently show more skin, but they are also an opportunity to show more style. Consider picking a color theme and sticking to it throughout your entire look. Blend fabrics and patterns, all while taking this summer trend in one direction. But the monochromatic look doesn't have to stop with color. Try choosing one textile like linens or leather, or one pattern throughout each piece like all polka-dots or plaids. Get creative and dare to be bold with your solo-spiraled inspiration.
Be ready for anything
Let's say you're hiking with your friends on a hot summer day and you get to the end of the trail. Low-and-behold there's a new, fashionable cafe that's just been built, and next door is a wildly popular dance club, and next to that a Bikram yoga studio with morning-after classes. Take off or add different shoes and jackets, and the same ready-to-wear pair would fit in all of those places and more. This summer, have no fear mixing and contrasting around all things capris.
Embrace Y2K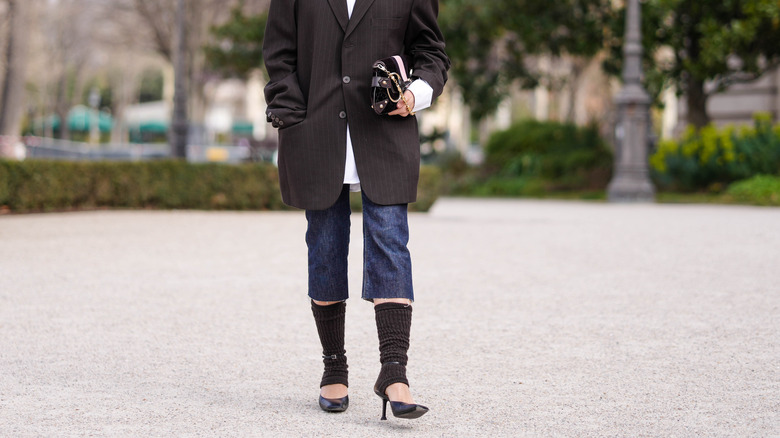 Getty Images
This summer isn't JUST for a capris reboot, it's simultaneously embracing another Y2K redux. When bohemian 70s mashed with pop-art 80s, the 90s looks embraced full on flirty looks that highlighted creativity in unique silhouettes and accessories. And this summer's Y2K do-over is no different. Find your way for adding and subtracting creative peaks at your legs and ankles with cut aways, crazy socks, strappy shoes, and fun jewelry. Allow for even more ways to express your personal style while embracing both "a little bit country, and a little bit rock 'n roll."
Tell it with texture
Don't be afraid to embrace contrasting textures and tones. Life and art as we know and understand it is relative. You can't notice the light without the dark, or the horizon without the land and sky. Fashion is no different. Photographer Bill Cunningham said, "Fashion is the armor to survive everyday life." Fashion transcends shelter from the elements. It is self-expression and protection; statement and function all at once. And the great thing about capris is they are both not matter the textiles and body types. So, grab any pair and go any where. Life is, like these trendy pants, relatively short...