Is It Safe To Use Aquaphor While Spending Time In The Sun?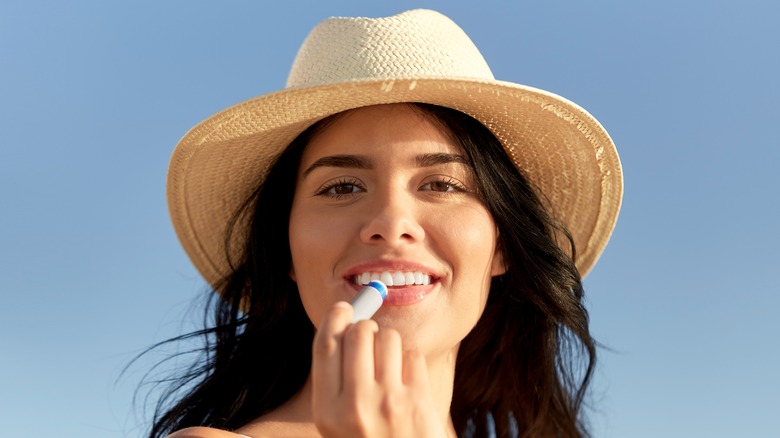 Ground Picture/Shutterstock
When it comes to hunting for new products, it can be expected that they may not mesh well with our skin chemistry. What's most painful, however, is when our beloved items react in a way we never expected.
In a now viral TikTok, user @notjoanmckenzie is seen with severely swollen lips. The creator explains that going out in the sun with Aquaphor on her lips caused her lips to puff up dramatically. In the caption, she gave an update saying her lips peeled later on. Most of the comments were shocked by how a commonly-used ointment like Aquaphor created such an extreme reaction. A few viewers commented that the same thing happened to them when they wore Aquaphor out in the sun.
As a cult-favorite product, it might be frightening to see that a handful of people have experienced a severe reaction to wearing something so ordinary. Although they've worn Aquaphor plenty of times indoors, it seems like the occlusive combined with the sun results in painful, swollen lips. With this being a seemingly common reaction, it makes us wonder whether or not Aquaphor is safe to wear outside.
Can you wear Aquaphor in the sun?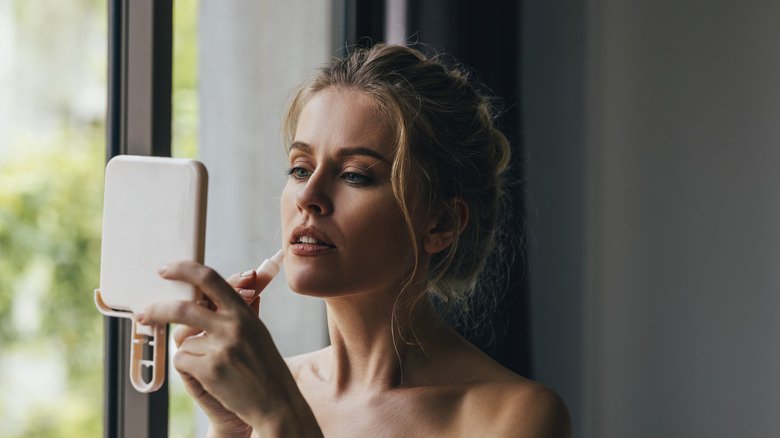 Freshsplash/Getty Images
It's scary to think that your everyday products can give off such a reaction when simply going from inside to outside. A favorite item of many, Aquaphor is well-known for keeping skin hydrated, healing cuts and burns, and moisturizing dry, cracked skin. While other occlusives tend to simply seal in moisture, the cult-favorite product contains more than just petrolatum. Formulated with pantenol, glycerin, and lanolin, Aquaphor also draws moisture into the skin to keep it hydrated for longer.
However, the petroleum it contains is what makes its safety questionable. As an occlusive, petroleum traps moisture into the skin, which is why it's great for slugging. But this also means it can trap in heat from direct sunlight, initiating irritation or inflammation. If you've never experienced sunburn with petroleum jelly on your arms, for example, there's a reason for this, too. While certain parts of our body can have about seven layers of skin to protect it, the lips only have three to four, making it susceptible to more damage.
Shop our favorite lip products with SPF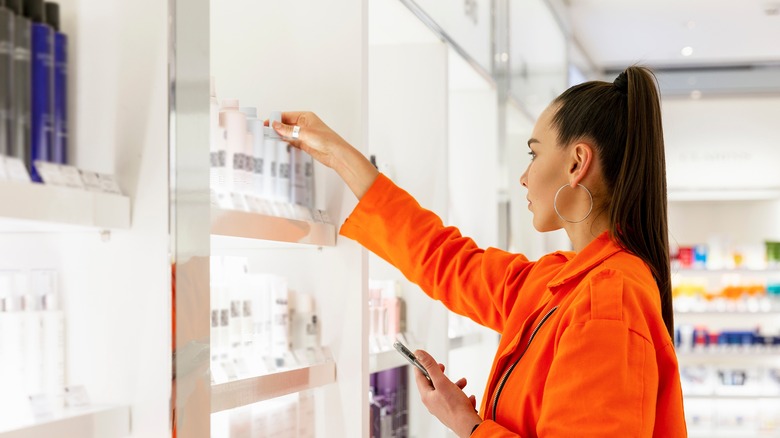 Deman/Shutterstock
Since our lips are so delicate, it's best to use lip balms with SPF. Unfortunately, they're often overlooked, resulting in sunburn, and in extreme cases, cancerous growths on the lips. If you don't want to let go of your beloved Aquaphor, thankfully they make an Aquaphor Lip Balm with SPF 30.
For those that prefer glistening lips but don't think your lip gloss is fit for the sun, try the Black Girl Sunscreen Make it Pop Lip Gloss. The lip gloss has an SPF of 50, perfect for sensitive lips that burn up in the sun. Formulated with hyaluronic acid, tripeptides, and jojoba oil, this vegan and cruelty-free gloss nourishes lips while protecting them from damaging UV rays.
The Well People Lip Butter SPF 15 Tinted Balm offers SPF protection with a hint of color. It comes in three shades that deliver a universally-flattering sheer wash of color. The cruelty-free balms were created with jojoba oil and raspberry seed oil, which work to soothe and soften dry lips.