Here's What Went Down With Makeup Junkie Bags After Shark Tank
As enjoyable as it is to try out the latest beauty products and discover new favorites, makeup aficionados understand that having a proper way to store and tote around makeup is key to longer use and shelf life. For Meredith Jurica, most makeup bags on the market weren't really up to that task, so she thought of making one on her own. "I was frustrated that no cosmetic bag company was keeping up with the storage of modern-day cosmetics," she told Star Central Magazine. "I wanted [my makeup bag] to pack flat, be leak-resistant, and open up down the middle so I could see everything." With a pattern she made herself and using her own sewing machine, Jurica created a bag that met all her criteria. "It turns out I was solving a problem many people were having."
That's how she started Makeup Junkie Bags, a company that has been producing handmade makeup bags right out of Texas since 2016. From her original 12-inch creation, Jurica's now-patented design is currently available in a variety of sizes to accommodate anyone's storage needs, whether packing large makeup palettes, overnight toiletries, or a stash of gadgets. Because of their incredible functionality and stylish details such as beautiful fabrics, leak-proof lining, a distinctive elongated zipper, and suede tassels, the products raked in more than $100,000 in gross revenue sales in the company's first three months and more than $1 million within 18 months.
Three Sharks offered Makeup Junkie Bags competing deals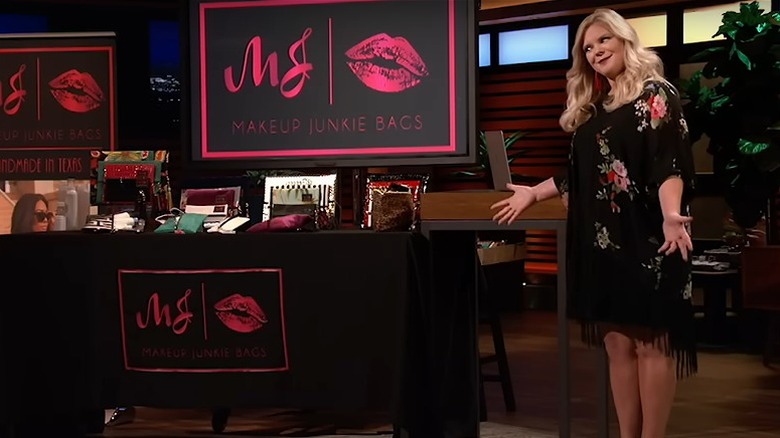 CNBC Prime/YouTube
Because of the demand for her product, Jurica went on Shark Tank to look for $200,000 either as a loan or an investment in exchange for 15% in equity. Her plan was to use the money to ramp up production so Makeup Junkie Bags can manufacture 6,000 bags per month. "I need a mentor, an investor. That's why I'm here," she told the Sharks. The episode, which was part of the show's 10th season, aired in January 2019.
Mark Cuban and Barbara Corcoran opted out early on, as did guest Shark Sara Blakely initially. Lori Greiner, who runs a bag business herself, wanted in, though she wanted a 5% stake in the company in exchange for a $200,000 loan with 5% interest and $1 in royalty per bag in perpetuity. Kevin O'Leary described his fellow Shark's "in perpetuity" stipulation as "nasty" and made Jurica an offer of $200,000 in exchange for 3% equity and $1.50 in royalty until he earned back $750,000. Blakely then jumped in and presented her own deal of $200,000 and $1 in royalty per bag until the loan was paid. "I don't want you to lose any equity," she explained. In the end, after bargaining down the royalty fee to $0.75 per bag, Jurica chose to go with Greiner. She believed the investor would also be able to provide her with manufacturing resources and marketing contacts for scaling her business.
CEO Meredith Jurica grew her business on her own
Although Jurica had secured a deal, it ended up not pushing through post-Shark Tank due to her and Greiner's conflicting ideas. "I manufacture everything here in Texas at my own facility and I employ a lot of local people who depend on that for income and do a great job," she explained to Yahoo. "[Greiner] manufactures a lot overseas and there were things we just couldn't figure out as business partners." With the deal dropped, she retained 100% ownership of her company — and a friendly relationship with her former would-be investor. "It's fun and I feel like she's always there if I need her."
Makeup Junkie Bags also benefited from the TV exposure, with sales skyrocketing within the first six to eight weeks after the episode aired (via Yahoo). The company leveraged that success to expand its lineup, with more than 2,000 stores carrying its products (per Star Central). Aside from offering different styles, including backpacks and duffle bags, it now has its own cosmetics line. Jurica also launched her Modern Jester clothing line in 2021.
The CEO believes the lifetime warranty offered for each product and the fact that everything is still made in her Texas facility have given the brand the market edge. She told Naluda Magazine, "I think [domestically] made products are enjoyed by many and I am happy to offer ample customization to retail customers and stores alike." Makeup Junkie Bags' 31,000-plus Instagram followers seem to agree.