Here's What Went Down With FashionTap After Shark Tank
It's now second nature for us to tap an OOTD post on Instagram to check out an item that caught our eye and even purchase it without having to open a separate tab. But long before the social media platform introduced its shopping feature in 2020, fashion blogger Amy Roiland had already conceived of an app to serve fashion and shopping enthusiasts alike. This led her to create FashionTap, an app where designers, retailers, bloggers, photographers, stylists, makeup artists, and fashion enthusiasts could find, join, and build a network wherever they're located. It also allowed users to monetize their fashion content on Instagram by linking their account to FashionTap, tagging the products they've featured, and making a commission on every sale made. "We're not trying to start a whole new network here," Roiland explained in a video on her YouTube channel. "[Fashion bloggers] are advertising for free every day. Why not get paid for that?"
This was how she pitched her app on Shark Tank's Season 7, Episode 27, which aired in 2016. FashionTap was only six months old at that point. Roiland was looking for $100,000 in investment, offering 10% equity in return, and she presented her company to the Sharks as a viable bridge between social media and fashion e-commerce. (For context, eight in 10 Americans were already doing online shopping in 2016 but only 15% made purchases through social media, according to a report by Pew Research Center.)
Investors weren't keen on FashionTap's revenue model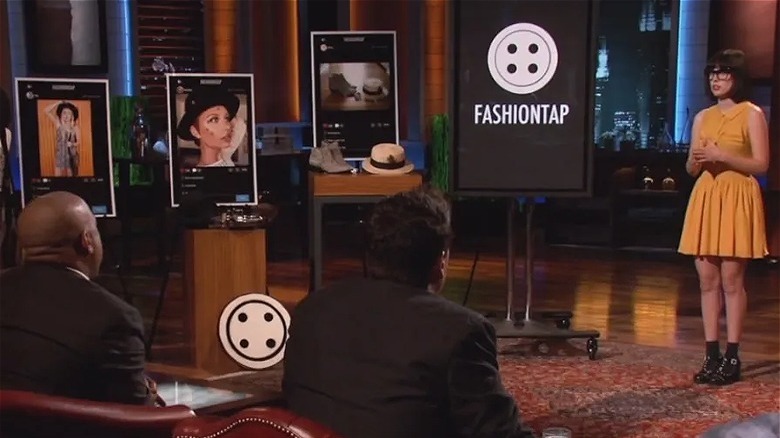 ABC
Roiland's vision for profitability involved FashionTap making 10% from each sale made through its links and users earning 3% to 35% of the revenue made through affiliate links. She also anticipated making sponsorship deals with brands that will have FashionTap users making money by modeling and linking certain products on the app.
Most of the investors, however, weren't impressed with Roiland's plan, even after she had disclosed that the app already gained 1,500 monthly users, over 6,000 downloads, a valuation of nearly $1 million, and earnings of $60,000 in its first six months. Both Mark Cuban and Kevin O'Leary believed that big-box retailers wouldn't be interested in such an app, with the latter questioning how retailers would even agree with the company's revenue model. Guest Shark Chris Sacca also pointed out how people were already using Instagram as a fashion network and platform, an opinion that Cuban and Daymond John agreed with. The only one who made an offer was Barbara Corcoran who saw similarities between FashionTap and Grace and Lace, another company she had invested in through Shark Tank that became successful. However, she wanted a 25% stake in the company in exchange for $100,000.
None of the Sharks were taken with Roiland's intentions for FashionTap's profitability and scalability, especially with other investors already owning 67% of the company. In the end, the company owner refused Corcoran's proposal and left the tank without making a deal.
The FashionTap founder still works in fashion but has faced online backlash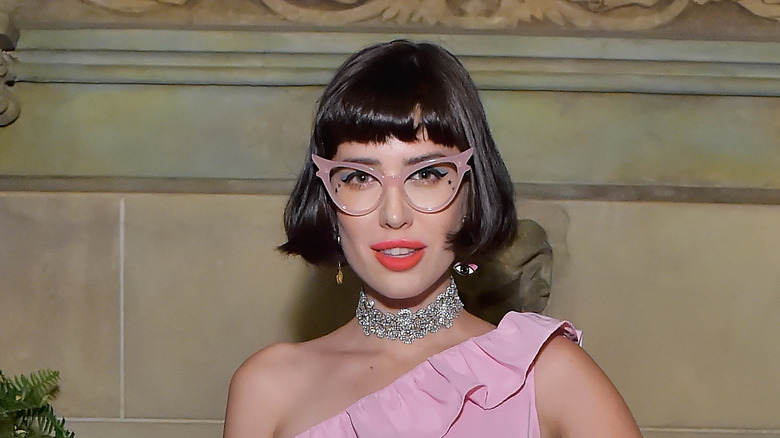 Stefanie Keenan/Getty Images
Although the TV exposure temporarily boosted FashionTap's visibility and user base, ultimately it wasn't enough to sustain it. The app ceased operations in 2018, with its last Twitter update made in 2017. Roiland continues to work in fashion, however, through her popular blog A Fashion Nerd, which she started in 2013 and where she also sells vegan leather camera straps. She currently has 234,000 followers on Instagram and nearly 602,000 on TikTok.
In November 2022, Roiland got embroiled in an online controversy. Distractify reported that a TikTok user posted a now-deleted video detailing how an unnamed person tried to book their photography studio's services by offering online exposure as payment. Their refusal resulted in receiving multiple messages and heated voicemails berating them and threatening to warn other bloggers from working with them. TikToker @mystic_selise later revealed that the person was Roiland and that there had already been buzz about her "awful" behavior. Another TikTok user, @annareportsnews, covered the issue in a video, adding that people have also been criticizing the fashion blogger for featuring her young daughter prominently in her blog and social media accounts. Roiland never commented on the controversy publicly, although she temporarily removed her TikTok content and turned off the comments in her Instagram posts in its aftermath.
Early this year, she worked on a collaborative line with footwear brand Butrich. She also designed The Starlet swimwear collection for the brand Ella Grace Couture.