Skip The Awkward Phase Growing Out Your Short Hair With These Tips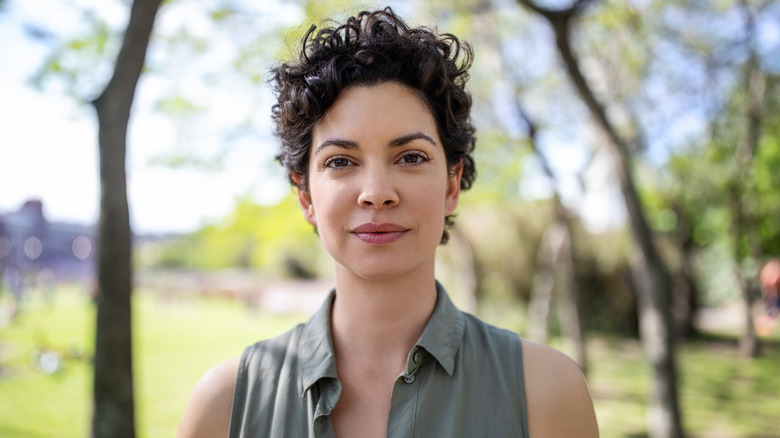 Alvarez/Getty Images
So, you decided to make the chop, and eventually started to miss your long, flowy tresses. (We've all been there.) It's completely understandable — while trendy short haircuts can be ultra-flattering to your face, they also can be a high-maintenance commitment and more tricky to work with. Therefore, it's totally normal to want to grow your hair out long again after experimenting with your style. However, you also may be wary of that notorious wonky in-between phase of pixie and long hairstyles that can undoubtedly be difficult to manage. But don't worry; It's not as unpleasant as it may seem, and we're here to help smooth out the dreaded transition phase. While patience is a virtue in these situations, and there's no magical solution that'll make your hair grow five inches overnight, there are some steps you can take that will speed up the process. Here are the five best tips when it comes to skipping the awkward phase of growing out your short hair.
Trim to your discretion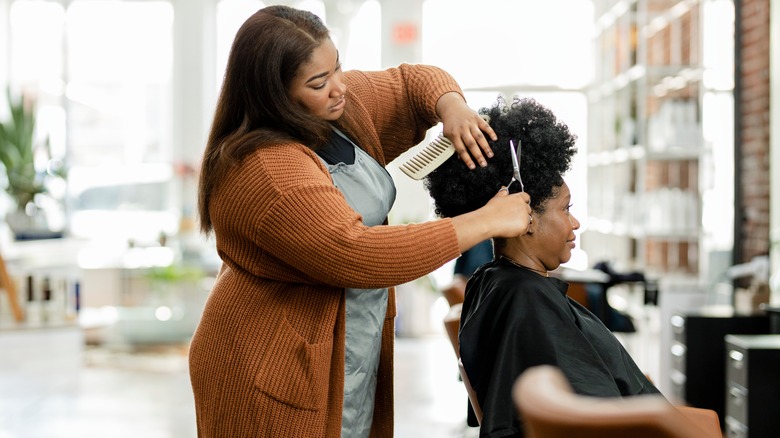 Rawpixel.com/Shutterstock
It may seem counterproductive, but if you don't want your 'do to look awkward, it's actually better to get regular trims. This is because if you don't, breakage can slow down the growth rate of your follicles, so keeping this at a minimum is optimal for your hair's health (via MindBodyGreen). Even worse, if you leave your split ends unattended for too long, they can make their way up your strands and cause and cause your hair to get even shorter and more difficult to grow out. Trimming also has aesthetic benefits, as it can prevent your locks from looking too thin and stringy during the growth phase.
As for the frequency of these touchups, it all depends on the individual's hair-growth rate, so a trim every one to three months is ideal for most. Just be careful to not cut too much off, and remember that you can always ask your hairstylist for a minimal "dusting", and they'll catch your drift.
Nourishment promotes growth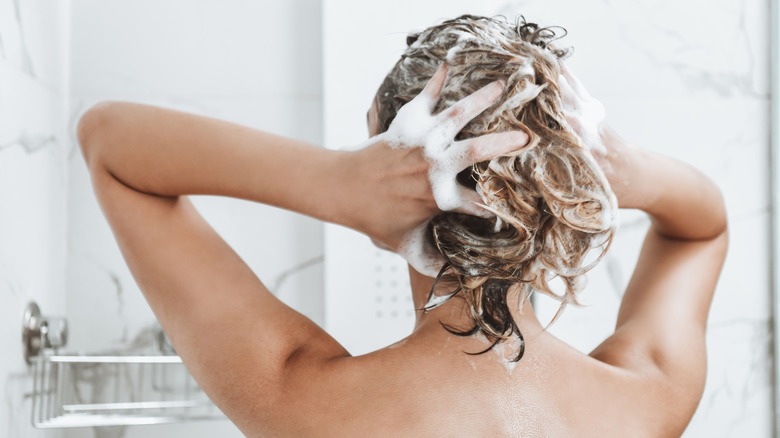 Aleksandargeorgiev/Getty Images
It's simple: the healthier the hair, the faster it'll grow. This is why it's important to take care of your locks as much as possible from roots to ends. The major key to keeping your hair nourished when it's growing out is to keep it moisturized, so it may be wise to invest in a trusty deep conditioning treatment. There are many options for deep conditioners out there on the market, and you'll have no trouble finding one that suits your hair's dryness level.
Getting to the root of the issue, the scalp needs to be properly cleansed to avoid buildup that can clog the follicle and stunt hair growth. While some scalps are prone to dryness, oily scalps are more susceptible to said buildup, so choose a cleansing shampoo accordingly.
To give the scalp a little more attention, celebrity stylist Angelo David also recommended to InStyle that a scalp-massage tool can also provide many hair-growth benefits, as they stimulate hair follicles by increasing blood flow.
Supplement your strands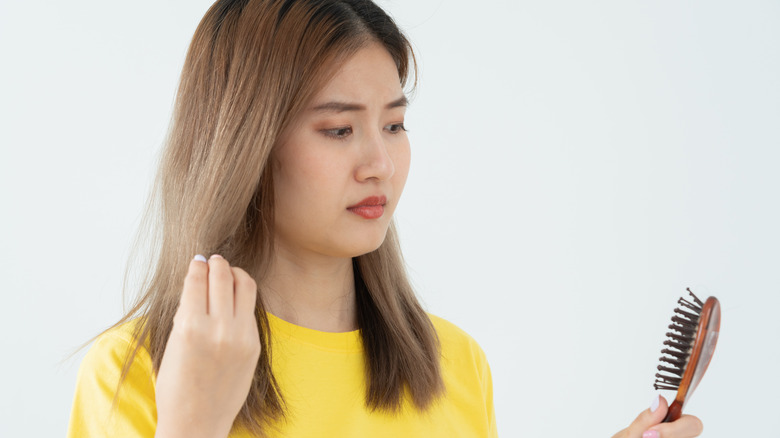 Nuttawan Jayawan/Getty Images
It's extremely important to acknowledge, first and foremost, that if your body isn't getting the nutrients it needs, your hair won't grow properly and can easily become weak and brittle. So make sure to take care of yourself when it comes to your diet, and especially be mindful that you're getting enough caloric intake on a daily basis. Holistic nutritionist Meryl Pritchard told Byrdie that foods with omega-3 fatty acids are some of the best ways to nourish hair.
If you happen to have any vitamin deficiencies, this may be hindering your hair's growth ability, and it may be wise to take some supplements to compensate. Healthline states that those who have low levels of zinc, iron, and/or biotin in their bodies may benefit from taking supplements accordingly. These supplements can be found online or at your local drugstore, and while they won't be an instant cure, they may be worth trying out.
Opt for sly styling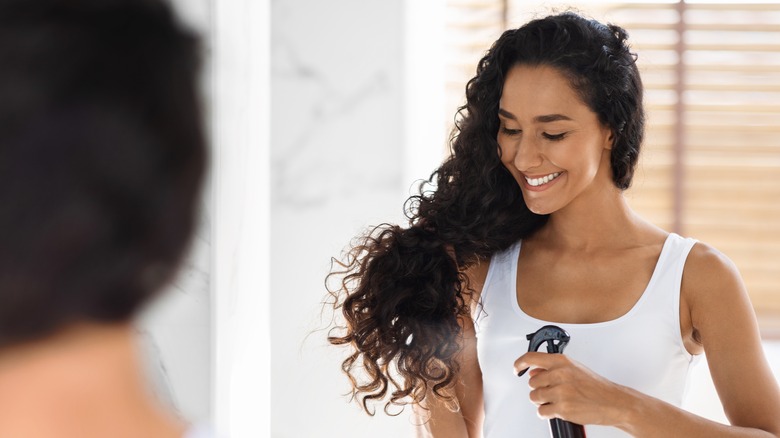 Prostock-studio/Shutterstock
To work your way around the regrowth phase, there are strategic ways you can trick the eye into making your hair look more uniform with some clever styling.  Adding layers to your 'do can help create a more seamless look that disguises the uneven length of strands. You can also use a texture spray for volume to blend everything together, or you can slick your strands back behind your ears with some lightweight gel. If you really want to get creative, try braiding your hair or using a cute, half-up, half-down style. Also, casual beanies and cloth headbands can be your best friend for a clever yet cute disguise.
Another thing to keep in mind is that, while trying to grow your hair out, you should avoid damaging heat tools for as long as possible. Instead, opt for some classic, low-maintenance air-drying action for the time being.
Accessories are your best friend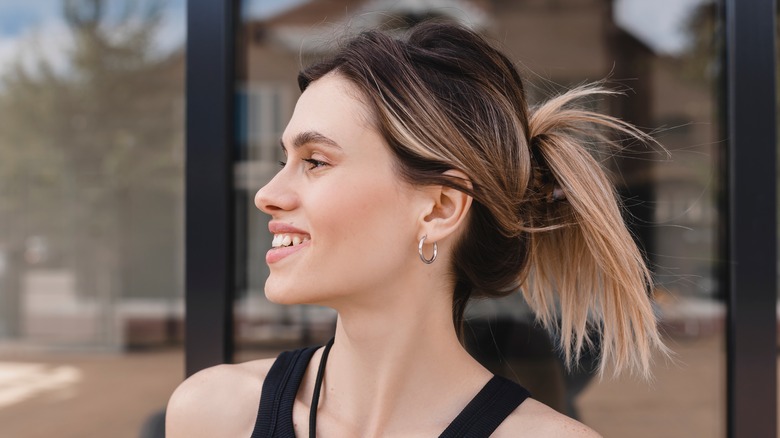 Ekateryna Zubal/Shutterstock
For a simple solution, adding a fun little embellishment to your hair can go a long way. We're talking about headbands and bobby pins to pull things back and keep everything streamlined, or a classic clip for your bangs. If the regrowth phase is in its prime awkward stage, you can't go wrong with a cute, stylish hat to cover things up for a little while. These versatile little tools allow for a wide array of style options, so you can go all out experimenting with your different looks while your hair gradually grows.
For another unsung hero, if you're really itching to get the long look again, go all out and get some extensions while you wait for natural results. Keep in mind that extensions can't be done if your hair is too short, so it'll be best to add them in the middle of the growing out process for instant gratification.