Your Guide To Embracing Scandi Style For Out-Of-The-Box Looks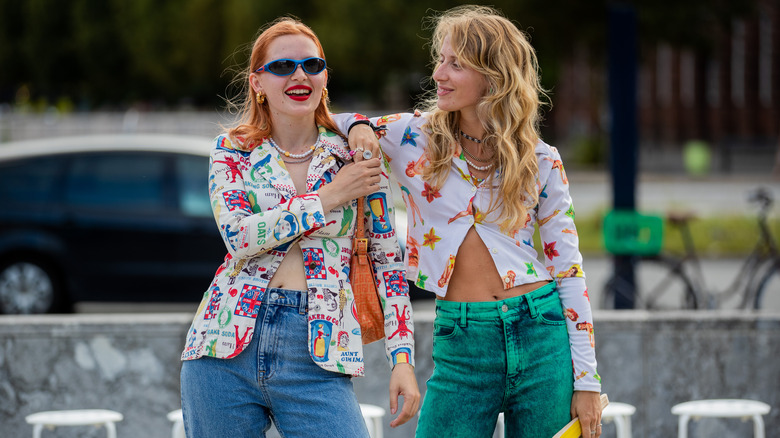 Christian Vierig/Getty Images
Scandinavia is at the cutting edge of fashion. If you're searching for a new style, look no further than Denmark, Sweden, and Norway. The style has become increasingly mainstream thanks to influencers like Matilda Djerf and films like "Midsommar," and "The Worst Person in the World."
Twenty years ago, you probably would have associated the aesthetic with neutral tones and tailored pants. These days, though, the Scandi style is increasingly whimsical, bold, and fun. "I think it started out as very minimalistic. The uniform would be black, white and beige – black bag, beige trench, white shirt and so on," Emma Frisell told Vogue UK. "I think we are now moving into a more experimental style. Colors are shining bright, genders are fading away, and it is actually harder to define – something I see as a good thing."
To the untrained eye, the streets of Copenhagen fashion week can look like a jumble of colors and patterns without thought or cohesion. And trying to imitate it? That feels downright intimidating. However, there is a method to the madness. It is easier than you think to nail the Scandi look. Ahead, we dig into what makes a Scandi fashionista a Scandi fashionista and how you can become one, too.
Try a beret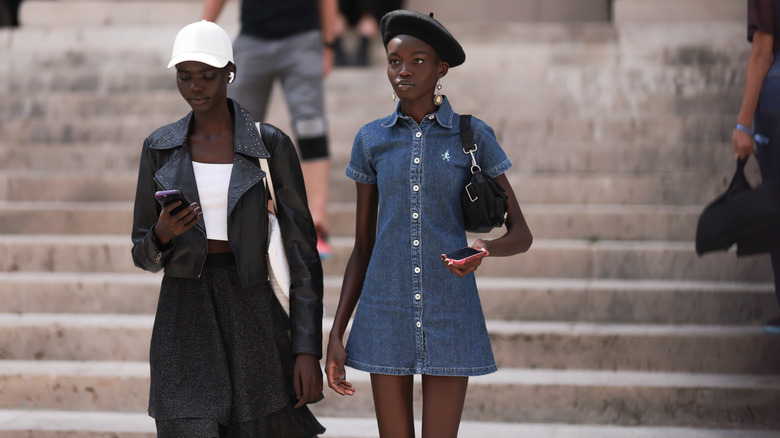 Jeremy Moeller/Getty Images
Scandinavian fashion is, first and foremost, about functionality. Fashion-forward Scandi girls have become experts at crafting effortlessly cool and practical ensembles despite the extreme climate. Enter the beret. The beret is most often associated with France, but it is actually the perfect symbol of Scandinavian ingenuity and whimsy.
Rather than throw on a wool hat and head out the door, those living in Scandinavian countries would likely opt for a beret that would add a little fun to an outfit while keeping them warm. Now, it remains true that a beret – or any other hat – is notoriously difficult to style. The key to making a beret work is figuring out how exactly to position it on your head. The cap should sit comfortably on top of your head, a little higher than you would wear a beanie, for example. For that chic European look, pull the top of the beret down to one side.
Once you've figured out how to wear a beret, it should be easy to style. It can work with virtually any outfit at any time of the year. Worn correctly, a beret will look just as stylish with a pair of jeans and flats as it will with a maxi dress and a trench coat.
Maxi dresses

TSV_streetstyle/Shutterstock
A maxi dress is a great addition to any wardrobe because of its versatility. It's office appropriate, and depending on how it is styled, can easily transition from a casual daytime look to something more elegant and dinner party appropriate. Remember, the Scandinavian style – especially the Danish variety – is about the unexpected, so you'll rarely see a Scandi gal in a maxi dress and heels. You're far more likely to spy them in a maxi skirt, running shoes, and a brightly colored coat.
Part of the typical Scandinavian style is subdued and neutral, but much of the contemporary style is a nod to historical Scandinavian dress. Think somewhere between folksy and modern. The perfect Scandinavian maxi dress is flowy, patterned, and a little quirky. To take it into the modern era, pair it with modern accessories, like chunky sandals, baseball caps, and designer bags.
Chunky shoes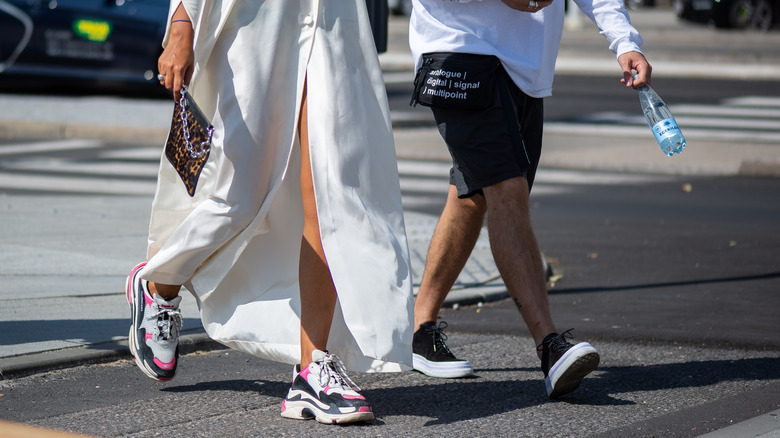 StreetStyleSPY/Shutterstock
You may have heard the theory that the easiest way to elevate an outfit is to style it with an unlikely pair of shoes. This rule holds in Scandinavia. Peep any street-style photos from Copenhagen fashion week, and you'll notice plenty of influencers wearing formal dresses and chunky sneakers.
Scandinavian obsession with dad shoes likely comes from the population's commitment to comfortable, functional clothing. You will never catch a Scandinavian girl in an overly tight dress, stiletto heels, or constricting jeans. You may recall countries like Denmark and Sweden have excellent public transportation and world-class bike lanes. Daily bike rides and long walks are part of their cultural heritage, meaning they need functional, comfortable, and stylish shoes. Chunky sneakers are more than a trend, they are a way of life.
The easiest way to find a Scandi girl-approved shoe is to pretend you're shopping for your dad. "Dad shoes or dad sneakers have three significant characteristics: a chunky sole, they feel comfortable, and [they] are usually worn in neutral colors such as white, black, taupe," podiatrist Dr. Casey Ann Pidich told Today. "All of which makes them very versatile." As a basic rule of thumb: the less feminine the better.
Bold jewelry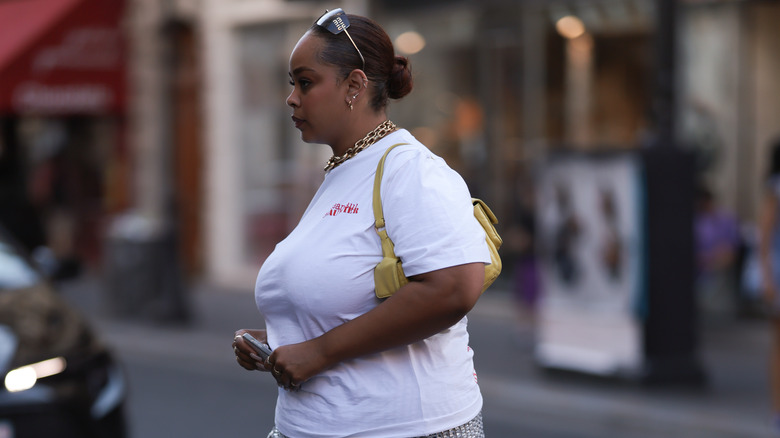 Jeremy Moeller/Getty Images
When it comes to jewelry, the Scandinavian motto is go big or go home. If you're channeling the Danish look, don't be afraid to overdo it with jewelry. The key to nailing Scandi-inspired jewelry is "chunky minimalism." You probably won't catch a Scandi girl in a bright red necklace, but you will catch her in an oversized silver or gold chain. Think minimalist and bold.
Feel free to play around with earrings and bracelets, but at the end of the day, smartly layered necklaces will be your bread and butter. "Simpler snake chains and delicate crosses are pieces that can be worn every day, alone or layered," jewelry designer Marisa Hordern told The Zoe Report. Styled correctly, the bold jewelry trend should feel like an elevated homage to playing dress up as a child. Don't be afraid to get creative with metals, either. Normally, you'd never mix and match silver and gold, but Scandinavian influencers don't believe in adhering to tradition. So mix and match away to create the perfect Scandi look.
Mix and match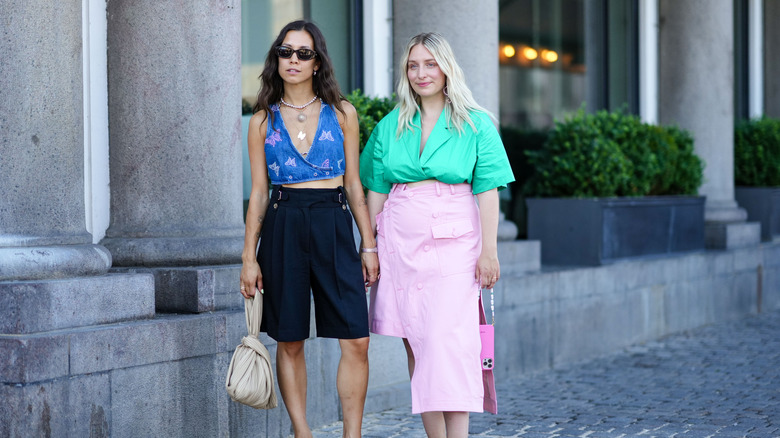 Edward Berthelot/Getty Images
Modern Scandinavian aesthetics are intuitive and playful. The monochrome beige looks that defined it for years are slowly going out of style. These days it's about mixing and matching different pieces to pay homage to your unique sense of style and taste.
If you're trying to bring some Scandi chic to your look, go for the unexpected. Mix and match pieces you'd never usually pair together for an individualistic look. "The Danes dress to suit a life that's vibrant, relaxed, and expressive," Stine Goya, founder of the eponymous Danish brand, told The Zoe Report. "Nothing needs to match, you always want to be comfortable, and there is always something new to discover and express yourself with."
You'll have to think outside of the box to nail the look. This could mean pairing athletic shorts with heels and a sweater or a comically oversized knit with a slip dress. Ultimately, the goal is to put together a look so unexpected and so personal to you that you'd never cross paths with anyone in the same outfit. Suffice it to say, if your look makes you chuckle a little when you try it on, chances are you're on the right track.
Pop of color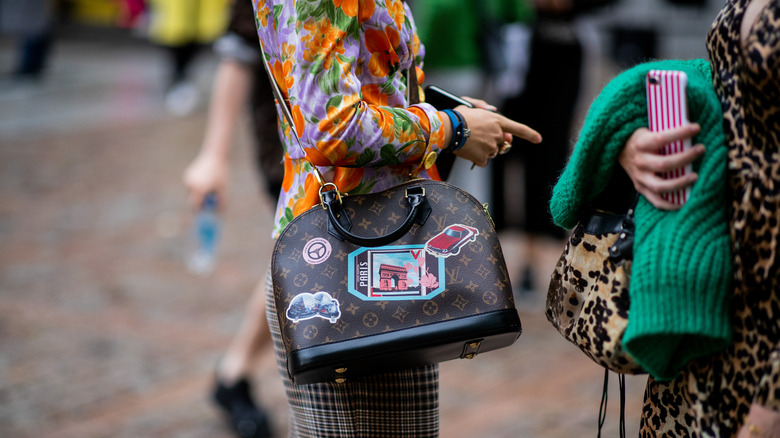 Christian Vierig/Getty Images
Say Scandinavian style, and most people's minds will immediately conjure images of a beige ikea filled apartment. When it comes to clothing, though, Scandinavians are anything but boring. If you want to split hairs, the more buttoned-up formal and beige aesthetic, synonymous with "Scandinavian," is a trademark of the Swedish style. The whimsical and colorful aesthetic that the fashion girls can't get enough of actually comes from Denmark. "In Denmark, they embrace colors, prints, and individuality. It is almost like the cool, older sister," Nnenna Echem told Byrdie, positioning Denmark as the fun "older sister" to the more refined styles of Sweden and Oslo.
At its core, the Scandinavian style is a mix of all the countries, which it what makes it so visually attractive. So, while something like a reliable pair of khaki pants will always stay in style, take a page from the Scandinavian girls' book and pair your basics with bold, eye-catching statement pieces. If you have an essential pair of shorts, add a brightly colored crochet vest to the mix. Conversely, when styling a white button-down, opt for bright jewelry or even just patterned socks to liven up the outfit.
Shop sustainably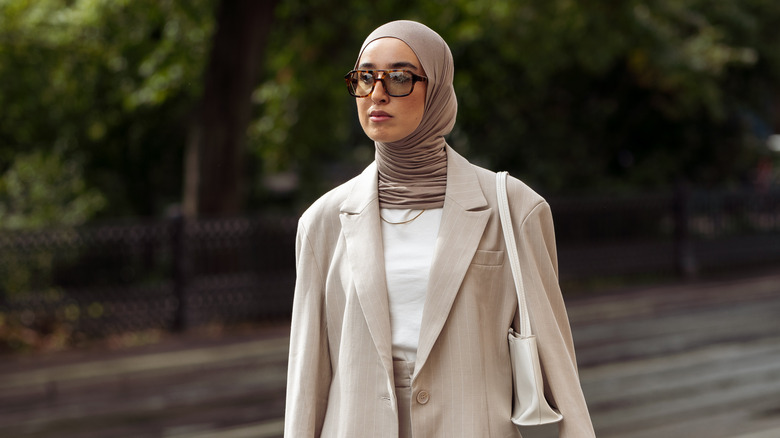 Raimonda Kulikauskiene/Getty Images
Scandinavian style is a broad term, as each country (Denmark, Sweden, and Norway) has its unique sartorial heritage. However, one of the ties that bind is their commitment to sustainability. Sustainable fashion is a buzzword in Scandinavia in a way that it is nowhere else in the world. They are on the cutting-edge of sustainable consumerism. "People are thinking more about sustainability; what pieces they want to keep; the old pieces they have," Mona M Ali, a Scandinavian fashion editor, explained during a conversation with British Vogue. "I don't think people, especially within the fashion industry, are desperate to shop a lot."
So, to embrace Scandinavian ethos, you'll need to become more thoughtful about how you consume. Fast fashion labels like Zara or Mango should be the last place you look for new clothes. Start by sussing out what you have in your closet. What do you gravitate towards? How could you style your pieces in a new way? If you need something new, hit second-hand stores before turning to newly made clothes.
If you are in the market for something new, though, research the brand. There are plenty of Scandinavian brands like Ganni and Bite Studios that are fastidiously committed to sustainability. The U.S. still has a lot of work to do to catch up, but some popular labels like Reformation and Girlfriend Collective are making strides for a more sustainable future.
Back to basics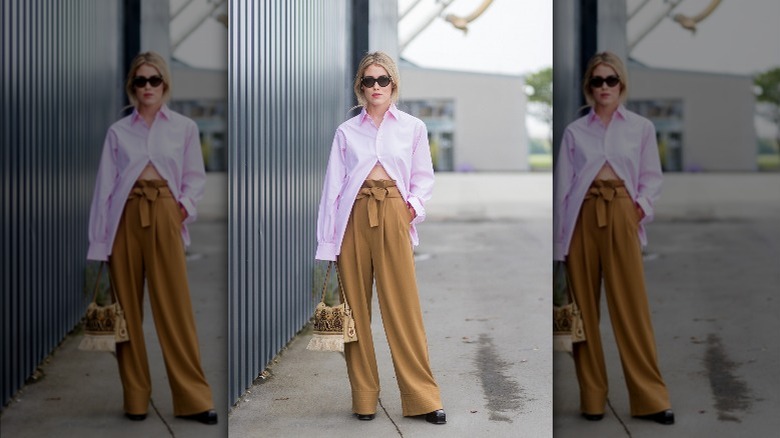 Christian Vierig/Getty Images
Yes, Scandinavian fashionistas love a pop of color every now and then, but they also know how to style neutral looks like nobody's business. If bright isn't your thing, or you're working with a more neutral wardrobe, Scandinavian basics are the inspo you're looking for. Tailored pants and neutral button-downs are all over the Nordic countries, and they are anything but basic.
Still, it helps to keep in mind that much like French, American, or British style, Scandinavian style isn't the same as it was 20, or even 10 years ago. "Before, it was all about having a minimalistic style, which is kind of still the core of Scandi style. But today, you can have a more eclectic Scandi style. The look has definitely evolved for the better and feels more inclusive today," Chrystelle Eriksberge, a fashion influencer, told British Vogue. 
Today, you will never catch a Scandinavian gal in a simple pair of khakis or a white oxford. Remember, their style is whimsical, so if they're wearing chords, for example, chances are they're oversized. If they're wearing an oxford, it's big enough to be a midi dress and cinched with a vintage belt. Neutrals are at the core of the Scandinavian style but are mere building blocks for multidimensional and ultra-stylish looks. As you pair your basics, keep in mind it's all about mixing and matching traditional basics with new modern styles and patterns for an on-trend, yet timeless look.