How To Help Your Partner Deal With Losing Their Job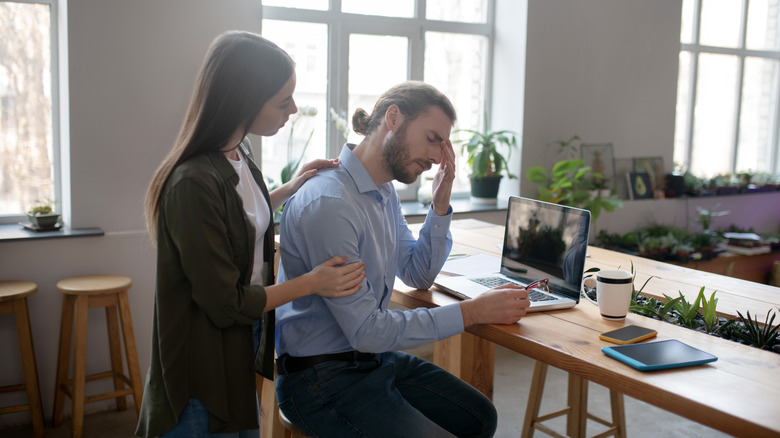 Dmytro Zinkevych/Shutterstock
Losing a job — for any reason — is a complicated situation. If it hasn't happened to you or your partner yet, one of you might be in for an emotional ride. As the world recovers from what seems to be one global crisis after the next, the current job market has become more precarious. Unfortunately, it's becoming commonplace to experience a layoff. For some, the experience can be as devastating as the death of a loved one. 
Grief is complicated, but helping your partner overcome what they might perceive as a setback can actually be an opportunity for each of you to grow, as individuals as well as a couple. On top of dealing with loss and anxiety, navigating intense emotions like guilt or shame can be extremely difficult in the face of fear. Losing a job in today's world can mean losing a lot of necessities for daily living. Health and wealth are often tied to our careers, so being laid off can directly affect not only your partner but also the care of other members of the family. Toxic shame can creep in, lowering self-esteem and facilitating depression. 
Psychologist Tara Brach says, "The medicine for shame is radical compassion, the loving presence that helps us trust our belonging and essential goodness." So how can you best support your partner with compassion and awareness through this difficult time?
Practice presence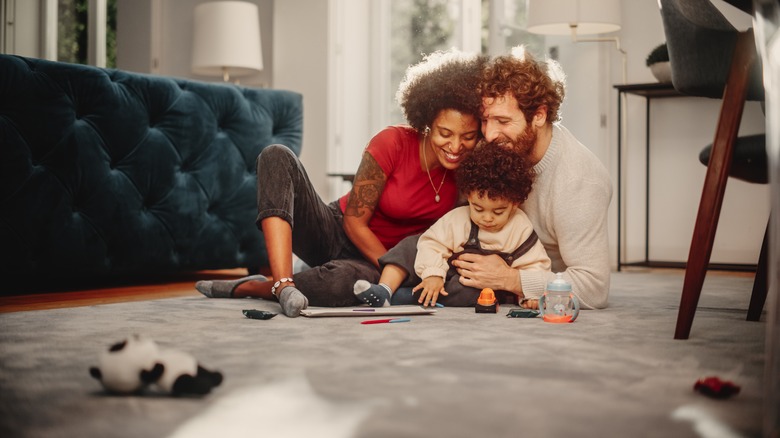 Shutterfly
Supporting a partner through a difficult time can take many forms. No two relationships (nor situations) are equal, and the nuances of needs and wants can shift, especially after such a big life change. However, one consensus regarding relational support is that the best thing you can do is be present.
Practicing presence within a relationship means more than just being in the room. It means you are focused and listening when your partner makes a relationship bid. You show curiosity and care for your partner's feelings. You ask questions and engage within your family dynamics. Presence is giving your full attention to your relationship and its values in the here and now. It's ultimate empathy.
Remaining present also means avoiding assumptions. Take time to ask your partner what they need and if they know the best way you can help them. Getting laid off is typically an irregular occurrence and it's difficult to know the next steps while trying to process feelings. Consent is a powerful tool — when you ask how you can best help your partner, you are also asking permission to do so. While you may think giving your partner "space" is important, it's also an invaluable gesture to offer support — the kind they want. Many people don't know how to ask for help, or even recognize what that looks like. Asking "how" you can help can alleviate the stress of navigating an unchartered path. 
Plan next steps together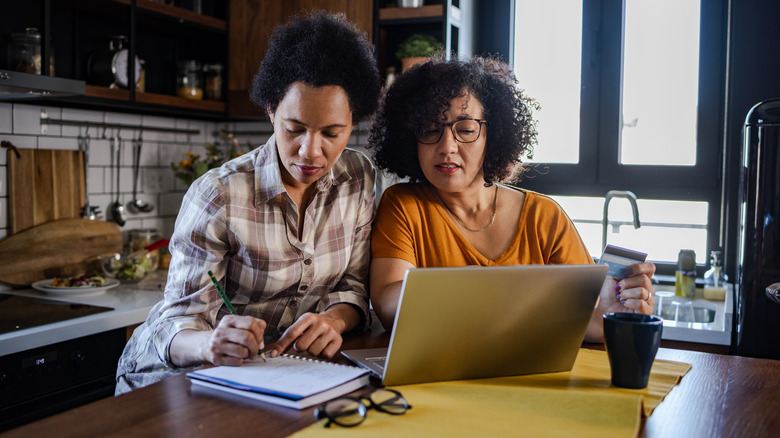 Shutterfly
Even though losing a job can feel devastating, it's also an opportunity to release any toxic coping mechanism your partner (and thus, you) had to endure to maintain their working situation. This can be a pivotal time for growth. When work is eroding mental health, reclaiming control over behaviors and desires can be essential for healing, and also useful for productivity. When the future is unknown, it's also unwritten.
Take time to sit with your partner and help them map out their personal needs, wants, and capabilities. Do they have goals for certain areas of their life? Were they happy with the way their time was spent or is it time to break old molds and set new patterns? If talk therapy has been useful to them in the past, ask them if they need support from a therapist and how you can help with their healing journey. Do they need administrative help applying for jobs, or do they need you to back off and wait for a different request? Having a hand to hold can make planning for the future feel less overwhelming. 
Be sure to check in with your needs and your future plans as well. If you want to share your plans with your partner, make sure you both feel safe being vulnerable, and admitting the future you envision. Sometimes it's scary, but honest could be the only help your partner needs.